DROID PRO Hands-on and unboxing video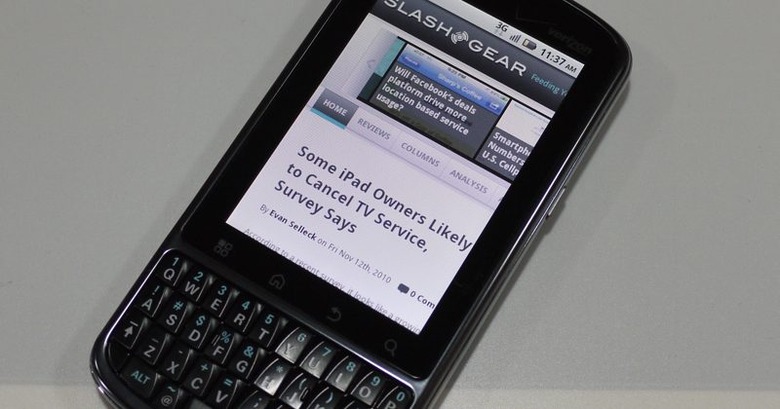 Verizon's DROID PRO by Motorola has turned a few heads among the usually loyal BlackBerry crowd, what with its blend of fashionable Android OS and combo touchscreen-and-QWERTY candybar form-factor. It's a departure among Android handsets, and a welcome one at that; Verizon's launch back at CTIA whet our appetites, and now the DROID PRO has landed on the SlashGear test bench. Check out our unboxing and demo after the cut, together with some first-impressions.
It's not a small handset, the DROID PRO, but then that's the price you pay for having touchscreen and full QWERTY visible at all times. It measures a long 4.69 x 2.36 x 0.46 inches, with the keyboard pushed down to the bottom third – unlike, say, most BlackBerry candybars, where there's generally a more 50/50 split between screen and buttons – and a 3.1-inch capacitive touchscreen above. The display isn't Motorola's usual 854 x 480 panel, instead offering fewer pixels at 480 x 320, but then again it's not 3.7-inches either. So far it's high resolution enough, though it's definitely a compromise in return for the keyboard.
Like a sparse number of other Verizon smartphones the DROID PRO is a so-called Global handset. That means it gets EVDO Rev.A for when you're in North America, together with GSM/UMTS for when you're abroad. Unlike some single-band 3G handsets we've seen previously, the Motorola packs triband 850/1900/2100 UMTS/WCDMA, which makes it particularly flexible. On the back there's a 5-megapixel camera, while inside is a 1GHz Texas Instruments processor and 2GB of ROM. We'll have to wait and see whether the DROID PRO feels sluggish at all next to the 1.2GHz DROID 2 Global Edition, but so far we've no complaints with how Android 2.2 Froyo runs.
Given the number of times we've mentioned compromises, you'd hope the hardware keyboard was up to scratch. Thankfully it's already proving impressive, with a solid, responsive feel that makes for quick, snappy typing. Despite the size of the handset, it's actually pretty light, meaning you can realistically type one-handed; we obviously wouldn't advocate driving and texting, but if you've ever tried to stab out an SMS while walking and holding a bag or a coffee, you'll know this can be very useful.
As for benchmarking, we're getting some inconsistent results using Quadrant in our first batch of tests. In Quadrant Standard, the DROID PRO scores 1575, comfortably ahead of the Nexus One running Froyo, whereas in Quadrant Pro it manages 1035, behind the Nexus One and the DROID X. We'll be running through different benchmarks for the full review, to get a better grip on the DROID PRO's real abilities, and see whether it's really good enough to ditch your BlackBerry for. Until then, enjoy the unboxing gallery and hands-on video!
Droid Pro unboxing and hands-on
[vms 11002af340cbaedd6fc3]