DROID DNA Review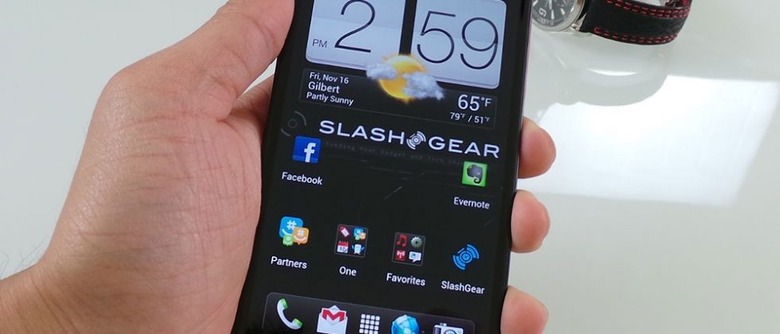 HTC has gone all out with the DROID DNA, and it pays dividends: the new Verizon exclusive breaks records with its 1080p display, putting HTC back into the limelight with a legitimate flagship. A Full HD screen, 4G LTE, and a quadcore S4 Pro chipset tick the spec boxes more comprehensively than we've ever seen before, though big displays and fast processors do make us worry when the battery is non-removable. Has HTC redeemed itself with the best Android phone on the market, or are the DROID DNA's ambitions simply ahead of their time? Read on for the full SlashGear review.
Hardware
HTC hasn't strayed too far from its recent design language with the DROID DNA, and unlike its brightly-colored Windows Phones, the new Android flagship sticks with sober black for its chassis, lightened only with some splashes of red and fine detailing. That's not to say it's an ugly phone, nor a badly constructed one. It's plastic, but HTC's polycarbonate feels far more impressive than Samsung's comparatively flimsy materials.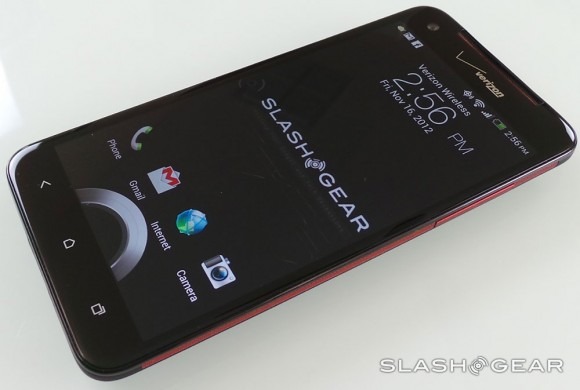 The 141 x 70.5 x 9.73 mm casing is surprisingly compact, given the size of the screen, a perception helped by the taper to the rubberized-finish rear panel and the bevel of the edges. The micro-perforated red grilles running down those edges are, HTC tells us, meant to be reminiscent of a Lamborghini, though they work more as a simple visual cue pulling together the slice of red at the earpiece and the matching camera lens trim on the back.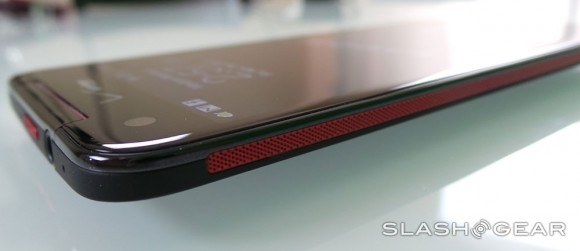 Less successful are the physical buttons, the centered, recessed power key being tricky to find with your finger on the top edge, and the volume rocker being on the right side rather than the left, as is more usual. We're close to forgiving HTC for that, though, since it included not one but two notification LEDs, the first hidden behind the earpiece grille on the front, and then a second on the back of the phone, so that there's more chance of you spotting when an alert comes in.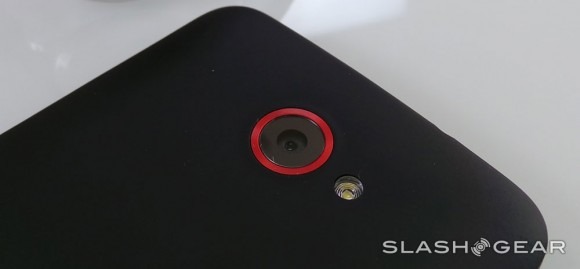 Obviously the DROID DNA's pride and joy is its display, which we'll cover specifically in the next section. The rest of the phone is no slouch, however. At its heart is Qualcomm's quadcore 1.5GHz APQ8064 Snapdragon S4 Pro processor, paired with 2GB of RAM; it's the same chip as in the LG Nexus 4, but we're told that HTC and Qualcomm worked together on refining the firmware so as to eke out even greater performance.
Elsewhere, just about every shiny and appealing part from the other devices in HTC's line-up has been squeezed into the DROID DNA. The 8-megapixel main camera has the f/2.0 aperture, 28mm lens and 1080p Full HD video recording we've seen on the HTC One X+, along with HTC's dedicated ImageChip processing that optimizes photos in their RAW state rather than after they've been converted to JPEGs. HTC says that's better for final quality, and the front-facing 2.1-megapixel camera – which gets the 88-degree wide angle lens, for fitting more people into group shots even when the DNA is held at arm's length, as on the Windows Phone 8X by HTC – also routes its shots through the standalone processing.
Beats Audio makes an appearance, as per most mid- to high-end HTC phones of late, but the DROID DNA also gets the twin amplifiers of the One X+, one each dedicated to the headphone socket and the internal speaker. According to HTC, it makes for a device that can comfortably drive more powerful headphones, and without distortion. We had no problems turning the volume up to painful levels when listening to music via headphones, and the DROID DNA's speaker is similarly capable of loud playback, with admirably little hiss or grumble until you reach the very top end of the scale.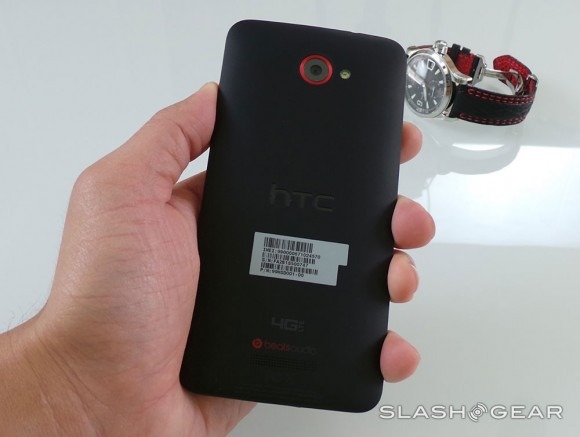 Wireless connectivity ticks all of the expected boxes. You get LTE for Verizon's 4G network, as well as CDMA EVDO Rev.A for when you're outside of 4G range; the DROID DNA is also a global phone, with quadband (850/900/1900/2100) UMTS/HSPA and quadband GSM/EDGE for use when you're outside of the US. Verizon preloads a microSIM for when you're roaming.
You also get WiFi a/b/g/n (2.4/5GHz) and Bluetooth 4.0, along with NFC and wireless charging. All of the standard sensors are including, such as GPS, a digital compass, accelerometer, and an ambient light sensor, and you can turn the DROID DNA into a mobile hotspot, sharing its 4G/3G connection with up to ten WiFi-tethered devices (though Verizon may charge you for the privilege, depending on which plan you're on). A microUSB port – hidden under an unnecessary flap – does duty for traditional charging, swapping data with your computer, and as an MHL HDMI output with the appropriate adapter, though there's also DLNA streaming support.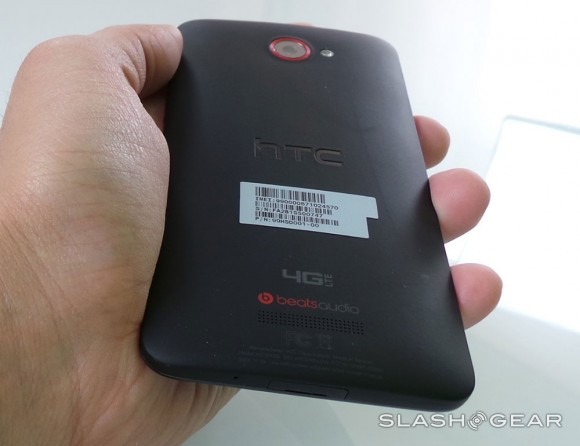 In fact, the only real blip on the spec sheet is storage. HTC has outfitted the DROID DNA with 16GB of internal storage, roughly 11GB of which is available to the user; beyond that, there's no way to augment the memory since the phone has no microSD slot. There's also no sign of a 32GB or 64GB version.
Unsurprisingly, that fact hasn't gone down well with potential users. Neither HTC nor Verizon will say on the record why the decision around a 16GB maximum was made, though since the HTC J Butterfly – Japan's DROID DNA counterpart – makes room for a microSD slot, it seems obvious that it's something other than physical constraints forcing HTC's hand. Were we conspiracists, we might wonder whether it was carrier-led, so as to maximize LTE traffic by users regularly accessing data stored in the cloud.
Display
HTC breaks new ground in the US market with the DROID DNA's display, a 5-inch 1080p Super LCD 3 panel delivering twice the resolution of big-screen rivals such as Samsung's Galaxy S III or LG's Nexus 4. It's not physically the biggest smartphone screen on the market – the Galaxy Note II, for instance, measures in at 5.5-inches – but by delivering 1920 x 1080 it simply blows rivals away.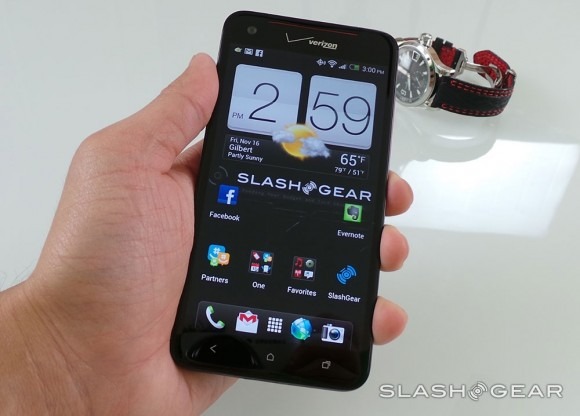 Pixel density has become the obsession of smartphone and tablet manufacturers in recent years, after Apple made pixels per inch (ppi) a selling point of the iPhone 4. Today, the iPhone 5 has a pixel density of 326ppi, still competitive despite larger Android handsets with greater screen sizes, but the DROID DNA's 440ppi count puts it in another league entirely. Even when you get up close – far closer than the distance from which you'd normally view a smartphone display – text and graphics are silky smooth, and it's enough to make 720p panels look crunchy and unrefined in comparison.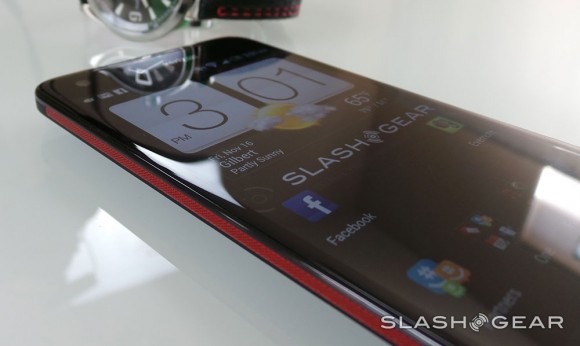 It's not only how many pixels the HTC is packing, though, it's their quality. LCD displays tend to avoid the over-saturation of colors that AMOLED can sometimes deliver, and indeed the DROID DNA has a cooler image than, say, the Galaxy Note II. Not lacking in brightness, though, and highly accurate, while viewing angles are sufficiently broad so as to look at the phone entirely askew and still not suffer any distortion.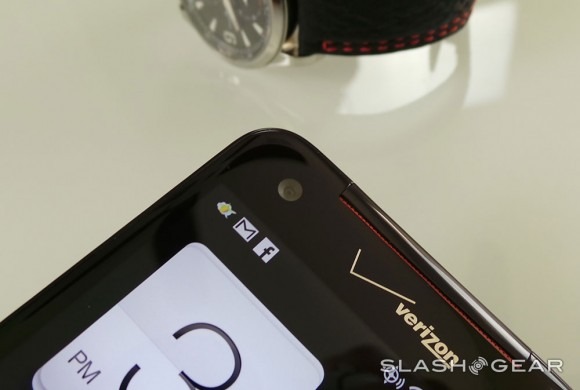 HTC has sensibly protected its flagship feature with a slice of toughened Gorilla Glass 2, but has also made sure the bezels around the display are as narrow as possible. That pays dividends in the hand and in the pocket, with the DROID DNA feeling less comically oversized than the Note II. In fact, despite offering a larger screen, the HTC is less than 5mm longer than the Galaxy S III and even a fraction narrower, though Samsung's phone is still thinner.
Of course, just as a bigger display demands more power, so does driving a higher resolution panel, and the Full HD of the DROID DNA will inevitably make demands on the smartphone's battery and GPU. Still, 1080p videos look incredible, with accurate colors and good brightness, while ebook text was particularly easy to read thanks to the smoothness of the fonts and the excellent contrast.
Software
HTC missed getting the DROID DNA out of the door with the latest version of Android, Google's relentless release schedule meaning the new Verizon flagship ships with 4.1 Jelly Bean rather than the very newest 4.2. That means you miss out on the lockscreen widgets and Photo Sphere camera functionality, though updating to the latest version of Google Search on the DROID DNA brings the more advanced Google Now functionality as well as offline voice typing.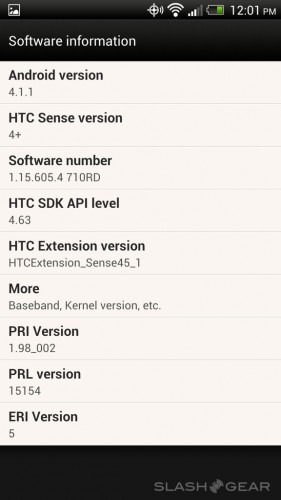 Of course, HTC hides the regular Android interface under its own, with the DROID DNA packing HTC Sense 4+ as is the "house style." Custom reskins generally meet with mixed reactions, some users appreciating manufacturer efforts to simplify or refine the core UI, while others would far prefer the raw Android dialogs, not least on the assumption that subsequent OS updates will come through in a more timely fashion.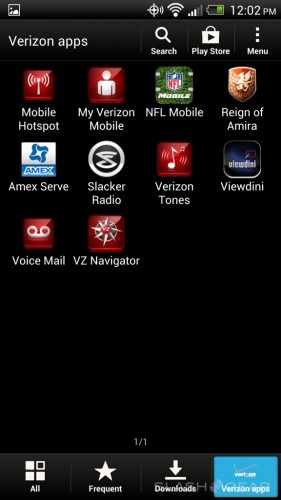 DROID DNA vs Others
For manufacturers like HTC, though, skins such as Sense are an opportunity to further brand the user-experience, and they don't look to be going anywhere soon. In its latest iteration, Sense 4+ supports Evernote synchronization with the onboard Notes app (for text, photos, and audio) and Audible for ebooks, while the new Gallery pulls in content from the DROID DNA's own storage, as well as your Facebook, Picasa, Flickr, and Dropbox accounts.
HTC also persists with dedicated touch-sensitive buttons on its phones, despite Google's attempts to lead by example on the Nexus range and switch to on-screen keys. The back, home, and app-switcher buttons are, by virtue of the pared-down bezel, quite close to the bottom of the handset, which can make one-handed use tricky at times. Long-pressing the home button triggers Google Now, while HTC has reskinned the app-switcher, showing larger thumbnails than Google's default, in an animated carousel.
Unfortunately, Verizon has its way with the DROID DNA, and the phone comes preloaded with numerous apps from the carrier. There's My Verizon Mobile for checking your account, along with VZ Navigator if for some reason Google's excellent Maps app isn't satisfying your navigation needs. NFL Mobile, Viewdini, American Express Serve, and Verizon Tunes all seem of comparatively little use, and while the IMDb, Slacker Radio, Kindle, and Facebook apps are probably more to the tastes of everyday owners, we'd still prefer to have their presence optional rather than see them forced on us by default. Given the limited onboard storage, not being able to uninstall the preloaded apps makes their presence even more infuriating.
Overall, Sense 4+ does the job, but we can't escape the feeling that, in its more recent versions, Android is already sufficiently approachable to make skinning it less valuable to the end-user. We're a long way from the rough and ready early days of Android, and the compromises in update timeliness are simply less acceptable than they perhaps once were. The third-party modding community will undoubtedly flock to the DROID DNA, but regular users may find themselves forced to wait longer for newer versions of the core OS, with not a huge amount to show for it in return.
Performance
With Qualcomm's current flagship processor inside, we had high expectations from the DROID DNA, and the reality didn't disappoint. In day to day use there was little we could throw at the phone to slow it down: apps load instantly, and Full HD video plays back jerk, judder, and lag free, whether you're watching it on the HTC's own display or pushing it out to your big-screen TV.
That experience is weighed out by some of the most impressive benchmarking scores we've seen. In Quadrant, the DROID DNA scored a whopping 7,879 – comfortably besting the LG Optimus G (7,306) and Nexus 4 (4,961) which each use the same CPU – while its 14,486 score in AnTuTu was more than 3,000 points higher than the Optimus G.
Qualcomm's own Vellamo test perhaps unsurprisingly saw the DROID DNA at the top of the chart, scoring 1,778 in HTML5 tests and 616 in Metal tests. Smartbench 2012 saw a particularly strong showing in the Productivity category, at 4,764, though slightly less impressive in Gaming, at 2,478. Finally, the SunSpider 0.9.1 test of browser JavaScript performance came in at 1,210.7 ms (lower is better), nearly half the time it took the Nexus 4 to complete the same test.
As for LTE performance, we saw stronger download performance than upload, on average. Side by side with an iPhone 5, the DROID DNA pulled in on average 7.97 Mbps, versus 6.84 Mbps on Apple handset for downloads, and 2.05 Mbps versus 1.51 Mbps for uploads. That pays dividends when you're using the DROID DNA as a mobile hotspot, though we did encounter a frustrating intermittent issue whereby our connection to the hotspot would periodically drop. Obviously, LTE performance is very much network and location dependent, and your experience of speeds will vary.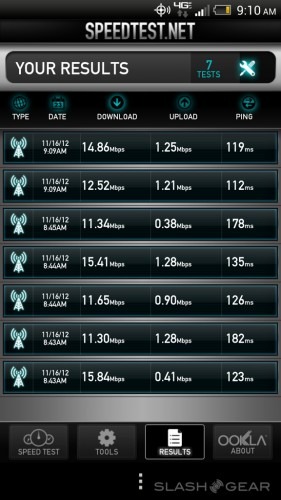 Camera
The DROID DNA's cameras aren't unfamiliar to us: HTC used the same 8-megapixel/2.1-megapixel combination on the One X+. The phone is capable of Full HD video recording front and back, and Sense 4+ has various tweaks to improve usability. Self-portrait shots using the front-facing camera now support an optional timer countdown, helping reduce phone-shake when you tap the button, while if you leave the camera app active when you lock the phone, it bypasses the lock screen when you next hit the power button so that you don't miss your shot.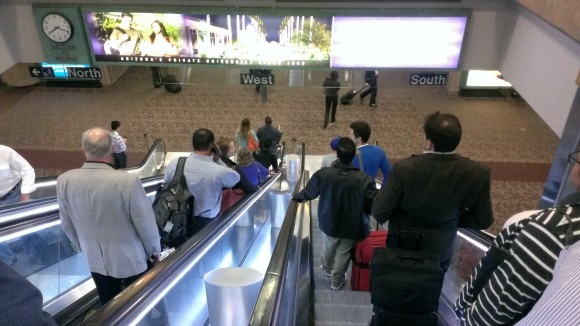 Those shots turn out to be very good, with plenty of detail albeit with colors slightly more subdued than on other phones we've tested of late. Low light performance can't hold up to the PureView technology on Nokia's Lumia 920 – you do get an LED flash, though it's as mediocre as all of its ilk – but daylight shots are solid, and the extra detail we spotted in frames in comparison to what Samsung's Galaxy S III produced is welcome, especially if you're subsequently cropping.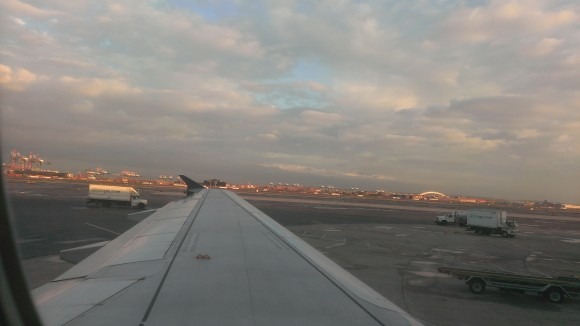 The front-facing camera, meanwhile, suffers some from its lower resolution, and pictures can tend toward the grainy. HTC's vaunted wide-angle lens does what it promises, however, and there's comfortably room for three people to fit in-frame with the DROID DNA at arm's length; four people if you're closely packed in.
As for video, it has the same balance of extra detail though slightly less saturated colors as we've seen in the HTC's stills, but is watchably smooth and the twin microphones are sensitive. Both video and still capture buttons are on-screen throughout, meaning you can grab a still shot without interrupting video recording.
Phone
Tenacious with a signal, the DROID DNA gave us no problems with making and receiving voice calls, though the earpiece has a hollowness to it – particularly at high volumes – that means it's not the very best for phone duties. Still, the twin microphones do well at noise cancellation, and callers found it easy to hear and understand us, even when background noise levels were higher.
Battery
With a 2,020 mAh battery and no option to swap it out for a second pack, we were concerned that the DROID DNA wouldn't hold up to daily use. In practice, the huge screen resolution and the LTE connectivity do mean there are decisions – and compromises – to be made that significantly impact how long you can be away from the charger, and they have a lot to do with how HTC and Verizon expect you to use the phone.
The cloud plays a huge role in the ownership experience of modern smartphones, and for the DROID DNA it's even more central. Photos and video that are automatically uploaded to Google+, or Facebook, or Dropbox, or other gallery services; streamed music and video from online stores; the usual gamut of push services like email, messaging, Twitter, Facebook chat, and the rest. Use the DROID DNA as it's arguably "meant" to be used, and we saw it go from charged to flat in under seven hours.
That's not to say it's impossible to stretch the runtime out. Be more sensible with auto-uploads, temper the brightness of the display, and resist the urge to spend all day watching 1080p video, and you can get a day's use from it. Power management tweaking is basically a default chore for Android devices, at least those which push the envelope on the spec sheet, and there are plenty of people willing to go the extra mile in setting up their phone to achieve the best balance for them.
Wireless charging does help that – as we've found with other devices that support it, you generally drop your phone on the charging mat when it's idle, thus giving it a minor top-up that helps extend its runtime – but HTC and Verizon opt not to include the mat in the box. Though you could argue that, since the DROID DNA is compatible with any Qi-standard charging mats, that doesn't penalize those existing owners, wireless charging is in itself such a fledgling market that it's far more likely to just frustrate new owners who have to stump up $59.99 extra for the accessory.
Price and Value
At $199.99 with a new, two year agreement, you're getting a lot of specifications for your money. The DROID DNA is priced on a par with the Galaxy S III and iPhone 5 (all in 16GB form, though only the Samsung allows you to expand on that), a minor surprise given we would not have been too shocked to see Verizon opt for $249.99 or even $299.99 for the new handset.
Verizon requires a Share Everything plan, priced from $40 per month for unlimited calls and messaging, with the DROID DNA, though that only gets you 300MB of data. Stepping up to 1GB is $50 per month, doubling that allowance costs ten bucks more. If you'd prefer to go month-to-month, Verizon will charge you a not-inconsiderable $599.99 (and offer you the same monthly plan pricing).
The big comparison at this level is LG's Nexus 4. Although T-Mobile USA is offering it subsidized, Google is plainly expecting most people to buy it unlocked, starting from an impressive $299. You need to step up to the 16GB version to more closely match the DROID DNA's specifications, and you don't get LTE, but even then the $349 off-contract price is very impressive.
Both phones have the same processor, but the HTC offers the better display while the LG promises more timely Android updates. In short, if budget is the primary concern, then there are better deals to be had with the Nexus 4, but power users or multimedia addicts will miss the Full HD of the DROID DNA.
Wrap-Up
We've criticized HTC in the past for taking what has felt like the safer route through the mobile landscape, and its decisions have seen it struggle to stand out while rivals like Samsung dominate Android device sales. The DROID DNA, though, is a return to the trail-blazing form of HTC's earlier days in Android: those times when the company had the best screens, and the fastest processors, and were legitimately "the phone to have" if you were a power user.
Chasing the cutting edge demands some compromises, however, and the DROID DNA has two significant ones. The first is storage, with the 11GB of usable capacity being simply too little for a modern flagship when there's no microSD support; we're tempted to blame Verizon rather than HTC for that decision, but whoever is at fault, it's the user that loses out in the end. Expect to go through your monthly data allowance more quickly if you rely on the cloud to make up the difference.
More worrying, though, is battery life. Superlative display and processor performance needs a power source to match, and the DROID DNA's 2,020 mAh, non-removable battery is a compromise that's likely to cause owners headaches. Yes, you can tweak better runtime out of it, but it's frustrating to have a powerhouse of a phone that can't be run at its best all the time unless you're willing to charge it up twice a day.
And yet, it's hard not to fall for the DROID DNA's charms. It's better put together than Samsung's high-end devices, and the screen is the best around; we can't wait to see what mobile game developers do to take advantage of the S4 Pro's potency. It's a win for Verizon, then, but a crying shame that it's not available on other carriers in the US: HTC needs to follow Samsung's lead in that respect, and make sure everyone who finds the DNA appealing has the chance to pick one up, no matter their carrier of preference.
Big, bold, and beautiful. The DROID DNA is a return to what we've loved about HTC before, and while it's not perfect, it's a significant improvement in the manufacturer's range and a compelling option in Verizon's line-up. The Galaxy S III and iPhone 5 just got some real competition.