Drobo S Review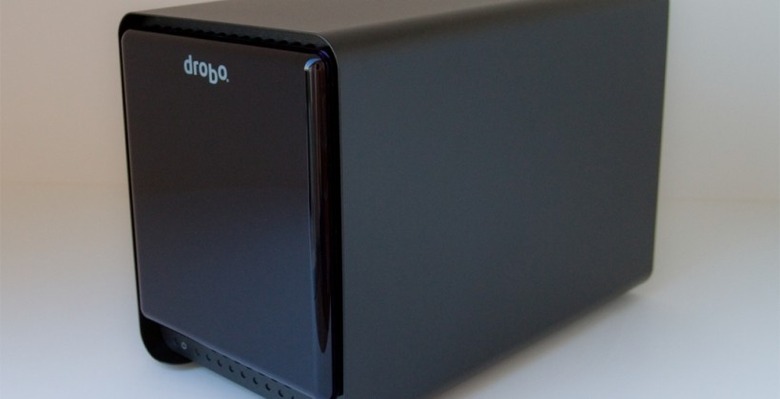 Data Robotics' first Drobo model surprised a fair few people; the company billed their external storage array as an "intelligent data robot", making RAID-style redundancy if not glamorous then at least appealing. When we reviewed the first-gen model all the way back on October 2008, we felt a few qualms at its relatively high price tag but had little doubt over the security of our data. Now, with their range much enlarged, we've one of Data Robotics newest 'bots on the testbench, the Drobo S. Adding an extra drive bay to the original model, plus a few less obvious tweaks, is the Drobo S the droid you're looking for?Overview and Features
The original Drobo had four 3.5-inch drive bays and a single USB 2.0 port, and was subsequently updated to add a FireWire 800 port. In comparison, the Drobo S gets five 3.5-inch SATA I/II drive bays – which still don't require any sort of drive caddy or rails – and throws in an eSATA port as well. Data Robotics have also changed the underlying ARM-based processor, to one reportedly 50-percent faster than in the first-gen Drobo.
In the box you get the Drobo S itself – a shiny black plastic box measuring 5.9 x 7.3 x 10.3 inches – together with an external PSU, all three connection cables (USB 2.0, FireWire 800 and eSATA), printed user guide and quick-start card, and a CD with the Drobo Dashboard application together with electronic versions of the documentation. In its standard form, Data Robotics supply the Drobo S drive-free, which means you'll also need to factor in the cost of adding storage. Up to 10TB can be accommodated, made up of five 2TB drives.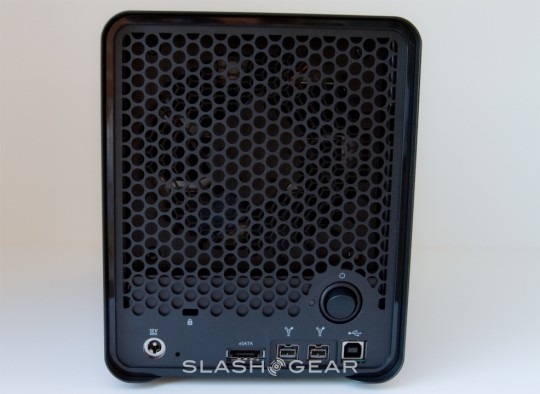 The Drobo S enters a market filled with significantly more aware consumers than its predecessor did. The Network Attached Storage (NAS) segment has flourished, particularly with one- and two-drive devices that promise plug-and-play shared storage without the headaches of system maintenance a server might demand. While consumers may know them better as media servers, the end result is the same: the ability to share documents, iTunes and other music libraries, video and photo galleries from a central point to multiple PCs, netbooks, consoles and phones, locally or – with a little setup – remotely.
In comparison, the Drobo S lacks any sort of networking functionality out of the box. There's no gigabit ethernet port for setting it up as a media server or checking on documents you left at the office while you're at home. Instead, it's intended to provide data security for a single connected machine (you can't hook up all three of the ports to different computers simultaneously, only one at a time). Rather than RAID, the various levels of which provide different degrees of duplication across a number of identically-sized drives, Data Robotics use their own "BeyondRAID" technology which has a number of advantages.
The headline feature – and one which makes the Drobo range perhaps so appealing to overworked system admins or out-of-depth prosumer users – is the self-management. Slot in two or more drives of any capacity, speed or brand (you can run the Drobo S with a single drive, but of course you won't see any data security) and BeyondRAID automatically formats them, works out the maximum amount of storage that can be protected (e.g. if a drive fails, you won't lose any data) and does everything necessary so that you can merely plug in via USB, eSATA or FireWire and begin copying over files. Start with two 1TB drives, for instance, and the Drobo S will end up offering you around 2TB of potential storage (e.g. the data on one drive is mirrored on the second, so if one should fail you'll still have a safe copy); add a third 1TB drive – which you could do six months down the line, with the Drobo S already part-full of files – and the available storage leaps to just over 1.8TB. BeyondRAID automatically works out the maximum potential safe capacity, can do so without entirely rebuilding the array, and does so faster than a regular RAID setup since the Drobo S only copies actual data rather than every drive block.
So far, so Drobo, but the Drobo S adds in protection from two potential drive failures. That means, even if two discs in your array decide to break down, the Drobo S has still secured copies of your files. It's worth noting that there's a capacity trade-off for this extra protection – you have to manually activate it, with single-drive protection being standard – but unlike traditional RAID if you later decide to go prioritise space over double disc security, you can flip between the two without having to completely rebuild the array. Drives, meanwhile, are hot-swappable, you can continue to access data while a new or replacement disc is being prepared and, even while it's sitting idle, the Drobo S is checking disc blocks and sectors to pre-emptively spot potential bad areas.
Performance
Data Robotics sent our test Drobo S unit with five hard-drives: three 320GB Western Digital Green, a 1TB Western Digital RE3 and a 2TB Western Digital Caviar Black. Our test machine was a Windows 7 64-bit workstation with an eSATA port, and we used three sample files, sized at 10MB, 100MB and 1GB. The Drobo S managed a 67MB/s read rate and a 71MB/s write rate, while burst speeds came in at around 146MB/s.
In contrast, the first-generation Drobo – using a USB 2.0 port – managed 11MB/s read, 9MB/s write and 17MB/s burst. There's obviously a significant difference there, primarily because of the connectivity type (our first-gen Drobo is USB 2.0 only, and lacks the FireWire 800 port of the second-gen update); FireWire will be around 25-percent faster than USB 2.0, while eSATA is around 50-percent faster than FireWire. In short, if you're looking for pure speed – important if you're hoping to back up large quantities of data, or use the array for regularly-accessed high-resolution media files – the Drobo S' eSATA connection offers a tangible benefit over its predecessor. We wouldn't recommend it for I/O intensive applications like writing SQL data, however.
Verdict
The question, then, is for whom the Drobo S is intended. Without ethernet connectivity – while the DroboShare NAS adapter will apparently work with the Drobo S, it's not officially supported and user feedback since its launch has been patchy at best – this is storage predominantly for a single person or project, unless you're willing to leave a computer permanently switched on which can share the array over your network. Alternatively there are devices like the Pogoplug and Iomega's iConnect which can bridge a USB 2.0 drive to a network connection (and throw in simple remote internet access too), but then you're limiting yourself to the slowest of the three ports on offer.
It's also considerably more expensive than the standard Drobo, which remains on sale alongside the new S-variant. The 4-bay Drobo is $399 from Data Robotics' own online store, while the 5-bay Drobo S is $799 (the company will also sell you various pre-configured systems, with drives already installed). While the Drobo Dashboard app allows for status monitoring, there's no actual backup app provided with either model, which means you'll need to either use whatever functionality is present in your OS of choice (Drobo is compatible with Apple's OS X Time Machine, for instance) or factor in the added cost of dedicated backup software. [Update: Data Robotics have highlighted their DroboCopy app, which is part of the DroboDashboard app for Windows and OS X machines. It allows you to set up scheduled backups of particular folders.] Expect a louder, slightly more expensive box to run, too: where Data Robotics say the Drobo draws between 12W and 40W depending on system activity, with up to 24.4dB in normal operation, while the Drobo S pulls up to 56W and 31.8dB. Obviously those figures will depend on which drives (and how many of them) you're using; an original Drobo stuffed full of performance drives will probably end up louder than a Drobo S with just two eco-friendly drives.
If, however, you're responsible for backing up a local machine – your precious mail server, perhaps, or a workstation that handles important media – then the Drobo S comes into its own. Unlike a regular RAID array, the Drobo S has the ease of use of a preconfigured system; unlike most preconfigured arrays, however, there's also the flexibility to upgrade in the future without the cost of overhauling every drive you're currently using, or a significant time impact in doing so. Double drive redundancy, plus the ability to temporarily switch from it to single redundancy in a pinch (handy, say, if you desperately need the storage space while you wait for new, bigger drives to be delivered) both make for one of the most secure ways to protect your data. The original Drobo found favor with photographers and other digital media professionals, and the Drobo S certainly fits well into that sort of niche.
Compared to an enterprise-class RAID storage system, meanwhile, the Drobo S' price starts to look all the more competitive. By keeping the Drobo on sale alongside, Data Robotics are sending out a clear message that the new 'bot isn't particularly intended for entry-level home users (though the eSATA port has certainly caught their eye). On an enterprise level, then, even factoring in drive costs this is an affordable option, and that's before you add up the value of BeyondRAID's extra usability.
Not for everyone, then, and if you're mainly wanting to share media around the home then there are cheaper, out-of-the-box functional ways of doing so. If reliable local backup is your priority, however, and you'd rather spend your time working with files than wrangling the system that backs them up, then the Data Robotics Drobo S certainly should be high in your shortlist.
Gallery