If backup and external storage had a hope of ever being fashionable, then Drobo would probably be the industry icon. Trying its level best to make data devilishly interesting since 2007, the company's primary claim to fame from its glossy black obelisks is their packaging of drive redundancy to an audience who either doesn't understand, or who doesn't want to be bothered with, RAID definitions. Now, there's the Drobo Mini, a compact version intended to take four drives mobile and give them a shot of SSD speed along the way. Read on for our full review.
Hardware
The Drobo lineage is clear in the Mini, though unlike its siblings it spreads its drives horizontally rather than vertically. At 7.3 x 7.1 x 1.8 inches it's a squat square of matte and glossy black plastic, tipping the scales at 2.2 pounds without drives; that also doesn't include the power brick, which is compact though still something to consider if you're planning to make the Drobo Mini a mobile storage solution.
Up front there's a magnetically-attached front cover, which hides four 2.5-inch drive bays. By switching from the more common 3.5-inch drives, as in the rest of the Drobo range, the company has been able to reduce size, noise, and power consumption (though since you provide the HDDs yourself, that will in part depend on which models you pick). However, it also places new limits on capacity, since 2.5-inch drives aren't available in the same huge sizes as their bigger brethren.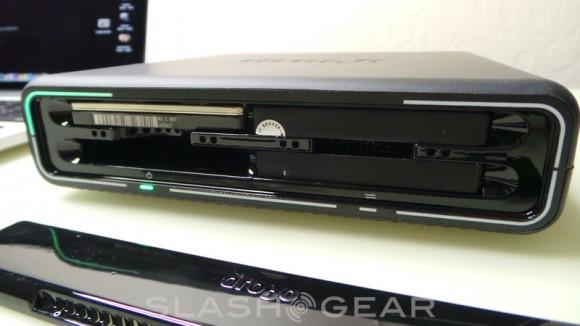 In fact, 1TB is basically the maximum per drive, though since the Drobo Mini uses the company's BeyondRAID data redundancy system, you won't actually get 4TB of total storage even if you slot a full terabyte into each bay. Drobo has a useful calculator to figure out exactly what you'll get, but if you stick to the 1TB maximum and expect complete data safety even if one of the drives dies, you'll have 930GB to use with two HDDs installed, 1.81TB with three installed, and 2.72TB with all four occupied.
It's worth noting that you needn't install four drives of the same size: you can mix and match, then take advantage of Drobo's auto-rebuilding of the array by swapping out a smaller drive for a larger version. Another option is dual disk redundancy – where the Drobo Mini can handle up to two drives failing simultaneously with no data loss – but then, with four 1TB HDDs installed, you'll only have 1.8TB to use.
Fitting the drives themselves is incredibly straightforward: no caddies, rails, or other attachments, simply push the HDD in port-first and, like clicking a pen, it slots into place. No tools required, and swapping out a drive is as simple as clicking it in and pulling it free; you can even do it with the Drobo Mini running, and rebuilding the array begins automatically. Four green LED strips around the corners of the fascia correspond to the status of each drive, while status lights and a useful capacity gauge run along the bottom, showing you roughly how much space you have left.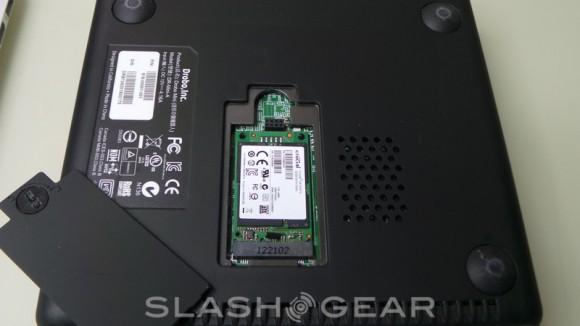 However, there's also a fifth bay, on the underside of the Drobo Mini, which takes an mSATA solid-state drive. These flash drives, having gained in popularity thanks to ultrabooks, basically offer a chunk of speedy storage in a small footprint, and work with what Drobo calls "data-aware tiering technology"; offered until now only on the company's enterprise-spec B1200i, that uses an SSD cache to speed up file access by storing frequently accessed data (such as thumbnails) in a dedicated area of faster capacity. Drobo offers a $169 60GB mSATA, though you can shop around for a better deal, and using the bay is optional.
The Drobo Mini's other surprise is a battery. Non-removable (but expected to last the lifetime of the unit, Drobo says) it works as an emergency power supply rather than as a true mobility provision: basically, if you lose AC power, the Drobo Mini is designed to have sufficient internal power to make sure all the data in use is stored safely before the drive switches off.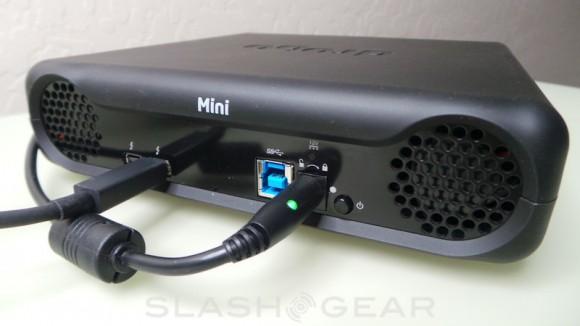 Ports are all on the back, sandwiched between two non-user-removable variable speed fans, which spin with a noticeable hum. As well as a single USB 3.0 port there are two Thunderbolt ports, the second Thunderbolt intended for daisy-chaining drives and other peripherals. The obvious omission – as with most of Drobo's earlier products – is a network port, with the Mini really intended for use with a single machine at any one time.
Performance
We fitted the Drobo Mini with four 750GB Seagate Momentus drives, as well as a 32GB mSATA flash drive in the Drobo Accelerator Bay on the underside. Drobo's Dashboard app – available for Windows and Mac – automatically builds the BeyondRAID array and uses the mSATA for caching.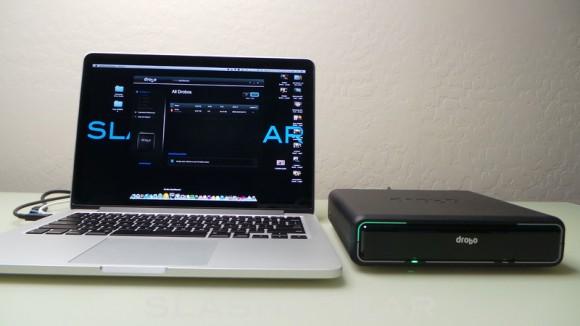 Hooked up via Thunderbolt to a 2012 MacBook Pro with Retina display, itself with a 256GB Apple-fit flash drive, we saw transfer rates from the computer to the Drobo Mini of 98.12 MB/s when dealing with 5GB files. In the opposite direction, from Drobo Mini to Mac, that increases slightly to 101.1 MB/s.
Drobo includes USB 3.0, of course, for broader compatibility, though you'll pay a penalty in speed: almost half of the rates, in fact. Transferring to the same MacBook Pro with Retina display over USB 3.0, we saw 62.71 MB/s, and then 53.1 MB/s sending 5GB files back from the Mini to the Mac.
Pricing and Value
Drobo has never been the cheap option for data storage, and the Drobo Mini doesn't break with tradition. At $649 with no drives, it's clearly on the expensive side for a portable storage caddy (though you do get both a USB 3.0 and a Thunderbolt cable included in the box). Factor in four 1TB HDDs at $80 apiece, and you're looking at $969 and still having an empty accelerator bay. A quick look online turns up 64GB mSATA drives for around $70 (you can find slightly cheaper, lower capacity alternatives, as we did, but then you'll see less benefit from the data-aware tiering technology), bringing the fully-loaded price to $1,039.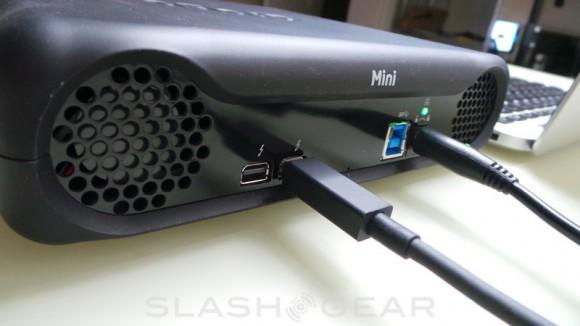 Count on another $49 if you want the official carrying case, and expect to spend a small fortune if you want to use SSDs rather than HDDs. With solid-state drives currently sitting at the $180 point for around 240GB, you're looking at $1,679 for roughly 680GB of space, albeit blisteringly-fast space.
There are cheaper ways to use 2.5-inch drives. We're fans of Synology's DiskStation DS411slim, which is $300 empty. You don't get an mSATA bay or the backup battery, and it uses gigabit ethernet rather than USB or Thunderbolt (there's an eSATA port and two USB 2.0 ports, but they're for adding extra capacity not directly hooking up to a computer), so data transfers are inevitably slower, and making it more suited to backup than for storing files you're working on currently.
If Thunderbolt is a must-have, then there's LaCie's Little Big Disk, which uses the high-speed port and two preinstalled drives (either HDD or SSD depending on the model). The good-looking external drive isn't inexpensive, however. The HDD-based model has a street price of roughly $319 for 1TB, though that's combining two 500GB drives with no data redundancy; opt for single drive redundancy, and you'll only have 500GB with no room for expansion. The SSD version comes in 512GB or 1TB capacities (street price from around $665), though again you're looking at half that space if you want single-drive redundancy. There's also no other connectivity, unlike the Drobo Mini's USB 3.0, which makes accessing data tricky if you're using one of the (many) computers that lacks Thunderbolt.
Wrap-Up
The Drobo Mini is wasted on backup. There are far cheaper ways to keep a safe copy of your digital life, and far more convenient methods than taking a single Drobo unit around every computer in your home or office and backing them up one at a time. If we've learned anything about backup, it's that even the slightest hurdle to the process and users simply won't do it; a set-and-forget NAS handles such duties far more readily.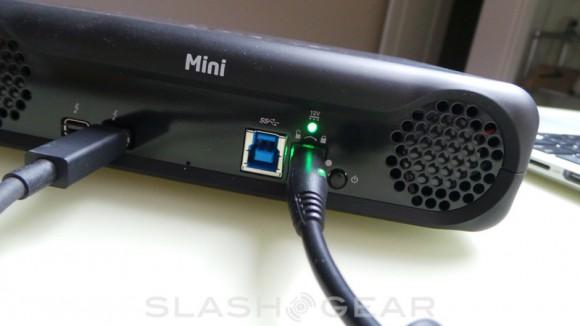 Where the Drobo Mini succeeds, then, is in day-to-day use: solid data access rates, and the flexibility and convenience of the BeyondRAID system. As we've found with Thunderbolt drives before, the Drobo Mini is sufficiently swift that you can effectively treat it as another internal drive, keeping project files – whether photo, music, or video editing, or something else – stored externally, rather than having to copy them onto your main drive and then archive them again afterwards.
That makes particular sense when you consider the shifts we're seeing in computing, particularly from Apple (though arguably where the Mac goes, the PC tends to follow), with traditional HDDs phased out in favor of faster solid-state memory with generally smaller capacities. A $1k loaded Drobo Mini starts to look far more flexible in comparison to a factory-fit storage upgrade for a new Mac, and the external drive is sufficiently portable that you could drop it into your laptop bag alongside your MacBook Pro and set up a powerful studio wherever there's an AC socket spare. That balance of performance, flexibility, and data security puts the Drobo Mini into a category of its own, and while not the cheapest external storage, you do get plenty for your money.