Drift HD sports camcorder debuts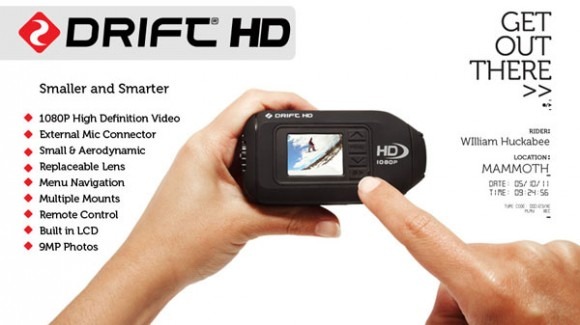 Tiny little rugged camcorders are finding their way into all sorts of places. A lot of professionals in action sports and motorsports use this sort of little rugged camera to record their practice runs so they can learn from mistakes and little HD cameras like these are also used in TV production too. A new rugged action camera has surfaced from Drift called the Drift HD for point of view filming.
The camera is impressively compact considering that it is able to record full HD resolution video and has provision for an external mic. The camera has a 170-degree field of view, multiple mounting options, and a water resistant case. The camera will work at 1080p/30fps and 720p/60fps settings. The new Drift HD is more compact than the previous Drift HD cameras.
It measure is in at 4-inches long and weighs 4.23-ounces. It has a replaceable lens and can shoot 9MP still photos. It ships with a second rear cover to protect the camera when using an external mic or a USB charger. The camera also has an integrated micro HDMI connector for playing back directly on your TV. The Drift HD also comes with a goggle strap, curved and flat adhesive mounts, and a universal clip for other mount options. The camera will land on August 31 for $369.