Dragon V2 Bluetooth is large but super functional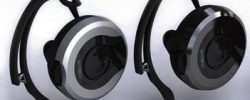 Okay, so no one ever said the Dragon V2 Bluetooth Headset was slim and trim. In fact, it's downright bulky. But this headset is super functional and offers up a ton of features, making us look past the ginormous form factor and focus on its great specs. 
In fact, the Dragon V2 has a 100 meter or 328-foot range. It has a two-way walkie talkie mode, allowing for talking with your friends without using up your precious cell phone minutes. Plus, it offers Skype call compatibility. That's really pretty cool.
The noise cancellation makes for focused listening and you can choose from black chrome, titanium or carbon fiber finishes. This is really not too bad for $99.95. So, if you're not concerned about being the most stylish Bluetooth headset wearer, then you might want to give the Dragon V2 some serious consideration.