Dr. Dre beats tour review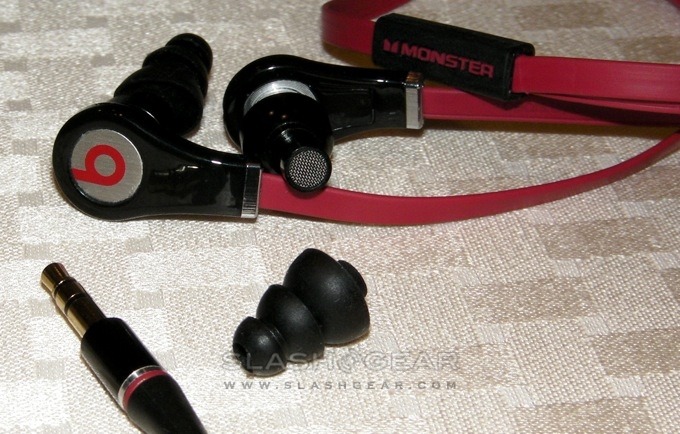 Monster Cable's headphone collaboration with Dr. Dre, the Beats, surprised us with their musical prowess back in August.  While celebrity endorsements tend toward the cheesy, and Monster's products toward the over-priced, we weren't expecting much; in actual fact, they proved impressively capable.  Now the pair is hoping to do the same for in-ear headphones, with the Beats Tour: can the follow-up muster the same success?
The primary concept is the tangle-free cable, and while that's something many headphones advertised it's also not something usually delivered.  Monster's approach is to make the cables broad and flat, like under-carpet speaker wire, and give them a "Duraflex" jacket.
As with their larger predecessors, everything about the Tour squeals excess.  The packaging is multi-layered and over-designed, as is the circular carrying case.  Included with the earphones themselves are five pairs of silicone tips, both bubble and flanged, in different sizes.  Meanwhile the color scheme can't be described as shy or retiring, with bright red cables plus the red and grey Beats logo on each ear bud.  They're good looking, but if you prefer your headphones to be heard and not seen then the Beats Tour perhaps aren't for you.
Unlike the over-the-ear Beats headphones, the Tour aren't powered.  That means you're reliant on whatever output your PMP can provide; it also means there's no noise-reduction.  What all that adds up to is a less immersive, less isolating sound stage with the Tour, and a situation where you're generally required to crank up the volume to hear the full detail of your music.
To be fair, the ear buds themselves need to shoulder some of the blame too.  Monster may provide two different types and multiple sizes, but we had more than a little trouble getting a perfect fit.  In-ear they often felt precarious and as though about to fall out; the ear-canal seal was also less impressive than other such headphones we've tested.  Peripheral noise proved intrusive, and while we don't expect custom-fit style performance we found ourselves wanting more from $150 earphones.
It's a shame, because the audio quality in general is great.  Bass and the low-end in general is the same solid mass that we've grown to expect from the Monster/Dre pairing, both thumping and delineated, while the treble fizzes and pops; these are ideal for R'n'B, Hip Hop and similar musical styles.  Overall, though, they can be wearing, primarily because you have to ramp up the volume in order to work around the ear bud issues.
As for the tangle-free cable, it works as well as advertized.  We're not quite sure how much is the "Duraflex" marketing-speak, and how much the simple fact that relatively stiff, flat cables are less prone to staying twisted, but the end result is the same.  If you like to throw your headphones, unchecked, into a rucksack or bag then the Monster Beats Tour may be the choice for you.
In the end, though, the final judgment comes down to how well your ears play with the supplied ear buds.  Perhaps we have strange ear canals here at SlashGear, but ours are not the only complaints we've heard.  If you can try the Tour out before buying, or find a retailer that will allow you to bring them back should your ears prove as recalcitrant as ours, then they're definitely worth a try musically.  In terms of a follow-up to their headphone predecessors, though, it's not quite the clean sweep Monster and Dr Dre may have hoped for.
Unboxing Dr. Dre beats tour
How to properly insert the Beats tour
]