doubleTwist Sync for Windows scores MTP support and UI overhaul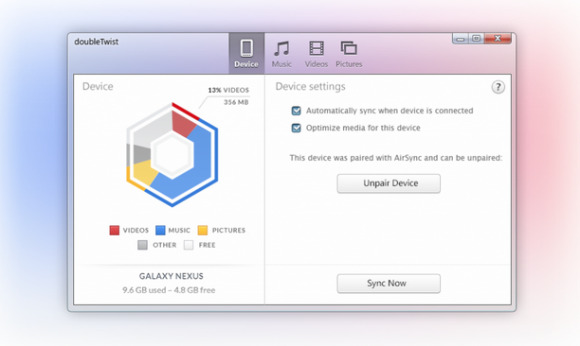 The folks at doubleTwist have introduced an updated doubleTwist Sync for Windows, bringing with it some new functionality shrouded in a redesigned user interface. With the change comes what doubleTwist says are "highly requested features," taking the app closer to what it says is its ultimate goal of giving users access to music delivery "without boundaries."
The update serves to make the Windows app faster and more powerful than previously, according to doubleTwist, in addition to the new features. The new user interface aside, users will now find MTP support, allowing users to sync their sounds to a smartphone or a tablet from their computer via a USB cable, making the process faster and easier than before.
To keep things clean and organized, the Windows app now has a full integration with iTunes as well, allowing playlist changes, song ratings, and other particulars to be automatically synced to iTunes, helping to keep data uniform across all devices and libraries. Syncing options have also been expanded, adding the ability to sync via genres, playlists, artists, and albums from Windows Media Player and iTunes.
This Windows app also works completely with the company's doubleTwist Music Player, which is available for Android, supporting everything from syncing to listening and the details between. Says doubleTwist: "Our vision has always been to deliver to you music without boundaries and we believe doubleTwist Sync is another step in that direction, breaking the artificial walls that Apple, Google and Microsoft build around their platforms to constrain you."
SOURCE: doubleTwist Blog