Dot Bluetooth Earbud Packs 9 Hours Of Call Time Into A Tiny Package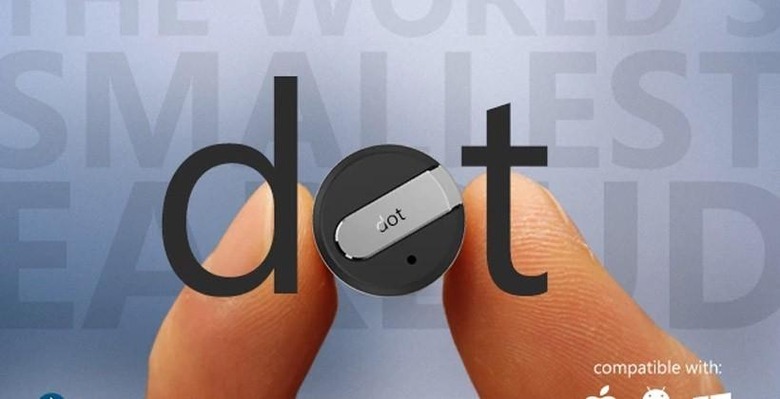 Bluetooth headsets have been around for a very long time now and there are headsets of all sizes on the market to choose from. A new Bluetooth headset has debuted called the dot and it claims to be the smallest Bluetooth earbud in the world tipping the scales at 3.5g. It's compatible with iOS, Android, and Windows Phone Mobile devices. Despite being small, the dot has impressive battery life with 80 hours of standby.
The earbud promises 6 hours of music playback and 9 hours of call time per charge. Dot also has a case that has a battery inside allowing you to recharge it on the go. Controls use a single button for answering a call or ending a call with a tap. LED indicator lights on the Dot make setup easy and no apps are needed to use or pair with your phone.
Dot can be paired with up to eight devices with a mix of supported operating systems. The earbud is 0.54-inches wide and 0.83-inches deep making it smaller than a quarter. The battery case can charge the Dot fully in 30 minutes and can charge the Dot six times before it needs to be recharged itself.
Dot is on Kickstarter now seeking $30,000 and has raised over $192,000 so far with 28 days to go. A Dot mono single earbud sells for $69 or more with the Stereo version with dual earbuds selling for $89. Shipping is expected to begin in December 2015.
SOURCE: Kickstarter