Doom Nintendo Switch release date announced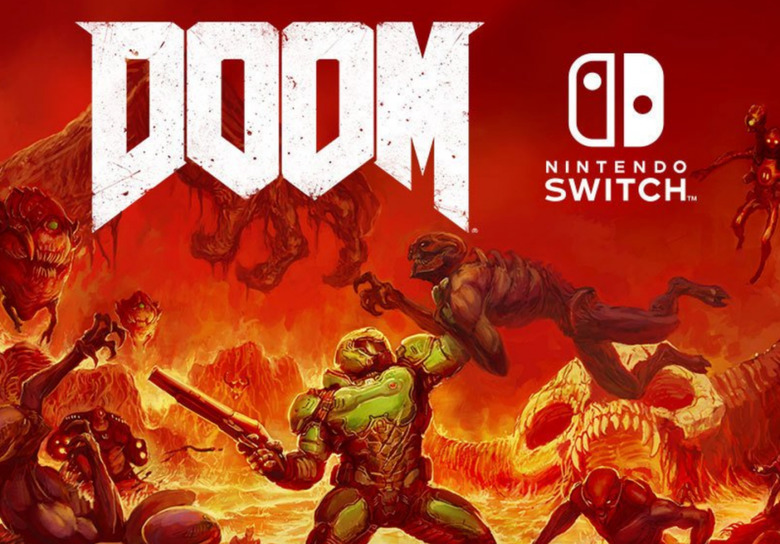 The Nintendo Switch has a big fall season ahead of it, and that all kicks off later this week with the release of Fire Emblem Warriors. Among the list of games releasing before the year is out are Super Mario Odyssey and Xenoblade Chronicles 2, but today we can also Doom to that list. Bethesda revealed when Doom will release earlier today, and in a happy turn of events, it'll be here in just a few weeks.
Doom will launch on the Nintendo Switch on November 10, Bethesda revealed today on Twitter. That will kick off a big month for Bethesda, as Skyrim is coming to the Switch just seven days later, on November 17. Then, sometime next year, we'll see Wolfenstein II: The New Order become the third Bethesda game released for Nintendo's latest console.
That's a fairly big deal, as Bethesda certainly doesn't have a history of supporting Nintendo consoles. Back when only Skyrim was confirmed for the Switch, some thought that it might be a one-off release for the company, but now that Bethesda is porting some of its newer games over, perhaps we can look forward to more games in the future?
That's definitely the hope. Though Doom and Wolfenstein II will need to have a few visual downgrades to run on the Switch, we know that the console is capable of running them. Whether that remains true for future games like The Elder Scrolls VI or whatever's next for the Fallout franchise remains to be seen.
In any case, we'll get to see just how much of the Doom experience translates to Switch soon enough. For now, have a look at a new development video posted above for more about Doom on Nintendo Switch. Will you be buying the game when it launches next month? Head down to the comments section and let us know!