DOOM Bloodfall DLC arrives alongside double points weekend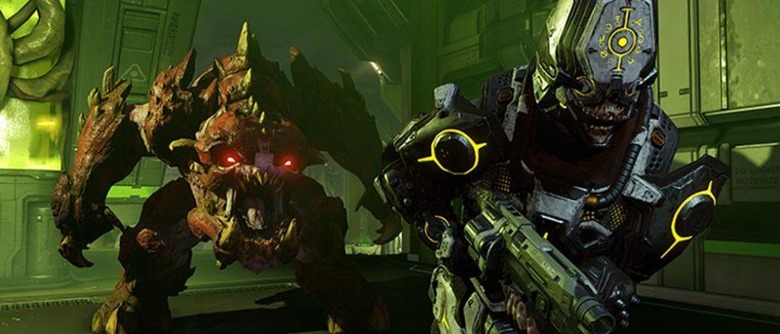 Bethesda has announced the release of the third and final DLC for DOOM (2016). The latest DLC is called Bloodfall, and it is of the multiplayer variety. As has become popular with special expansions, Bethesda has also announced a double points weekend that'll run until next Monday (December 19). Those without a DOOM season pass can buy the DLC individually for $14.99 USD.
This expansion is a big one, as we'd expect, and it includes three new maps alongside some new gear and more. Gamers can transform into the Spectre Pinky demon in this expansion, and can also utilize a Cultist armor set, use a new Grenade Launcher weapon, and a use a trio of new Hack Modules.
Arguably the most important part of the DLC is the new maps it brings, giving gamers some fresh places to play their favorite game. With this expansion you get "Empyrian," "Boneyard," and "Outbreak." The first of the three is described as an 'ageless colosseum,' while Boneyard is the outer realm of Hell and Outbreak is a UAV facility overrun with demons.
As mentioned, gamers also get the new Grenade Launcher, a weapon banned by the UAC. When you play as the Spectre Pinky demon, meanwhile, you get a bunch of heavy armor with special abilities to turn invisible and stalk your enemies. As far as gear goes, there's also new Lateral Thrusters for dodging fire and performing a third mid-air jump. Finally, gamers have gained access to fifteen additional colors and patterns for customizing the look of their characters.
SOURCE: Bethesda