The measles, a disease that was declared eradicated in the United States nearly 20 years ago, is seeing a massive resurgence across the nation. The CDC issued an advisory earlier this week that warned the US is about to exceed its post-eradication record number of measles cases per year…and it'll probably happen within weeks, not months. Following its lead is the FDA, which has issued a statement emphasizing one important point: the vaccination is not to blame for these outbreaks.
US on the brink
Measles used to be a common — and potentially fatal — disease that often appeared in childhood. Though healthy adults may recover from the viral infection with few issues, some people — particularly children — experience severe complications that can include blindness and death.
Prior to the development of the MMR vaccine, which protects against measles, mumps, and rubella, the United States experienced between 3 and 4 million measles cases every year, resulting in around 48,000 hospitalizations, hundreds of deaths, and around 1,000 cases of brain swelling annually.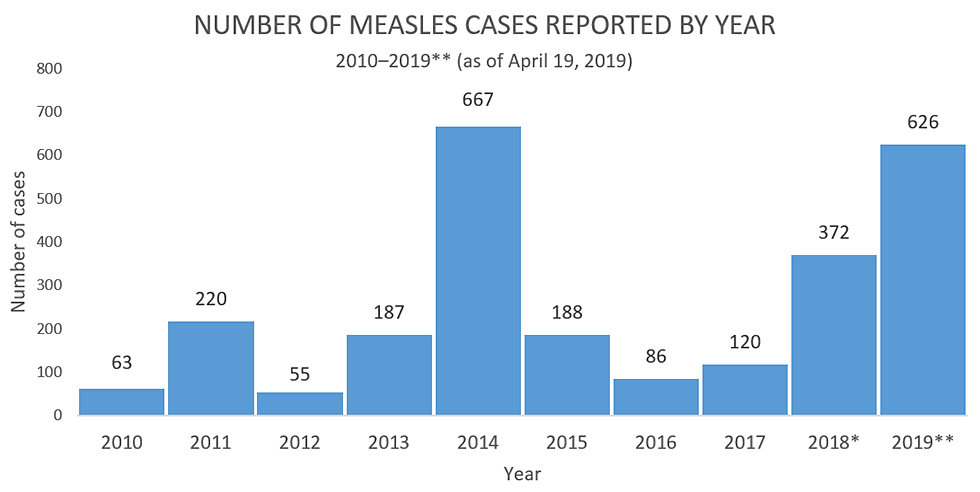 Image: CDC
In an advisory published in late April 2019, the Centers for Disease Control and Prevention revealed that hundreds of measles cases have been confirmed throughout the United States. In 2014, the nation experienced its current record number of measles cases post-2000 eradication with a total of 667 confirmed reports.
As of April 19, 2019, the CDC had confirmed 626 measles cases in the US. At this rate, the nation is expected to exceed its all-time post-eradication annual record within the first half of year.
Outbreaks around the world
The United States isn't the only country facing a measles crisis. In mid-April, the World Health Organization published a report detailing measles outbreaks around the world. Cases increased 300-percent globally in the first three months of 2019 compared to the same period of time last year.
According to WHO, measles outbreaks are currently happening in Madagascar, Sudan, Thailand, Philippines, Ukraine, Myanmar, Ethiopia, and more. As well, officials have reported a spike in measles cases in countries that have high vaccination numbers, including the US, Tunisia, and Israel.
The vaccine works (if you get it)
The CDC and WHO both emphasized that the vaccination is not responsible for the increase in case numbers, and the FDA has issued a similar statement. On April 22, the FDA said:
It deeply concerns us when we see preventable diseases such as measles or mumps reemerging in the United States and threatening our communities … We cannot state strongly enough – the overwhelming scientific evidence shows that vaccines are among the most effective and safest interventions to both prevent individual illness and protect public health …

We do not take lightly our responsibility to ensure the safety and effectiveness of vaccines, and work diligently to assess safety and effectiveness of all licensed vaccines for their intended uses. The MMR vaccine is very effective at protecting people against measles, mumps, and rubella. It also prevents complications caused by these diseases.
The MMR vaccine needs to be administered in two doses with the first given at age 12. Assuming someone receives both doses, their odds of being infected by measles drops by 97-percent.
According to the WHO and CDC, the increase in measles cases are seen emerging in communities with low vaccination numbers. These clusters of infected individuals spread the highly contagious disease to others who haven't been vaccinated, including children too young for the vaccine and others who have compromised health.
At this time, there have been confirmed measles cases in California, Texas, Oregon, New Jersey, New Hampshire, Maryland, and more — a total of 22 states as of April 19. Outbreaks have been identified by the CDC in NYC, Washington, Michigan, New York state's Rockland County, California's Butte County, and New Jersey.