Dolce & Gabbana employed drones on the runway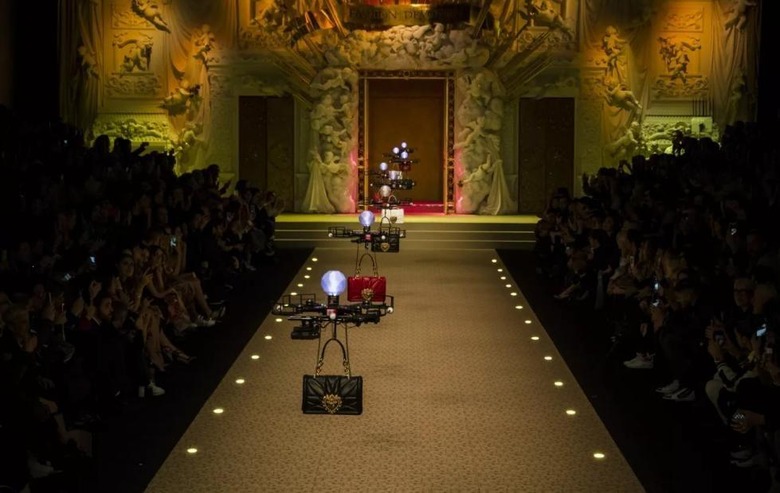 Technology has invaded the fashion industry and not just because of smartwatches or smart jackets. Many humans have feared that robots would one day replace them, but that idea probably never entered the minds of runway models. That is, until Dolce & Gabbana's Sunday show did exactly that. Well, there were still plenty of room for humans strutting outlandish but totally fashionable outfits, but it was clear to the show's audience who the real stars were, despite being the cause of a terribly late start. D&G has just given a whole new meaning to the term "wardrobe malfunction".
There seems to be a sort of obsessions at making drones more acceptable to the masses, from Intel's drone light show at the recent Olympics to drones headlining a fashion show. But if you think that drones wouldn't appeal to fashionistas, you'd be generally correct. Except Dolce & Gabbana's audience were exactly the very people such technological stunts would appeal to. In other words, millennials.
The drones, which paraded before the actual human models, carried an assortment of handbags designed around the theme "Fashion Devotion". They didn't fly about with clothes hanging from their bodies. For that, you'd need humanoid robots to replace human models. You might not notice a difference.
The technological demo was met with cheers and applause but was not without its hiccups. The event started late, mostly because the already impatient audience was asked again and again to turn off personal Wi-Fis and hotspots, presumably to keep those from interfering with the then still secret drone show. Ironic, of course, considering how the show's audience is, indeed, the very people who live and die by their Internet connections.
SOURCE: Fashionista