[UPDATED] Does T-Mobile have AT&T by the Spectrum?

Could AT&T be on the hook for $3Billion and a chunk of the AWS Spetrum? This little nugget came up in conversation with a friend of mine over the weekend (yes, I talk about wireless telecommunications mergers as part of my social life) and I found some co-corroborating documentation during some searches through AT&T's website today. Oddly, the link took me off of AT&T's press website to a protected domain, mobilizeeverything.com. So I'm uncertain whether this is real or not. The first image here shows the link from AT&T's newsroom that took me to the mobilizeeverything.com website.
This image is the next page that appeared, it looks like a website for AT&T, but isn't. The whois lookup only took me to a Name.com protected domain. Name.com's internal whois lookup was equally unhelpful. This is really weird.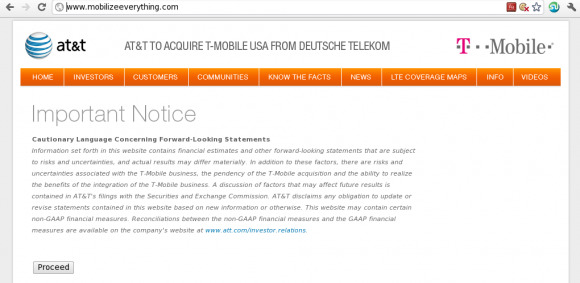 This is the final piece that contains the juicy bit. This term is apparently out of a document meant to give investors a clue as to what this merger is going to mean for AT&T's stock value over the next twelve months. I saved a copy of Factsheet.pdf and took a screenshot. I used GIMP to crop and emphasize the relevant paragraph from a screenshot. If this is true, and the FCC decides to block AT&T's move, AT&T will not only have to pay T-Mo $3 billion, but will have to cede part of their AWS Spectrum to T-Mo.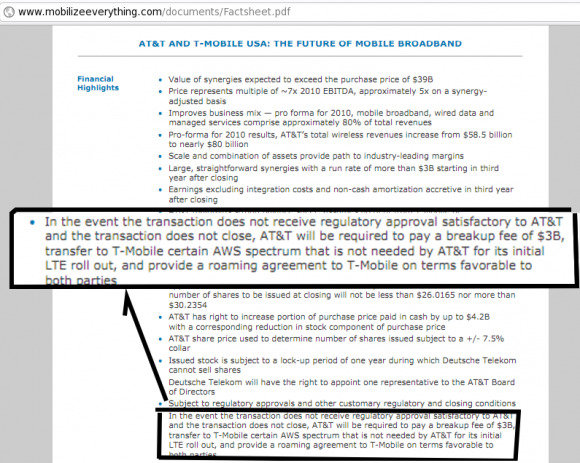 This is going on at the same time when the FCC opposes the merger. Dangerous times for AT&T, they might lose out on this one.
I contacted Michael Balmoris at AT&T. He replied with some clarification as to the source of this information. He said that it was part of an 8-K public filing. An 8-K is a type of report companies have to file with the Securities and Exchange Commission (SEC) whenever they make a big announcement that shareholders have to know about.
That language is from an 8-K that we filed after announcement that provides additional detail on the agreement with DT. Below is the excerpt from the filing – basically the same thing he has and what we included on the fact sheet.

"The Stock Purchase Agreement contains certain termination rights for each of the Company and Deutsche Telekom and, in the event that the Stock Purchase Agreement is terminated because of the failure to obtain regulatory approval, the Company may become obligated to pay Deutsche Telekom $3 billion in cash, enter into a roaming agreement with Deutsche Telekom on terms favorable to both parties and transfer to Deutsche Telekom certain wireless AWS spectrum that the Company does not need for its initial LTE roll-out."
T-Mobile now gets either 3 billion dollars cash and a chunk of the hotly contested EM spectrum rights freshly freed from the grips of broadcast television or annihilation. That's a step up from wholly consumed into the belly of AT&T's acquisition.