Dodge's One Lap Of America Ringer Is Called "Speed Trap"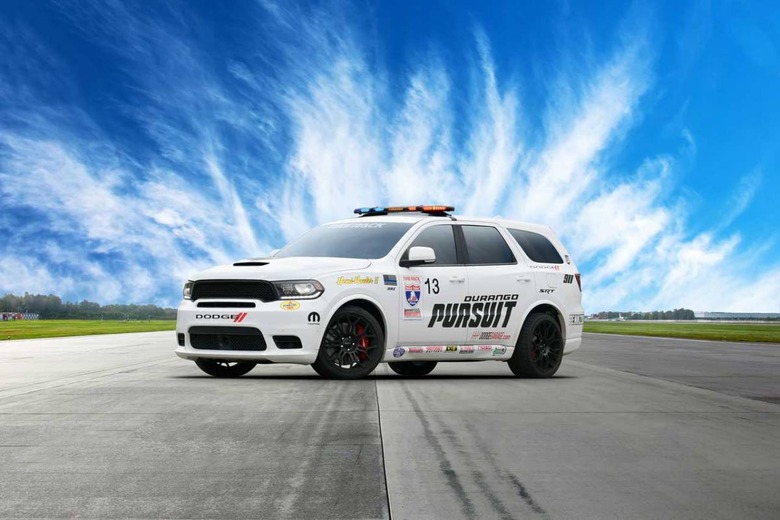 Dodge was at the 2019 Tire Rack One Lap of America event that started on May 4 to defend its Truck/SUV class win last year. The vehicle Dodge took to the event was a one-of-a-kind ringer that was built to dominate. The special Durango SRT SUV was dubbed "Speed Trap" and packs a 797hp supercharged 6.2L Hemi V8.
The truck was put into a Durango Pursuit Law Enforcement livery complete with light bar. Speed Trap also had high-performance mods from Mopar for better performance. The mods included a free-flow, stainless steel, cat-back exhaust system and concept lowering springs to drop the ride height 0.6-inches. The massive power went through a TorqueFlite 8-speed automatic transmission to a full-time all-wheel-drive system with an SRT-engineered drive mode system to give Speed Trap grip for a wide variety of timed track events.
Events included wet and dry skid pads, private road courses, and race tracks. The truck rolled on custom 20x11-inch wheels on 305/35ZR20 Pirelli P-Zero tires that came from the Challenger SRT Hellcat Widebody. The truck participated in the week-long competition on the same set of tires.
One lap rules prevent drivers from changing tires for the duration of the event. Drivers are allowed a single spare for emergency use. The idea is to challenge drivers to manage tire wear on and off the track. Speed Trap uses massive 15.75-inch Brembo two-piece vented rotors with six-piston calipers painted red.
The rear brakes are 13.78-inch Brembo vented rotors with four-piston red calipers. The interior was stock with heated and ventilated front leather seats from the Durango SRT. The second and third-row seats were removed for weight savings. The week-long event spanned seven states with eight race tracks throughout the event.