Dodge unveils 2020 Mopar Dodge Challenger Drag Pak at SEMA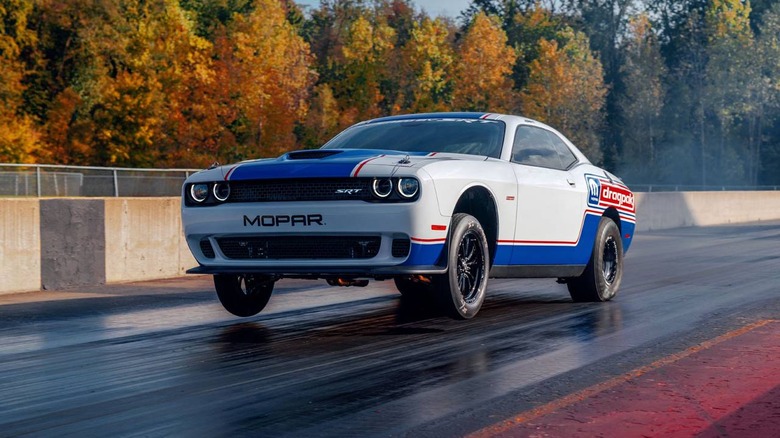 Dodge has unveiled its latest turn-key, track-only, drag racing car at SEMA 2019. The car is the 2020 Mopar Dodge Challenger Drag Pak. It's built for racers who run in the sportsman classes in races sanctioned by the NHRA and NMCA. Dodge says the new Drag Pak builds on the lessons leaked in the thrid-gen Drag Pak car.Dodge is also offering racers a variety of modular kits they can install on their own Dodge Challenger drag car. Dodge plans to build only 50 serialized units with order and pricing details announced in the future. The car has graphics that are meant to remind of the '70s with a red, white, and blue color scheme.
The car starts with a standard Dodge Challenger body-in-white unibody built at the Brampton Assembly Plant in Ontario. An SFI-specification welded roll cage that is rated for quarter-mile runs as fast as 7.50 seconds is integrated into the body. Mopar fits the car with Strange rear axle assembly with adjustable coilover shocks.
The car has a four-link suspension with a wishbone and an anti-roll bar. Behind the car are wheelie bars and a parachute mount integrated into the chassis. Both of those are standard parts. The Drag Pak car uses a unique engine cross member to lower the center of gravity, and the front has Bilstein double-adjustable struts.
Power comes from a supercharged 354ci HEMI V8 engine paired with a T400 3-speed transmission with a Kwik-Shift manual shifter. Mopar uses a lightweight driveshaft, front and rear racing brakes, Racetech seats, Racepak smart wire fully programmable power distribution center, and a special Drag Pak lightweight wheel and tire package. Dodge is mum on how fast it expects the car to go, but it notes that the third-gen car was able to run 8-second ETs.