Dodge Charger Pursuit offers sophisticated all-wheel drive system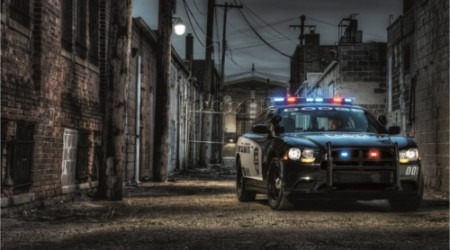 Police officers all around the country have a new vehicle to choose from when it comes to selecting pursuit vehicles. The Dodge Charger Pursuit offers the segments most advanced all-wheel drive system. The all-wheel drive system in the Charger Pursuit is designed to deliver maximum all weather traction and fuel efficiency.
The vehicle features an active transfer case, and front axle disconnect system that automatically enables all-wheel drive during slick conditions. At the same time, the special transfer case and axle disconnect system maintains the performance and handling characteristics of a rear-wheel drive architecture. What that means is the car uses all-wheel drive only when slick and otherwise operates as a standard rear-wheel drive vehicle.
The sophisticated all-wheel drive system is optional on the Charger Pursuit, but is available for police departments to choose along with the 5.7 L Hemi V-8 engine. Dodge says that police fleet customers will be able to order the Dodge Charger Pursuit with all-wheel drive for the 2014 model year. Criminals trying to evade police might want to give up when the Dodge Charger Pursuit steps into the fray.
According to Dodge, the vehicle delivered the fastest lap ever recorded at the Michigan State Police Vehicle Evaluation Test for the 2012 model year with the time of 1:33.70 at Grattan Raceway in Michigan. The vehicle's 5.7-liter V8 engine produces 370 HP and 390 pound-foot of torque. It also promises 25 highway mpg with a four-cylinder mode.