Dodge Challenger GT AWD Gets Official At SEMA 2015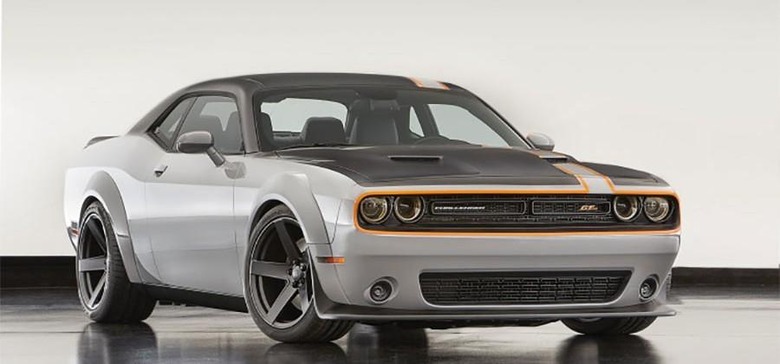 FCA is showing off some cool concept cars at SEMA and many of them carry the Dodge brand. The coolest of all of those SEMA show cars is the Challenger GT AWD Concept, yes a Challenger with all-wheel drive. Dodge has never offered AWD on its muscle cars. The challenger AWD puts power to all four wheels using an 8-speed auto transmission.
Other than the AWD system, the car also has a wide-body kit with big wheel arches and cool grey and matte black stripes with orange accents. Dodge also fitted the car with the Scat Pack 3 Performance Kit that brings 75hp and 44 lb-ft of torque to the 5.7L V8. An FCA spokesman has said this is only a concept, it doesn't sound like it will enter production.
Other cars in the FCA booth include a blacked out Dart GLH concept with red accents and a Mopar performance aluminum hood meant to look like the Omni GLH from back in the day. A cool concept truck is the Ram 1500 Rebel X in a copper color with 17-inch beadlock wheels, big tires and a concept two-piece skid plate up front.
The Chrysler vehicle being shown off in the booth is dubbed the 300 Super S is mate blue paint, 22-inch wheels, and tuned engine. The car also has bigger brakes and coilover suspension.
SOURCE: Autoblog