DLO Action Jacket Sports Case for iPod Shuffle announced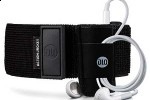 If you recently picked up the newest iPod Shuffle and have yet to find a suitable case for it, you just might need to check out the Action Jacket Sports Case from DLO. This case was designed specifically for the Shuffle and it makes exercising or general hands-free music listening a snap.
This case holds your Shuffle within a pocket and then a band affixes to your arm. It's perfect for joggers or those who hit the gym often. Made out of neoprene, this case won't get wet and will keep your iPod safe even when you're working up a sweat.
Even though the Shuffle does have a clip on it, that seems a bit too precarious for my taste. I'd opt for a case that keeps my iPod secure at all times. It even has a pocket on the front can can hold your headphones. You can get the DLO Action Jacket Sports Case starting on April 5 for $19.99 at Best Buy.
[via Gearlog]