DJI Zenmuse X5 drone cams: M4/3, 4K, interchangeable lens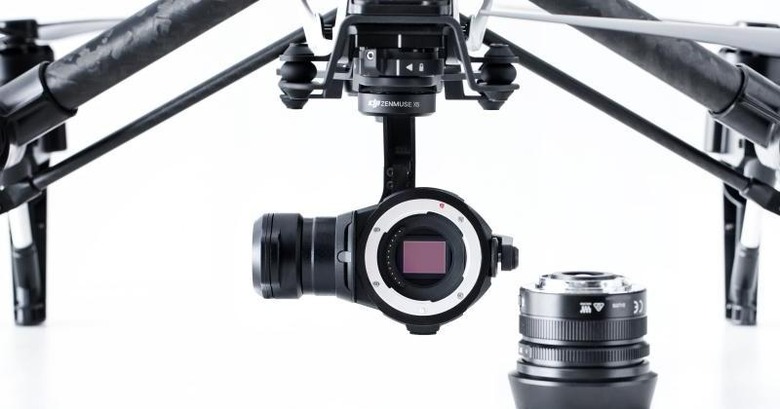 Already experts with their camera drones, DJI is stepping up its game with the announcement of the Zenmuse X5 and Zenmuse X5R cameras for drones. These, however, are not your ordinary drone cameras, boasting of features that take drone photography to new heights. Almost quite literally too. The two new Zenmuse cameras are noted to be the first aerial cameras that feature micro four-thirds (M4/3) sensors. At the same time, they are capable of 4K image and video recording. Plus, they feature interchangeable lenses too!
The Zenmuse X5 is the base 16 megapixel camera that captures images at 4K resolutions with 13 stops of dynamic range, making it ideal for high quality aerial mapping under any lighting condition. The interchangeable lens system is compatible with 4 lenses from a variety of manufacturers, namely, the DJI MFT 15mm f/1.7 ASPH lens, the Panasonic Lumix 15mm G Leica DG Summilux f/1.7 ASPH lens, the Olympus M.ZUIKO DIGITAL ED 12mm f/2.0 lens, and the Olympus M.Zuiko 17mm f/1.8 lens. Drone pilots can conveniently control the focus and aperture of the cameras via the DJI GO app.
The Zenmuse X5R takes it up a notch by adding the capability to record video both to an onboard microSD card as well as a 512 GB SSD mounted on a gimbal's top plate. The X5R records in CinameDNG (RAW) format, which can then be edited and converted later with DJI's upcoming CineLight tool. Like the X5, the X5R also features the same 16 megapixel sensor is also compatible with the same four lenses.
The Zenmuse X5 cameras can be attached to the 3-axis Zenmuse gimbal that is found on DJI's Inspire 1 drone, affording both aerial stability and long exposure shots for up to 8 seconds. This also means that, if you already have such a drone, you will not need to buy a new one just to take advantage of the high quality 4K shots as the two cameras are a stand-in replacement for the standard Zenmuse X3 that the drone comes with.
If you don't have the drone yet, you can pre-order the Zenmuse X5 along with a DJI Inspire 1 and DJI's MFT 15mm F1.7 ASPH lens for $4,449. The same deal with the Zenmuse X5R goes for $7,999. The cameras can also be bought standalone, with or without lenses. The Zenmuse X5 starts shipping later this month while the X5R won't be coming until sometime later this year.