DJI Inspire 1 drone appears in leak ahead of launch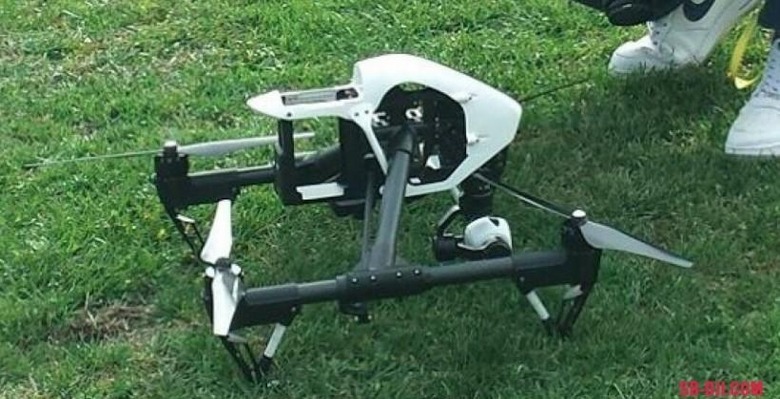 DJI's upcoming Inspire 1 drone appears to have leaked in a series of images captured during a test flight. The maker, which brought the popular Phantom 2 drone, is set to officially announce its Inspire 1 on November 12, and if these spy shots show the real deal, it will feature an H-style frame (as previously speculated). The images from the leak resemble the "transformable aerial vehicle" seen in a patent from DJI that was published back in mid-September, lending credence to the spy shots.
The shots were taken during a private test flight, and were first reported by SB-DJI.com following DJI's "Save the Date" video for the upcoming announcement and the first official teaser (check out the video below). Unfortunately, the teaser shows only brief close-up shots of the drone.
It is anticipated the drone will feature a three-axis gimbal that will accommodate a 4K camera from the maker, a glimpse of which can be seen towards the end of the video above (only the lens is shown). Speculation has it DJI might be including a FPV monitor in the controller, as well, but that's yet to be confirmed.
The controller seen in the images isn't clear enough to discern whether a monitor is present, and features two antennas, though it is a controller for the prototype and so may differ in the final product. Beyond this nothing else is known — it isn't even clear whether this, indeed, the Inspire 1. Fortunately, we only have to wait until Wednesday to find out for sure.
VIA: Gizmodo