DJI and FLIR create Zenmuse XT thermal camera for drones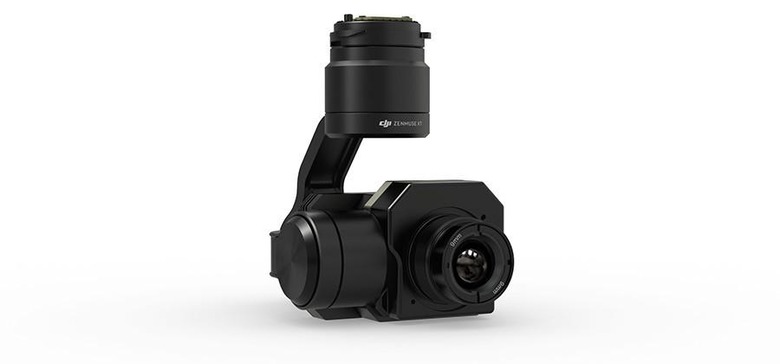 Drone maker DJI has partnered with FLIR Systems, the company behind the FLIR One thermal camera. The collaboration between the two companies will be used to create similar thermal imaging technology for use with drones, the uses for which are varied. Agriculture, firefighting, inspections, and other industries are all cited as areas where such drones would be useful. Marking the start of the companies' collaboration is the Zenmuse XT, an aerial thermal camera.
The Zenmuse XT is a stabilized thermal camera featuring DJI's gimbal mount, the same one found on the maker's Zenmuse X3, X5, and X5R cameras. According to a statement from DJI, the new Zenmuse XT will be compatible with its Inspire 1 and Matrice M100 drones.
The camera itself will take thermal images at resolutions up to 640 x 512. These images will show heat sources; FLIR's similar cameras for smartphones are used for everything from hunting to finding hot water pipes behind walls. When on drones, the cameras would be used to spot wildfires from the sky, excessively warm spot in homes, and more.
The new camera will be released in the first quarter of next year. Future plans between the two companies wasn't stated.
Said DJI's founder and CEO Frank Wang:
Almost every week we see new applications of our aerial technology. Adding thermal imaging as an additional sensor options for aerial platforms will open up new AND innovative uses for our users, whether it's gaining strategic insight into how their crops are growing or more efficiently understanding the spread of fires.
SOURCE: DJI