Division 2 players, get ready for a large day-one patch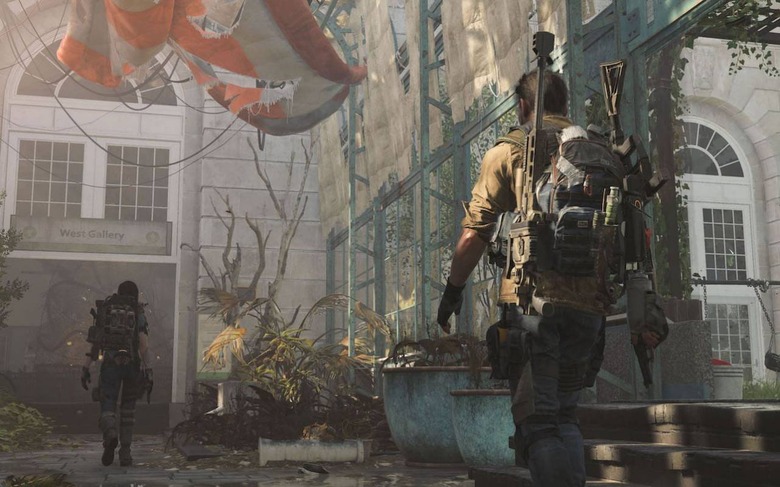 Ubisoft's online loot-based shooter The Division 2 is launching next week, with pre-loads starting this weekend and players able to jump in over the days leading up to March 15th, depending on which edition they pre-ordered. Unfortunately, players won't exactly be jumping in right away, as they'll be required to download the game's huge day-one patch, regardless of what platform they're on.
To say Ubisoft's rollout of The Division 2 is confusing would be an understatement. The developer has posted not one but four charts outlining when the game can be downloaded and played, taking into account pre-load times, platform, pre-order edition, and region. Regardless of when they can just start playing, the biggest hurdle will be the required day-one patch, which weighs in at 48-52GB on Xbox One and PC, regardless of digital purchase or physical disc.
PS4 players, sadly, have it much worse. Or at least they might. Ubisoft's support page states that on Sony's console Title Update 1 will be a massive 88-92GB, again regardless of the game being installed from a disc or purchased digitally. However, a news post on the game's website notes that the PS4's update will still be a 48-52GB download, and that it's the final install size on the console's hard drive that will be 90-100GB.
Ubisoft hasn't clarified which is the correct information, unfortunately, but it's clear either way that players on all platforms are basically having to download the entire game. Normally, physical discs help alleviate this situation, as it's just a matter of waiting for a game to install without the need for an internet connection. But when it comes to The Division 2, players with limited connections or strict data caps will have quite a headache before they can play.
Oh, on top of all this, the required Title Update 1.5 will also be released on March 11th, addressing a few last-minute audio issues. Thankfully this is only a 2GB download on all platforms.