Dish Fiber could be an apartment dwellers best friend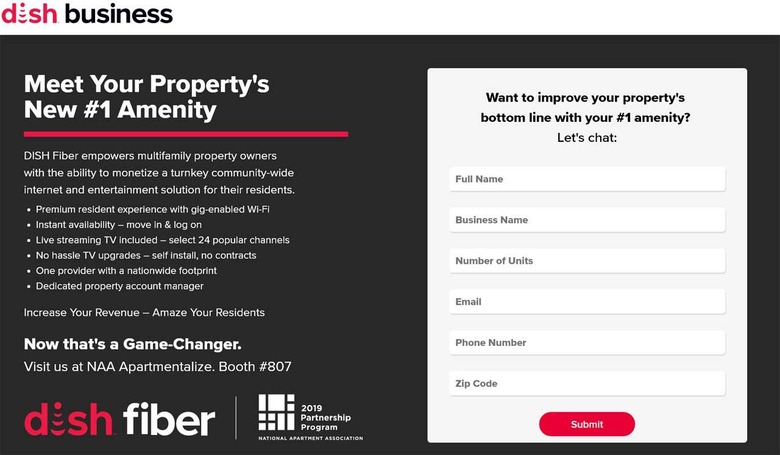 Everyone knows about Dish Network at this point, it was among the first of the easy and small satellite Dish companies to fight against big cable. Dish has announced a new service that isn't aimed at home owner's it's aimed at property owners and managers who are looking for ways to add more value add for residents living in apartment complexes and facilities with multiple units. Dish says that Dish Fiber is a new bulk solution for multifamily communities.
The service gives everyone immediate access to premium managed WiFi and live streaming TV at move in. Dish Fiber will give the property owners flexible billing options and the ability to manage them as one utility via a single nationwide provider. That means that property owners with multiple complexes around the country can manage billing for all of them in one place.
The managed WiFi portion of the service gives residents high-speed internet in the unit and anywhere on the property without having to change to a different network. The WiFi connectivity gives access to all the things that the internet offers with a secure and personal network for video streaming, social media, and internet surfing. The service can also be provisioned for smart-home and smart-property-tech like smart locks and thermostats.
Dish Fiber also offers live TV streaming with top channels that are selected by the managers to watch anywhere in the community on browser-enabled devices. The streaming content is powered by Smartbox, which is Dish's headend video distribution platform for commercial applications. The service uses a single, centralized satellite dish and is delivered over the IP network for the complex.
Residents can upgrade to the full Dish experience using Dish Hopper receivers with no credit check, long term commitment, or tech visit. Packages start at $25 monthly and comes with access to programming on the go via the Dish Anywhere app. Dish Fiber is available to property owners now with no upfront cost and works with an existing or upgraded network infrastructure.