Discord, the gaming-focused VoIP and messaging app, is preparing to launch its own digital marketplace for games, directly entering the territory dominated by Steam. Discord is starting small, however, rather than aiming to offer every PC game available like Valve's immense storefront. The app has announced a store beta that will be limited to 50,000 Canadian users, which will be randomly selected from the Discord Nitro subscription service.
Those users invited to the beta will be able to access a new Discord Store tab within the app, where games will be offered in two ways. The first is a selection of titles that will be free to those who pay the $5/month or $50/year subscription for Nitro; a feature that Discord hopes will be seen as "Netflix for Games." The initial lineup of these free games includes Saints Row: The Third, Super Meat Boy, Metro: Last Light Redux, and System Shock Enhanced Edition.
Another group of games will be available to buy in a more traditional store manner, whether users pay for Nitro or not. The idea is that this will act as a kind of "local bookstore" with titles hand-picked by employees, Discord's Eros Resmini told The Verge. Among the first games available will be Dead Cells, Hollow Knight, Into The Breach, and Frost Punk.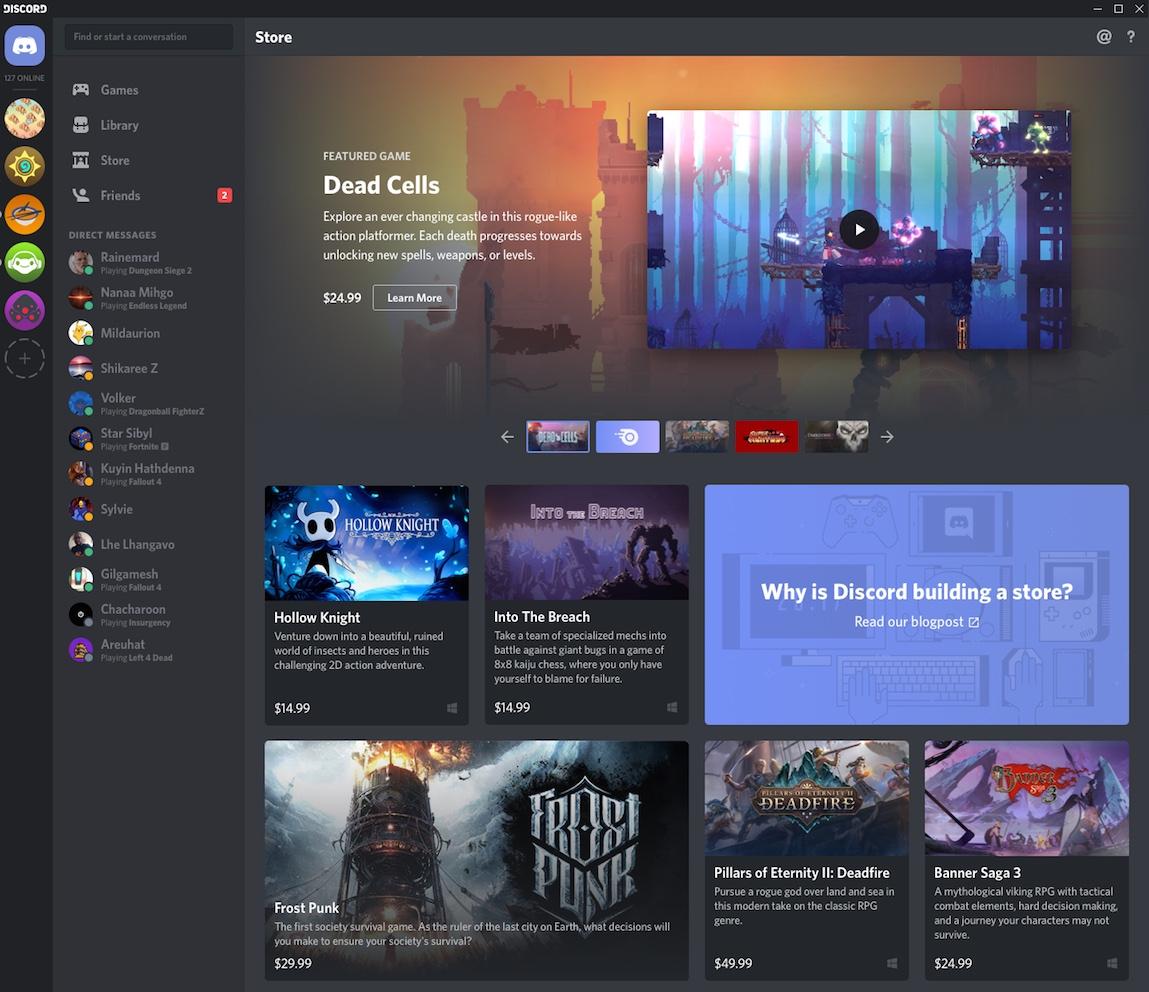 The app has plans for a "First on Discord" feature, where new indie games will launch with 90 day exclusivity to Discord users. Also in the works is a universal library that will pull in any games installed on a computer and allow users to launch them, regardless of where it was purchased from. This goes for friends who own the same game and want to play together as well — it doesn't matter if the game was bought on Discord or not.
"Our goal with Discord is to bring players together — never to fragment or add friction to gaming with friends," said Resmini. "With 150 million registered users that's a lot of building friendships while talking about and playing games together."
The Discord Store will eventually open to all users, but before then the limited beta will be gradually expanded over time. There's no word yet on when the app might send invites beyond the first 50,000.
SOURCE Discord Blog