DirecTV NOW vs Sling TV vs PlayStation Vue: Streaming Showdown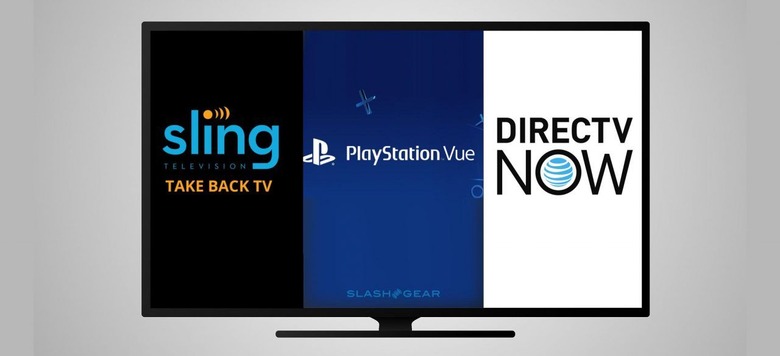 The brave new world of live television is upon us, and it comes in three forms: PlayStation Vue, Sling TV, and DirecTV NOW. Having multiple products to choose from is never a bad thing, but it does require more leg work. Which service has the features you can't live without? Is there some hard-to-find fine print you should know about? Does the service you're leaning toward offer the best value for your money? We've answered all those questions and more.
Below you'll find a breakdown of each service across the following categories:
- Cost

- Channel Lineup

- Channel Add-ons

- Cloud DVR

- Simultaneous Users

- Supported Streaming Devices

- Subscription Perks

- Fine Print
I personally use or have used all three of these services, and so you'll find some personal perspective mixed in. It's important to note that any of these three companies could tweak their products at any time, altering what is available, prices, and similar. We'll add an update note if we change any of the information in this article at a later date, but you should always check before subscribing to make sure the features you want are still available.
Cost
All three services offer plans across multiple tiers.
PlayStation Vue: PS Vue's lowest tier is "Access" for $39.99 USD. Three additional tiers join this, the "Core" package for $44.99 USD, the "Elite" package for $54.99 USD, and the "Ultra" package for $74.99 USD.Sling TV: Sling TV offers two "base" packages, Sling Orange for $20 USD and Sling Blue for $25 USD per month. Any additional channels are added via channel packs for a small extra monthly fee.DirecTV NOW: DirecTV NOW offers four subscription tiers: "Live a Little" for $35 USD, "Just Right" for $50 USD, "Go Big" for $60 USD, and "Gotta Have It" for $70 USD. For a limited time, the $60/month plan has been reduced in cost to $35/month.Best Price: Looking at just the cost of each service, Sling TV has the lowest price point at $20/month for Sling Orange. If you're pinching pennies but still want live television, this is the best way to get access without spending too much. However, keep in mind that the lowest cost does not always equal the best value. While Sling Orange is inexpensive, a different service may offer more channels-per-dollar in comparison.
Channel Lineup
Each service offers progressively greater numbers of channels as you go up from the lower to the higher tiers.
PlayStation Vue:Access ($39.99/month): CBS, NBC, ABC, FOX, My TV, Telemundo, AMC, Animal Planet, BBC America, Bravo, Cartoon Network, CNBC, CNN, Destination America, Discovery, Discovery Family, Disney, Disney Junior, Disney XD, DIY Network, Food Channel, Fox Business, Esquire, ESPN, ESPN 2, E!, Fox News, FreeForm, FS1, FS2, FX, FXX, HGTV, HLN, ID, MSNBC, National Geographic, NBCSN, OWN, Oxygen, SyFy, TBS, TLC, Science, Pop, TNT, Travel Channel, TruTV, USA, WE TV.Core ($44.99/month): Begin, BTN, ESPNews, ESPNU, Fox Sports Networks, FOX Prime Ticket, FOX Sports San Diego, Fox Sports West, NBC Golf, IFC, NBA TV, NFL Network, SEC, Sundance TV, TCM, plus channels from "Access."Elite ($54.99/month): AHC, Chiller, Cloo, CNBC World, Boomerang, BBC World News, Cooking, Discovery Life, epix Hits, ESPN Deportes, Fox College Sports (Atlantic, Pacific, Central), Fox Deportes, Fusion, Hi-Yah!, Impact, Machinima, MGM HD, Nat Geo Wild, One World Sports, Outside Television, Polaris, Poker, Sprout, Universal, Velocity, and everything from the previous tiers.Ultra ($74.99/mo): Everything from the previous tiers, plus HBO and Showtime.Sling TV: Sling TV works a bit different than PS Vue and DirecTV NOW, offering two base packages of channels at a low price, then complementing them with a vast array of channel pack add-ons spanning multiple categories and languages.Sling Orange ($20/mo): ESPN, AMC, CNN, HGTV, Comedy Central, Cartoon Network, History Channel, Disney Channel, ESPN2, ESPN3, TNT, Food Channel, TBS, BBC America, FreeForm (formerly ABC Family), Adult Swim, IFC, A&E, El Rey, Viceland, Lifetime, Travel Channel, AXSTV, Newsy, Cheddar, Bloomberg TV, Local Now, Polaris+, Maker, Flama, Galavision.Sling Blue ($25/mo): Fox (select markets), NBC (select markets), Fox Sports (select markets), NFL Network, FX, USA, Bravo, FS1, FS2, NBCSN, FXX, SyFy, Nick Jr, Tru TV, BET, National Geographic Channel, Nat Geo Wild, Univision, Unimas plus everything from "Sling Orange" minus ESPN, ESPN2, ESPN3, Disney Channel, and Freeform.Sling Orange + Blue ($40/mo): Everything from both Sling Orange and Sling Blue.DirecTV NOW:Live a Little ($35/mo): A&E, AMC, Animal Planet, Audience Network, AXS TV, Baby First, BBC America, BET, Bloomberg TV, Bravo, C-SPAN, C-SPAN2, Cartoon Network, CMT, CNBC, CNN, Comedy Central, Crime & Investigation, Discovery, Disney Channel, Disney Junior, Disney XD, E!, ESPN, ESPN2, Food Network, Fox Business Network, Fox News Channel, Fox Sports 1, Freeform, FX, FXX, Galavision, Hallmark Channel, Hallmark Movies & Mysteries, HGTV, History, HLN, Investigation Discovery, Lifetime, MSNBC, MTV, MTV2, National Geographic Channel, Nick Jr., Nickelodeon/Nick at Nite, Pursuit Channel, RFD-TV, Spike, Syfy, TBS, TCM, TeenNick, TLC, TNT, truTV, TV Land, Univision, USA Network, Velocity, VH1, Viceland, WE tv, WeatherNation.Just Right ($50/mo): Big Ten Network, CNBC World, Comedy TV, Cooking Channel, ESPNews, ESPNU, Fuse, Fusion, GSN, IFC, LMN, MLB Network, NBC Sports Network, Nicktoons, OWN, Science, SEC Network, Travel Channel, UniMás, Weather Channel, WGN America, plus everything in "Live a Little" excluding Hallmark Movies & Mysteries.Go Big ($60/mo after $35/mo promotion): American Heroes, BBC World News, Centric, Destination America, Discovery Family Channel, Discovery Life, DIY Network, FM, Fox Sports 2, FX Movie Channel, fyi, Golf Channel, Great American Country, Logo, MTV Classic, Nat Geo Wild, NBA TV, NBC Universo, NHL Network, Oxygen, Revolt, Sprout, SundanceTV, Tennis Channel, TVG, plus everything in "Just Right."Gotta Have It ($70/mo): Boomerang, Chiller, Cloo, El Rey Network, Justice Central, eight Starz Encore channels (Action, Black, East, Family, Classic, Suspense, West, Westerns), Univision Deportes Network, plus everything in "Go Big."Best Lineup: The service with the best channel lineup is tricky to determine for two reasons: Sling TV offers many, many channels as add-ons, which we'll get to in the next section, and the best lineup for me may not be the best lineup for you.
If you're looking for the best channels-to-cost ratio, DirecTV's $35/month "Live a Little" plan is the best at 64 channels spread across all genres and categories. This is in comparison to PS Vue's $39.99/month Access, which offers 50 channels and noticely lacks Viacom offerings like Comedy Central.
But sports fans would actually be better off with the $44.99/month PlayStation Vue "Core" plan rather than the DirecTV "Just Right" $50/month plan, as PS Vue offers several more sports channels for less cost. However, Sling TV lets you pick channels grouped by specific sports, and may end up being cheaper and better in the end, which brings us to the next category...
Channel Add-ons
Channel add-ons are secondary channel or channel pack subscriptions that can be added to any of a service's tiered packages for an additional monthly fee.
PlayStation Vue: PlayStation Vue add-ons are comprised of NFL RedZone for $39.99 per season (requires "Core" plan or higher), epix Hits for $2.99/month (included in Elite and Ultra), and the Español Pack for $3.99/month. The Español Pack features Spanish-language networks CNN, Cine Sony Television, Familia Discovery, NBC Universo, Fox Life, Fox Deportes, Discovery en Español, and beIN Sports en Español.Sling TV: Sling offers the following multi-language add-ons:
Sports Extras ($5/mo): ESPNU, ESPNEWS, SEC Network, NHL Network, NBA TV, beIN Sports, Outside TV, Univision Deportes NetworkKids Extra ($5/month): Disney Junior, Disney XD, Nick Jr, Nick Toons, Teen Nick, Boomerang, Sling Kids, Baby TV, Duck TVHBO ($15/month)Cinemax ($10/month)Starz ($9/month)Comedy Plus Extra ($5/mo): MTV, TruTV, Spike, MTV2, CMT, Logo, GSN, TV LandLifestyle Plus Extra ($5/mo): VH1, BET, Cooking Channel, DIY Network, FYI, Hallmark Channel, WE TV, LMN, Hallmark Movies & Mysteries, Vibrant TV NetworkHollywood Extra ($5/mo): epix, epix2, epix Hits, epix Drive-in, Sundance TV, TCM, HDNET MoviesNews Extra ($5/mo): BBC World News, the blaze, HLN, euronews, Fusion, France24, RT, News18, NDTV 24x7Best of Spanish TV Extra ($5/mo): Galavision, Univision, Unimas, Azteca, Azclic, Univision TDN, ESPN Deportes, beIN Sports, beIN Sports en Espanol, azcinema, Cine Latino, dp de peliculaCaribe Extra ($5/month): Cuba Max TV, Telemicro, TV Quisqueya

$5/month also gets you Sudamerica Extra, Espana Extra, Hindi Extra, Broadcast Extra, World Cricket Extra, Hindi Extra, TV Globo Brazilian Extra, Shahid Arabic Extra, World Music Extra, Chinese Extra, Italiano Extra, and Urdu-India Exra.
DirecTV NOW: DirecTV makes it very difficult to find out what features are available with DirecTV NOW, as the website avoids providing that information, instead hawking the highest tiers alongside promotional pricing. As such, you should be careful to make sure you know exactly what you're getting when you sign up for this service.
However, we do know that DirecTV NOW is offering HBO and Cinemax as add-on subscriptions for $5/month each. It isn't clear whether these are the only two options at this time.
Best Add-ons: There's no doubt that when it comes to sheer options, Sling TV is the runaway winner for add-on content. You'll need to figure out which channel packs you're interested in, then compare the final Sling TV price to the cost of the same content on PS Vue or DirecTV NOW to see if it makes financial sense. However, Sling TV offers a ton of content you simply can't get on either of the other services, and that makes it a winner.
Cloud DVR
PlayStation Vue: PlayStation Vue offers a cloud DVR feature that allows users to select entire shows. Each episode of these shows are saved to the cloud DVR, where they can be accessed for up to 28 days after they air. PS Vue gives you the option of watching an on-demand episode of a show rather than the DVR version when possible. The cloud DVR feature doesn't cost anything extra.Sling TV: Sling TV has just began testing a cloud DVR feature this month, but it is very limited at this time: you'll need to get an invitation to the DVR beta, and you must be using a Roku device to access Sling TV. However, those invited to test the beta are given 100 hours of DVR storage for free. It isn't clear if additional hours will cost more in the future, nor when the DVR feature will be available to everyone.DirecTV NOW: While DirecTV NOW will be introducing a cloud DVR feature in the future, it won't be arriving until some time next year. We don't know the finer details yet, such as whether it will have a cost or how long content can be saved.Best DVR: PlayStation Vue is the winner in this category, as it's the only streaming televison service that offers a free and fully functional DVR feature to all of its users.
Simultaneous Users
PlayStation Vue: Technically you can have up to five simultaneous streams on PlayStation Vue, however, some users have complained about not being able to stream to multiple televisions within the same home at once.Sling TV: Sling Orange subscribers can only stream on one device at a time. Sling Blue subscribers can stream on three devices at once.DirecTV NOW: Up to 2 simultaneous streams allowed.Most Simultanesous Streams: PlayStation Vue is the best service for multi-device and multi-television homes that often have simultaneous streams.
Supported Streaming Devices
PlayStation Vue: Supported on Apple TV 4th gen, Roku devices running firmware 7.1 and higher, Amazon Fire TV, Android 4.4 and higher, Android TV, PlayStation 3 and PlayStation 4, and Google Chromecast.Sling TV: Supports Apple TV 4th gen, all Amazon Fire TVs, Roku LT and higher, Chromecast, Android TV, Mi, LeEco, Channel Master, RCA, iOS 8 and higher, Android 4.0.3 and higher, Amazon Fire OS 4.4.2 and higher, Xbox One, macOS Lion 10.7 and higher, Windows 7 through Windows 10.DirecTV NOW: Amazon Fire TV, Amazon Fire TV Stick, Android, iOS, Apple TV, Chromecast with Android, Google Cast on LeEco and Vision, Google Chrome, Internet Explorer, iOS, and Safari.Most Supported Devices: It would appear Sling TV is the winner in this category, though all three services have some notable gaps in their supported devices coverage. DirecTV NOW does not support Roku, for example, and if you use your PS3 or PS4 as your primary media device, you're better off using PS Vue rather than Sling TV.
Subscription Perks
PlayStation Vue: PlayStation Vue can be used to authenticate a massive quantity of so-called "TV Everywhere" video apps that require a cable subscription to access streaming on-demand shows. Sony's TV service also offers a free 7-day trial for new customers.Sling TV: While Sling TV can be used to authenticate "TV Everywhere" apps, it only covers a small number of these apps: FOX NOW, FXNOW, WatchESPN, Bravo, SyFy, Oxygen, and NBC Universo. However, Sling TV has free device offers, which makes it appealing to new customers just getting into the streaming TV market. New customers located in the United States can get an Apple TV for $89 versus the $149 regular price if they pre-pay for three months of Sling TV service. A Roku Streaming Stick is offered for free for prepaying one month, and a Roku Premiere+ is offered at half price for prepaying three months.DirecTV NOW: DirecTV is currently offering individuals who pre-pay for three months a free Apple TV. Customers who prepay a single month receive a free Amazon Fire TV Stick.Best Perks: DirecTV and Sling TV are mostly tied when it comes to free device perks, though it depends on what device you're eyeing. If you really want an Apple TV, DirecTV Now will give you one for free if you prepay for three months, whereas Sling TV will just lower the price. Sling TV will give you a free Roku Stick, though, while DirecTV NOW will give you a free Amazon Fire TV Stick.
As far as video perks go, though, it appears PlayStation Vue is the current winner — however, it isn't yet clear how many TV Everywhere video apps DirecTV NOW can authenticate.
Fine Print
Let's dig into the fine print and see what restrictions each service has.
PlayStation Vue: If you didn't read the fine print, you may not know that Sony forbids you from taking your PS3 or PS4 console outside of your home and using it to access PlayStation Vue. As well, it forbids its users from signing in to their service outside of their home on someone else's 'device.' Instead, Sony says you must use the PlayStation Vue Mobile app for iOS and Android to watch the service outside your home, but take note: some channels are limited on the mobile app.
According to Sony, it determines your home location as being the zip code and IP address with which you first subscribed to PS Vue. You also can't use Vue on multiple IP addresses within the same home. If you move and fire up PS Vue at your new address, the service will ask if that's your new permanent address. You'll need to confirm that it is, otherwise you may lose access to the network.
Sling TV: This service doesn't list any geographic restrictions (within the US) for watching its content, indicating that you can watch it on whatever compatible device you have wherever you're located. The website specifically states in its Help Center, "you can take Sling TV with you." However, note that users say they have to use a US-based VPN to access Sling TV from outside the United States.DirecTV: DirecTV says you can watch its NOW service in "all 50 of the United States" as well as Washington DC. It isn't available in Puerto Rico or the Virgin Islands, though, nor is it available outside of the US.Most Restrictive: This is another one of those it depends situations, as what is restrictive to me may not be restrictive to you. If you were hoping to pack up your PS4 and watch PS Vue while on vacation, for example, prepare to be disappointed. You can't watch any of these services outside of the US, as well. It appears Sling TV and DirecTV NOW are tied in this regards.
Which service is best for you?
Best For Sports Fans: Sports fans usually watch games live, so DVR functionality isn't at the top of their list. Sports fans also span a range that's greater than football, so a service with mostly football-centric coverage will be unappealing to some. For this reason, Sling TV is the best option if sports are your primary concern. While the base packages are very basic, the sports add-on channel options are expansive and inexpensive, covering everything from NFL games to international Cricket championships.Best for Families: PlayStation Vue is currently the best service for families, and for multiple reasons: it has a cloud DVR feature, allowing everyone to save their favorite shows and watch them when the TV's available. PS Vue also supports up to five streams at once, meaning someone can be watching a show in the living room, another person in the basement, and someone else in the bedroom. Finally, PS Vue also has robust mobile apps that are easy to use, no doubt appealing to the kids in a family.Best for TV Lovers: DirecTV NOW is not without its issues, but if we're talking about raw access to the broadest content at a low price (relatively speaking) price point, DirecTV NOW is the winner. The lowest tier channel package has more than 60 channels spanning all categories — kids, educational, sports, primetime, travel, movies, etc — and that gives you the best odds of finding something you want to watch at any given moment. Just keep in mind that DVR won't be available until 2017, pausing live television is limited, and similar things.
Wrap-up
There's a lot to like about all three of these services, and they all have those things in common: no rental hardware required, no satellites or cable boxes, and no contracts. The finer details separate these services, though, making each its own thing with its own upsides and downsides. No one service will be the perfect choice for everyone. Learn what each has to offer, decide what matters most to you, then figure out how which offers those things at the best price.