Dinosaurs, Drones and Infiniti SUVs: A grand Gobi Desert adventure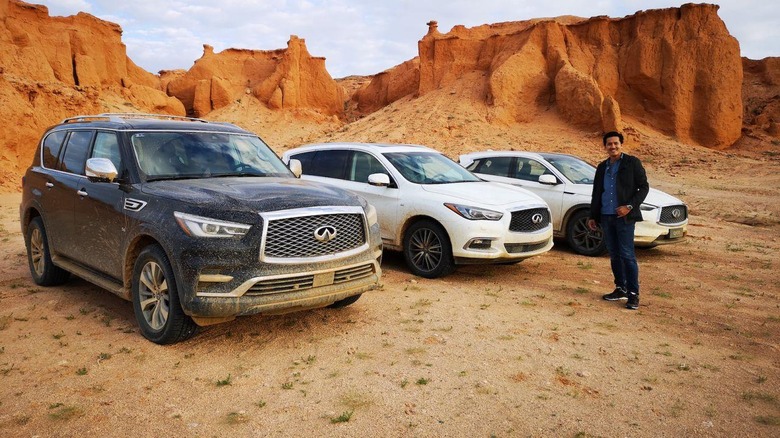 You don't typically find too many Infiniti cars in the Gobi Desert, mainly just humungous poisonous spiders and feisty scorpions. Oh, and dinosaur fossils, which is why the automaker teamed up with the Hong Kong chapter of The Explorers Club, to revisit and rewrite the rules of exploration – and put the QX50, QX60, and QX80 SUVs through their paces in the process.
Desert driving isn't for the faint of heart. I may have been unduly preoccupied with the spider bite possibilities – after all, just single bite from one of these spiders can severely injure or possibly kill an adult human, in less than 24 hours – but the everyday perils are much more pressing. Travel too slow in the knee-deep, drifting sand, and it won't take long for man and machine to get stuck.
The trick is to traverse swiftly, and only slow down upon reaching a solid stretch of hard dirt. It sounds easy, I know, but it's a lot to remember when you're also keeping your eyes peeled for dinosaur remains. If this expedition sounds like the plot for the latest Indiana Jones movie, you're not far off.
Reliving the Adventures of Roy Chapman Andrews
This ambitious expedition was organized by The Explorers Club Hong Kong Chapter (ECHK), led by the Mongolian Institute of Paleontology and Geology (IPG). The goal is to revisit the famous route undertaken by famed American explorer Roy Chapman Andrews, 100 years ago, who many consider being the inspiration for the Indiana Jones character. Andrews was not only known as the man who discovered dinosaur eggs on the Flaming Cliffs in the Gobi Desert, but he was also touted as the first explorer to use motorized vehicles in an archaeological mission.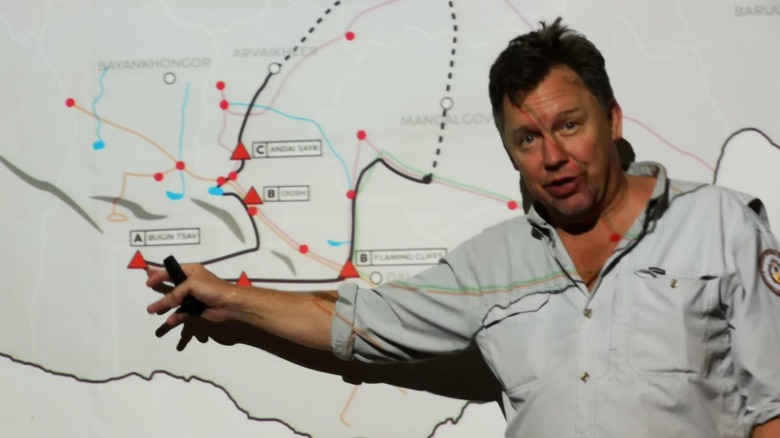 "The Explorers Club is known for its famous firsts: first to the North Pole, the South Pole, the top of Everest, the bottom of the ocean, and the first to the Moon," Will Roseman, Executive Director of the Explorers Club, explained. "We are very excited to partner with Infiniti, which also has many famous firsts, including the world's first production variable compression ratio engine in the all-new QX50. We share a passion for discovery and for scientific advancement."
The Roy Chapman Andrews Centennial Expedition is composed of a 35-person multidisciplinary team: paleontologists, archaeologists, geologists, and other scientists. Joining them on part of their 20-day adventure, we brought along some of Infiniti's model year 2019 SUVs. It's a lot more comfortable exploring like Roy Chapman Andrews when you're inside a QX50, QX60, or QX80, after all.
"This is not a normal drive program and it's not just a drive impression," Trevor Hale, Head of Global Communications at Infiniti, told me. "This is about doing something different by showcasing our SUVs in a very unique way. We also utilized the latest in technology to change the game in paleontology." As a certified member of The Explorers Club himself, Hale knows what he's talking about.
"Infiniti shares the same values as The Explorers Club, constantly pushing ourselves to explore new possibilities through technology to empower our customers on the road and in life," he added. "Infiniti is honored to have supported this historic expedition through mobility and new technologies, and is very gratified to collaborate with the ECHK and IPG."
The Mission
Easy on paper; tough on the road – and on the cars. The goal was to revisit the 1,347-mile centennial route of Roy Chapman Andrews to find new fossil locations. The 20-day expedition broke ground on June 5th, and our briefing was simple: drive calmly, and stay away from the aforementioned scorpions and spiders. It may not look like it, but it really felt like it was my lucky day as we drove off into the Gobi Desert.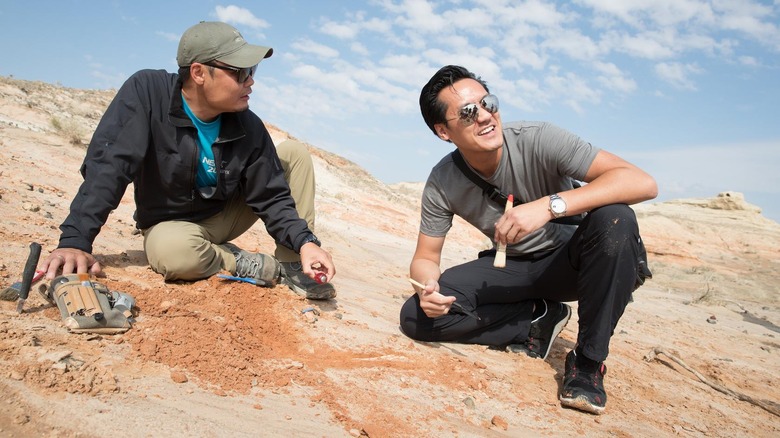 "Exactly 100 years ago, Roy Chapman Andrews found dinosaur eggs here, and it forever changed paleontology," Hale explained. The team told us to throw away our compasses and plotting maps because this expedition would utilize the latest in technology for navigation.
Included in the cast and crew of scientists are NASA boffins from the Mars mission, and they brought with them aerial support courtesy of a series of LIDAR-equipped drones. These come equipped with three different cameras: thermal imaging, spectral imaging, and normal cameras. Combining the three results in 3D imagery of super intense fossiliferous sites, that can be turned into virtual reality.
Using this new technology, the team was able to analyze an enormous amount of data collected from satellite and drone imagery. This allowed us to pinpoint high probability locations for fossilization, based on previous geological and sedimentary markers. What the drones don't have are tiny shovels, and so that's when it would be our job to hop aboard Infiniti's SUVs and go find new fossils. This combination of satellite and drone imaging, together with the expertise of paleontologists, has never been done before.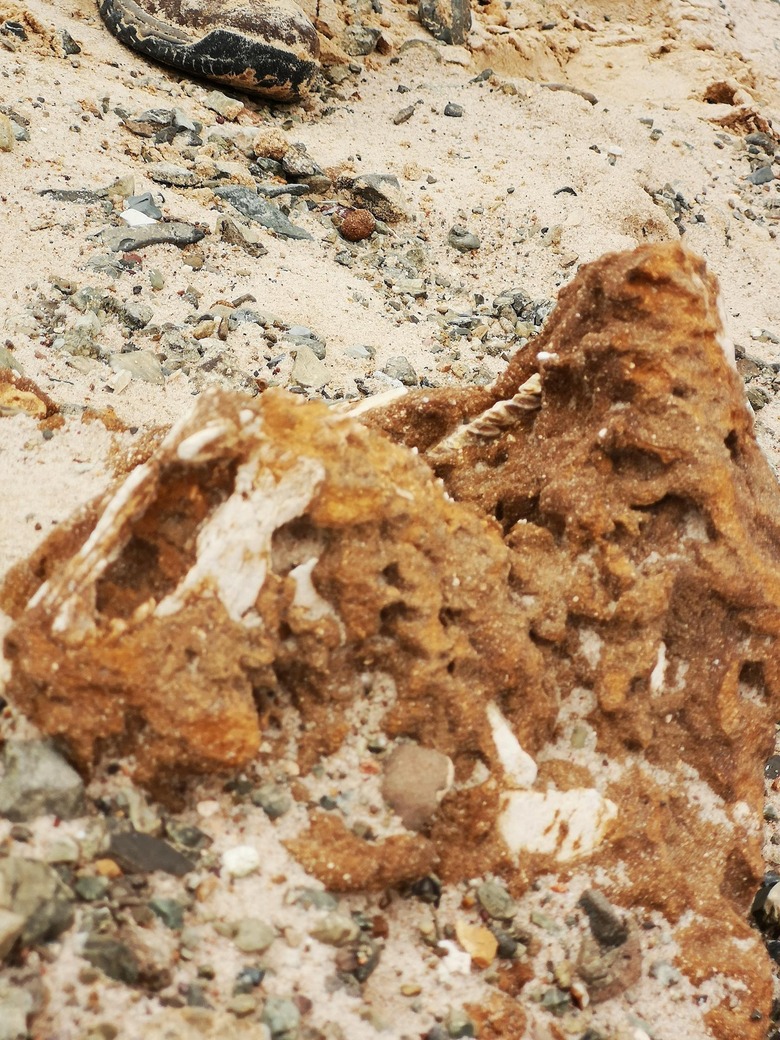 The result? Three new potential species of dinosaurs were found, together with 250 new likely fossil locations. The team as a whole were lucky – or just that good – to find five new potential areas, and excavate hundreds of fossilized bones.
"New species and mammals were found. We found hundreds of fossils and the first Velociraptor ancestor fossil at a new site in the Oosh mountain range, which is the first evidence of a meat-eating dinosaur to be found in this area," Michael Barth, Founder, and Chairman of ECHK, totaled up. "We also found the ancestor of the great horned rhino, which has never been seen before in this region, along with an exceedingly rare Theropod dinosaur egg. Also found were massive vertebrae, ribs, skull fragments, and the tail section from a Tarbosaurus, which is the Mongolian cousin of the Tyrannosaurus Rex."
With brilliant satellite imaging and 3D technology, the team was able to unearth a 10 year equivalent of dinosaur fossils in just 20 days.
The 2019 Infiniti QX50
In all honesty, the 2019 Infiniti QX50 is a fish out of water in the Gobi Desert. Nonetheless, it managed to safely navigate over sand and mud ruts, while keeping the entire crew wrapped up in safety and style. Instrumental in that is the world's first, production-ready variable compression turbocharged motor.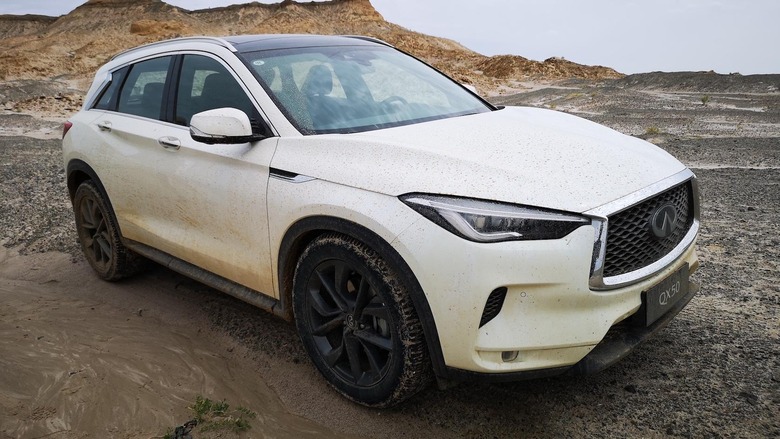 The VC-Turbo is a 2.0-liter four-cylinder engine that, Infiniti promises, combines the merits of a performance-tuned motor with the fuel economy of a hybrid vehicle. The magic comes in how it can alter the compression within the combustion chamber.
Maximizing fuel economy comes when the compression ratio is shifted to 14:1. Step hard on the gas pedal, though, and the engine will shift to a lower 8:1 compression ratio, to provide maximum horsepower. The result is 268 horsepower at 5,600 rpm, admittedly less than the old V6 motor of the previous model QX50. Torque figures, however, are up to 280 lb-ft, which arrives from as low as 1,600 rpm; that's up handily, compared to the 267 lb-ft output of the old V6. Gone, too, is the outdated seven-speed automatic transmission; the 2019 QX50 gets a new CVT with a manual mode to simulate 8 driving gears.
A smart engine alone can't work miracles, mind, and so Infiniti added an active torque rod to help eliminate engine noise and vibration during hard acceleration. By counter-balancing engine vibrations it smooths over some of the harshness and noise, the result being silky-smooth acceleration and a whisper-quiet interior that reminded me of my experience in a Rolls Royce Phantom.
Our QX50 was also equipped with Infiniti's exclusive Direct Adaptive Steering. This steer-by-wire system completely rewrites the traditional mechanical steering system and utilizes an array of sensors and electric motors to turn the front wheels. It was an odd sensation at first, even more so in the desert than on regular roads. We were constantly traversing over bumpy roads, but the steering wheel was as calm as the evening desert sky. Steering feel was a bit numb, but that was a welcome compromise for how much the system helped in reducing driver fatigue as we explored the fossil sites on our expedition.
What really made me a believer, though, was the overall refinement. The 2019 Infiniti QX50 was smooth inside and out. The interior was also a triumph in modern design and ergonomics, while the exterior looked as sharp as a scorpion's venomous stinger.
2019 Infiniti QX60 and 2018 Infiniti QX80
When more seats are required, we turned to the Infiniti QX60. This luxury midsize SUV offers three rows of comfortable seating for seven grown adults, unlike other three-row SUVs that throw in a couple of child seats in the cramped rear end. As long as you're no taller than 6'2, the QX60's third-row isn't out of bounds.
Standard features are plentiful, and Infiniti suggests the 3.5-liter V6 should get you 20 mpg in the city or 27 mpg in highway driving. Sadly there's no VC-Turbo option, but you do get the reassurance of excellent crash test ratings, and more cargo space than other midsize luxury SUVs.
Overall, though, I found the 2018 Infiniti QX80 to be my top choice if you're looking for an SUV that can make mincemeat of the Gobi desert. For a start, it came with the Hydraulic Body Motion Control system, helping what's undoubtedly a gargantuan SUV to behave more like a small crossover at speed. It also came equipped with a burly 5.6-liter V8 motor, good for 400 horsepower and 413 lb-ft of torque.
Yes, the QX80 is as big as they come, but it's also as opulent as a luxury yacht. The body-on-frame design makes the Infiniti QX80 ideal for bashing around in the desert. Had Roy Chapman Andrews had the QX80 in his first expedition 100 years ago, I suspect he would have unearthed more than just a fair share of dinosaur eggs and fossils.
The Journey… is the experience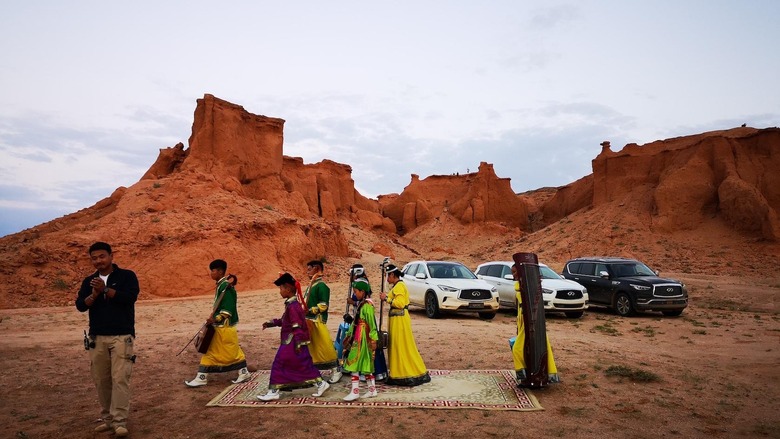 Getting to Mongolia was a trek, and I cherished every moment. Sure, the flights to get there are long, and the bumpy rides from and to basecamp at the Three Camels Lodge aren't exactly friendly to your lower back. Once I arrived, though, nothing else mattered: being there was worth the long journey.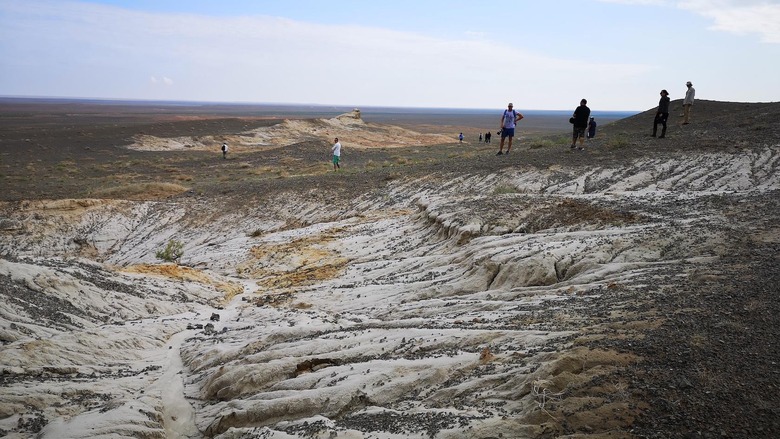 While I would never discount becoming a paleontologist, I wouldn't aspire to become one: simply because I'd fail miserably. Reflecting back on one particular incident left me with much regret, and a life lesson.
We'd stumbled upon a site where dinosaur fossils were previously discovered by the team. As I scoured around, I came across what appeared to be the tip of a tooth. Initially, I took my time excavating it, and even invited Kyle (part of the fearless team from Infiniti) to join in. Sadly, when Kyle turned away for a brief moment, my impatience got the best of me.
"Hey, if only I can just dig a little deeper around this thing, I can just yank it out," I thought. Of course it's never that easy and, as I said before, it takes hours or more to excavate any portion a dinosaur fossil. Then, it happened, a smaller nick against the underside was all it took to completely shatter the tooth into what appeared to be hundreds of fragments.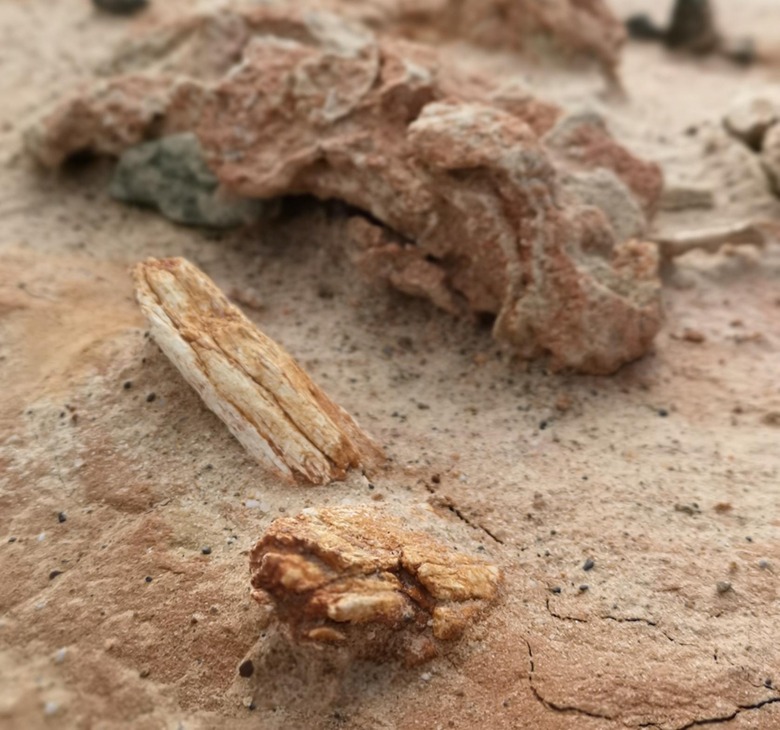 It was a humbling experience, and a valuable lesson I learned in my failure. Patience is the most important asset to have on an expedition such as this one and, without it, Infiniti along with the Hong Kong chapter of The Explorers Club wouldn't have accomplished nearly as much as they did in discovering new fossils of dinosaurs roaming this region. Myself, I'll be trying to bring some of that patience home to more usual roads, whether I'm behind the wheel of an Infiniti or not.
Photos by Vince Nguyen
UPDATE: The Explorers Club's prestigious Citation of Merit has been awarded to the Explorers Club Hong Kong Chapter's Roy Chapman Andrews Centennial Expedition team. The expedition, supported by INFINITI, is being recognized for traversing the Gobi Desert and successfully applying NASA technology previously only used to better understand the geology of Mars to the work of paleontology and prospecting for fossils.