Digix IXING M1-TM - small yet functional MP3 player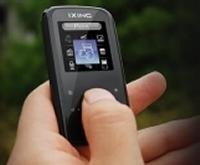 You can get this player in 1, 2, or 4 gigabyte configurations. It's extremely small too packing in an LCD screen, the memory, the battery, and the controller boards into a small 5.6mm thick package.
It weighs a mere 20 grams and although the screen is small, its good enough to watch videos on, you just might have to wear it as an eye patch. This player also packs in an FM tuner, voice recorder and text viewer, its almost worth the asking price just for those functionalities, let alone the video and music playing capabilities.
It comes to you straight out of Korea, and not much else is known. However, you can pick yourself up one at the Digix website for about $75 for the 2GB model, sure its no iPod, but for slightly more than the cost of the new 2GB Shuffle you can get a 2GB player with functionality closer to that of a Nano.
[via i4u]