Digital Foci 8-Inch SVGA Digital Photo Art Book Supports Camera RAW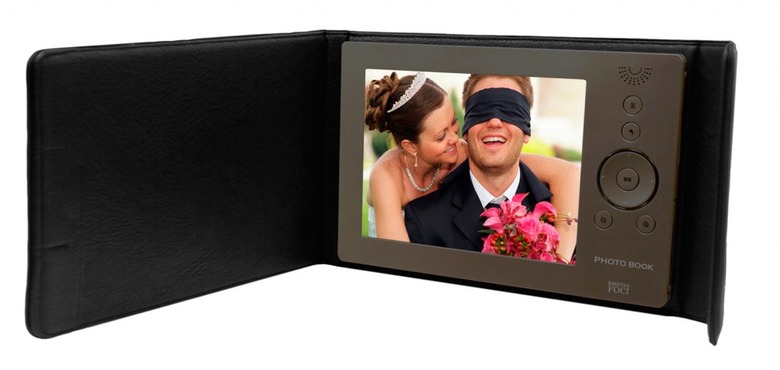 Digital Foci has dressed up a portable multimedia player with a soft leader case and a built-in battery, as a contemporary digital portfolio art book, and readied to showcase at the upcoming PMA 2009. Dubbed "PBK-080 ", the Photo Book features a 8-inch 4:3 SVGA LCD, built-in speakers and a large 4GB built-in memory, along with a host of multimedia card readers to support music, video and digital still image playbacks.
Digital Foci's app allows easy media transfers from PC, MAC, USB or connected flash drive to the Photo book's internal memory, or one can simply use the player to access the media files directly via an attached external USB device. Images captured or formatted in JPEG, TIFF, BMP, GIF to camera RAWs (see supported models below), along with EXIF data, are viewable on the screen, and it supports photo slideshows with zoom, pan and rotate functions. A built-in rechargeable battery is included, and can last up to two and a half hour of continued use.
Priced at $189, Digital Foci's Photo Book will be available from May at major online retailers and company's online store.
Photo Book Features:
- 8" digital LCD with 800 x 600 resolution.
- Large 4 GB internal memory holds thousands of digital photos.
- Built-in memory card slots provide native support for: CF, SD/HC card, MMC, xD-Picture Card, MS/MS PRO (Supports mini-SD, RS-MMC, MS Duo with adapter).
- USB host capability – supports USB flash drives.
- Copy albums directly from memory cards for USB flash drives to internal memory without needing a computer.
- USB 2.0 connection for transferring photos between your computer and device.
- Displays each photo album with folder name and photo preview.
- Optional displays show photo file name and slideshow counter.
- Run automatic Full-Screen or Photo Book photo Slideshows with adjustable time intervals.
- Scroll photos manually with zoom and rotate functions.
- Supported image formats – JPEG, BMP, TIFF, GIF, RAW image files from a wide selection of DSLR cameras. Automatic photo orientation based on EXIF data.
- Supported audio formats – MP3, AAC, WMA – music will play in the background during photo slideshow .
- Supported video formats – MJPEG, MPEG-1, MPEG-4 SP.
- Built-in 1 channel, 1.4W speaker.
- Runs on rechargeable Lithium polymer battery with 2.5 hours of battery life.
- Comes with soft leather-like case that protects the Photo Book and makes an attractive presentation.
Raw files support
- Canon (1Ds Mark-II, 1Ds Mark-II N, 1Ds, 1D-II, 1D, 5D, 10D, 20D, 30D, 40D, D30, D60, 300D, 350D, 400D)
- Pentax (*istD, *istDL, *istDS, K100D, K10D, K200D, k20D)
- Nikon (D2Xs, D2X, D1X, D2H, D1H, D1, D200, D100, D80, D70s, D70, D50, D60, D40, D40X, D90, D700)
- Kodak (DSC Pro SLR/c, DSC, Pro SLR/n, DSC Pro 14n, P850, P880)
- Fujifilm (S2Pro, S3Pro, S5Pro, S5000, S5600, S9500, S6500fd, E550, F700) Olympus (E-1, E-300, E-500); Sony (DSC-R1, Alpha A100)