Detective Pikachu And Friends Get The Google AR Treatment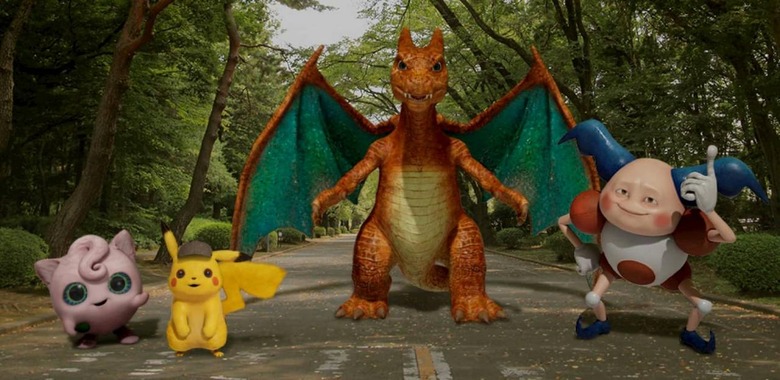 After months of trailers and talk, Detective Pikachu is finally on the horizon. The movie releases in theaters next week, but before it does, Google has given the titular character and some of his Pokemon friends an augmented reality makeover. Beginning today, you can find Detective Pikachu in the Pixel's Playground mode and add him to your photos and videos.
He isn't coming to Playground alone either, as he's got Jigglypuff, Charizard, and Mr. Mime by his side. Given how much those other three Pokemon have appeared in Detective Pikachu's trailers, it seems that they'll have a fairly big role to play in the movie. So, if you don't mind sharing a photo with Jigglypuff's creepy eyes or a Charizard that looks maybe a little too lifelike, you can now go crazy.
Pikachu, Charizard, Mr. Mime, and Jigglypuff don't just look like their film counterparts, they sound like them too. Google says that these Playmoji – as they're called – use ARCore motion tracking and light estimation to make them better fit the scene, regardless of whether you're snapping a photo or a video.
It sounds like Detective Pikachu will have some additional capabilities that the other Playmoji won't, with Google noting that he'll use machine learning to react to your facial expressions in real time. That's a certainly an interesting touch, so if you try these out, be sure to see what kind of reaction you can get out of the little electric mouse.
All four of these AR pocket monsters are available today in the Pokemon Detective Pikachu Playmoji pack from the Google Play Store [download]. Detective Pikachu, meanwhile, is out in theaters beginning on May 10.