Details of new AMD "Thuban" CPUs leak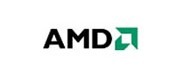 In the world of tech tit for tat we all knew when Intel dropped the new 6-core processors recently AMD would be following suit quickly. Some details on the new AMD Thuban 6-core processors have leaked in a BIOS update from Gigabyte.
The BIOS was updated to support the AMD X6 1035T 6-core CPU, the 6-core X6 1055T, and the Phenom II X6 1075T. The parts are said to run at 2.6GHz, 2.8GHz, and 3.0GHz respectively.
Odds are recent history will repeat itself with the AMD parts being outperformed by Intel's offerings. However, AMD's pricing is typically well under what Intel asks for its high-end chips. A nice 6-core Black Edition AMD processor might be very appealing to geeks on a budget with a 6-core fetish.