"Destinations on Google" let's your phone help with the planning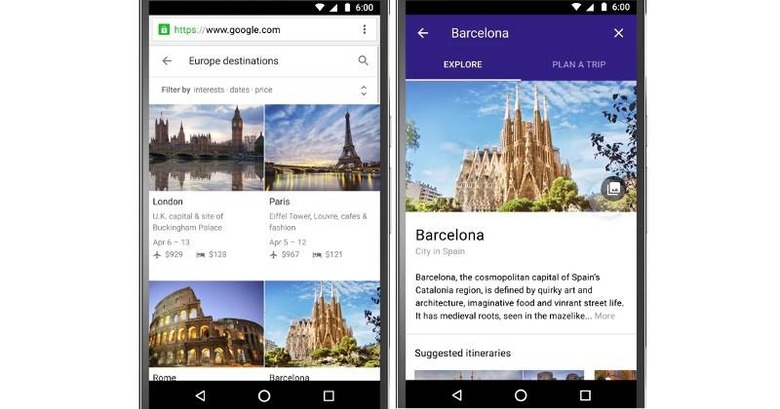 Almost everyone uses their smartphones to search for things these days, from the title of the song that keeps playing in your head to whether the pizza shop down the street is open until 10. Some searches, however, are not always easy to do on small screen, like figuring out your next vacation getaway. With Spring just over the horizon, Google knows that people will start researching on those best spots and deals. And it is launching Destinations on Google to make that easier, even on a smartphone.
No need to install a new app or go to a different website. Everything you need is right there in the Google Search mobile app. Simply type in the place you're considering, add a "destination" or "travel" keyword, and you can already begin your journey. At least virtually. Destinations is practically Google search results formatted specially for mobile and with added tidbits to make it easier to plan your vacation.
For example, thanks to Google Flights and Hotel Search, Destinations can also show those details in the search results. No need to jump back and forth between pages. Have a specific activity in mind? Simply type in your destination and adventure of choice and let Google do the searching for you. Maybe you're not set yet on when exactly you want to go. "Flexible Dates" lets you specify a time range. And it even works across different destinations. But what if you really don't know when's the best time to go. Hit the "Explore" tab and see the weather for that place all year round.
And once you're done making those decisions, "Plan a trip" will let you see hotel and flight rates for the next six months, with an interactive sliding chart to conveniently browse through the prices. You can even filter down to specifics, like number of stops, hotel class, and more. And when you're actually there in your dream location, search for your destination, add "travel", and see a list of places you shouldn't miss.
With Destinations on Google, you can plan your or the family's next vacation any time, anywhere. Even while waiting in line.
SOURCE: Google