Department of Justice, FBI seize three Android pirate sites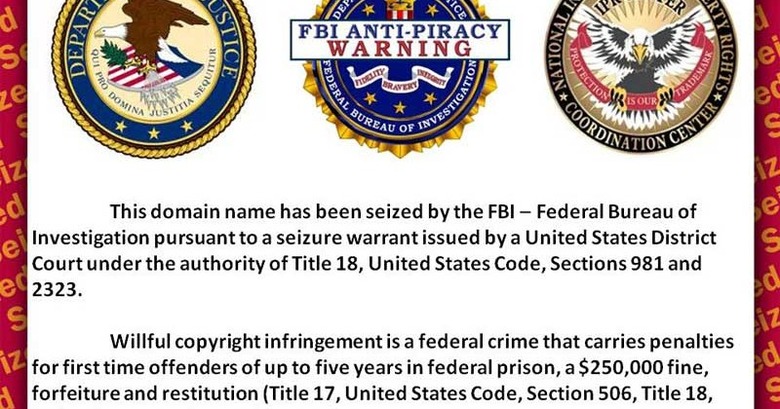 The federal government has continued its crack down on piracy, with the
Department of Justice announcing
that three different sites which market pirated Android apps have been shut down. The websites in question – applanet.net, appbucket.net and snappzmarket.com – are now all under the government's control, and all three display the same
that has graced
for the better part of the year. The DoJ says that this is the first time any websites relating to pirated mobile apps have been shut down.
Officially, these three websites that were seized are "suspected of distributing copies of apps without permission from the software developers who would otherwise sell copies of the apps on legitimate online markets for a fee." During its investigation, the
downloaded thousands of apps from these websites, which charged users for the pirated apps. When it came time to execute the search warrants, the DoJ and the FBI teamed up with Dutch and French law enforcement officials to bring the servers down, since the servers were hosted in other countries.
In a DoJ statement, Assistant Attorney General Lanny A. Breuer said that mobile apps have become a priority in the government's anti-piracy efforts. "Cracking down on piracy of copyrighted works – including popular apps – is a top priority of the Criminal Division," Breuer said, adding that the Justice Department's Criminal Division is committed to working with law enforcement to protect those who develop apps for mobile devices. U.S. Attorney Sally Quillian Yates expanded on that by saying the government will continue to seize websites involved with marketing pirated apps.
Interestingly,
is down at the time of this writing, but it doesn't appear to have been seized, showing a "service temporarily down" message instead of the copyright banner that currently graces the three sites mentioned above. By far the most high-profile shut down has been that of Megaupload, which was seized by the government back in January and remains down today. The owners of Megaupload are facing some hefty fines and significant jail time, so it wouldn't surprise us if these latest seizures have other sites shutting down as a preemptive measure. Stay tuned for more information, because it sounds like the Department of Justice and the FBI are just getting warmed up.