Denon unveils new AVR-3311, AVR-1911, and AVR-1611 AV amps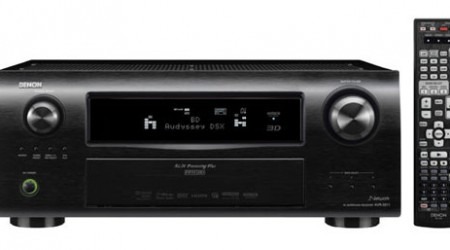 Denon is huge in the home theater audio market and the company has announced three new AV amplifiers for home theater fans with two of the new units supporting 3D. The two 3D supporting amps include the AVR-3311 and the AVR-1911. The AVR-1611 doesn't support 3D, but has some nice features.
The 3311 has a maximum power output of 185W across 7-channels and sports a pair of subwoofer channels. The amp has a DSP processing chip with 32-bit channels including 24-bit audio reproduction with AL24 Processing Plus and a precision DAC. The device can decode HD audio formats and has support for HDMI 1.4a.
The 1911 also supports HDMI 1.4a, has 140W of power across 7-channels, and uses a 32-bit DSP chip along with the capability to decode HD audio formats. It has Audyssey MultEQ XT technology for adjusting the sound to the specifications of the room. Both the 1911 and 3311 support USB, iPod and iPhone input. The 1611 is a more basic amp with 130W over 5-channels, 32-bit DSP chip, Dolby Pro Logic IIz sound support and an AM/FM tuner along with other features. Pricing for the modes in Japan ranges from 56,650 yen to 136,500 yen and all are set to land in June.