Dell's Android Smartphone Makes Another Appearance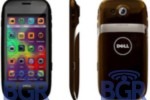 It looks like Dell's smartphone has managed to peak its little head out again, and this time the images may be a bit blurry, we at least see a lot more details this time around. The guys over at Boy Genius Report managed to get a sneak peak at the device, and it's shaping up to be quite an interesting toy, especially for Android enthusiasts. The phone itself is code-named Benzine, and it's supposedly ready to launch.
Here's the run-down of the specs, so far:
Quad-band GSM/GPRS/EDGE class 12
Size: 68.6cc
103grams in weight
Dimensions: 58 x 122 x 11.7mm
Display: 3.5" nHD  640x360 LCD, 18-bit, 262K colors
OTA capable
Microsoft Exchange support
Google, AIM, Yahoo, and MSN IM support
3-megapixel auto-focus camera, with flash, 8x digital zoom, 30fps video shooting mode, and built-in photo editor
USB 2.0, Bluetooth 2.0 +EDR
A-GPS
On-screen QWERTY keyboard, handwriting recognition, multi-touch UI
MicroSD slot
It's stacking up to be a pretty nice device, and we're starting to wish that the Chinese market wasn't the only lucky area getting this phone. Of course, one thing to look at is the fact the phone does have hand-writing recognition, which is usually only seen on resistive-screen technologies.  But, so far, every Android phone is a capacitive screen, so we'll have to wait for a little bit more details to find out the nitty-gritty on the Benzine.
[via Boy Genius Report]