Dell Z Series laptops get new Intel ULV processors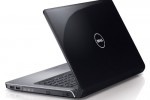 Dell has announced a couple new laptop models today that are getting new Intel Core Solo 2 ULV CPUs to increase battery life and performance. We have seen one of the notebooks before when Dell first unveiled the 14z back in May 2009.
Today Dell has announced that the 15z and 14z are being updated with new features. The most notable new feature is the available ULV CPU with options for Core 2 and Core 2 Duo processors as well. Both laptop models are only an inch thick and have a wealth of options.
The 14z offers a 14-inch LCD, the 15z is a 15.6-inch notebook. Both models can have up to 500GB of storage, up to 8GB of RAM, and a choice of 4-cell or 6-cell batteries. The 4-cell unit has a run time of four hours while the 6-cell offers 8-hours of use. Dell is also offering Express Charge 4 and 6-cell batteries that can recharge to 80% capacity in only an hour. The notebooks start at $599 and are available in America today.