Dell Venue 8 7000 review; premium hardware, work-in-progress software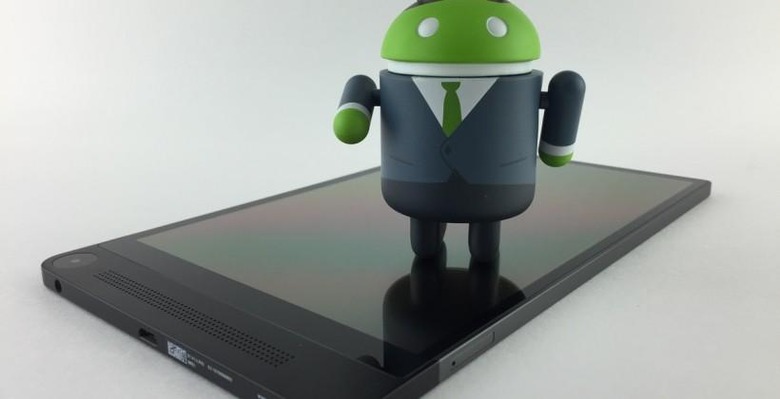 Dell is on the comeback trail. Quietly, the company that used to make PCs that would make you groan with disdain has been releasing a series of pretty stellar products. After releasing a MacBook challenger last year, the company made an impressive showing at CES this year. Part of the excitement surrounded the Dell Venue 8 7000 tablet, which is as gorgeous an Android slate as you'll ever lay eyes on. With an interesting camera under the hood, we took the Venue to task in order to find out if Dell was really back.
Hardware
No foolin' — the Dell Venue 8 7000 is light. Really light. It's super slim, too. It's also aluminum clad and almost free of bezel around most of the screen. At first blush, it's scary good for an Android tablet.
There's little more than the screen, here. Part of that is Dell's chosen layout, which places a bulk of the — well, bulk — under the screen when held in landscape. As light and thin as it is (just over 1/2lb and 6mm!), holding it at the bottom isn't a chore at all, so Dell might be onto something.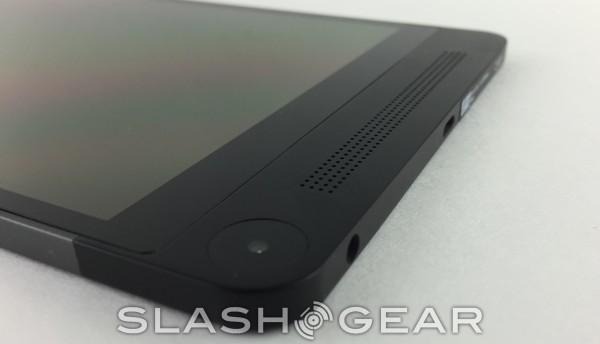 The rounded bottom corners and sharper top edges will undoubtedly put some users off, but we didn't find much issue with it.
At 8.4-inches, the screen is 2560 x 1600. OLED, it's crisp, clear, inviting, and bright. The lack of bezels only enhance the experience. It's really like the screen is floating in mid-air.
For the spec-hungry, here is the full spec-sheet for the Dell Venue 8 7000:
Intel Atom Processor Z3580 (2.3GHz)

Intel HD Graphics (PowerVR G6430)

8.4-inch 2560 x 1600 OLED display

2GB RAM

16GB Memory

MicroSD slot (supports up to 512GB)

8MP Rear Camera, 2MP Front Camera

Bluetooth 4.0

8.5 x 4.88 x 0.24 inches
Use
There's not much use in getting into software, here. It's Android 4.4, with Lollipop coming soon. We don't know when.
As a media viewer, the Dell Venue 8 7000 is great. The vibrant screen made videos stand out, and the bulge actually aided with one-handed use in landscape. The screen is off-center, which is a touch odd at first, but doesn't distract.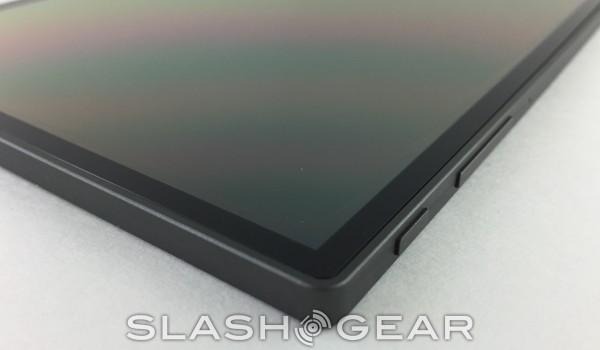 Gaming was equally sharp and responsive, but that off-center screen once again made itself known. When playing Dead Trigger 2, the bulge toward the bottom made me stretch to get to the controls.
Dell's gallery app here aims to bring your photos in from several locations, like Dropbox or Facebook. It's handy when you want a central hub for pics that are spread across the web, or can't remember if you posted a pic to Instagram or Facebook. Or kept it in Dropbox.
Photo editing is great with Dell's gallery app, though, which might be the real aim. With an advanced camera (more on that in a second), the tools in gallery feel as though they are there to back it up, and Dell cobbled extras in because they could.
In-hand, whether it be portrait or landscape, the Dell Venue 8 7000 is a joy. Slim, light, and aluminum, it's about as close to iPad as we've seen any Android tablet get. The Nexus 9 might pack a bit more of a punch, but it doesn't feel as refined as the Venue 8 7000.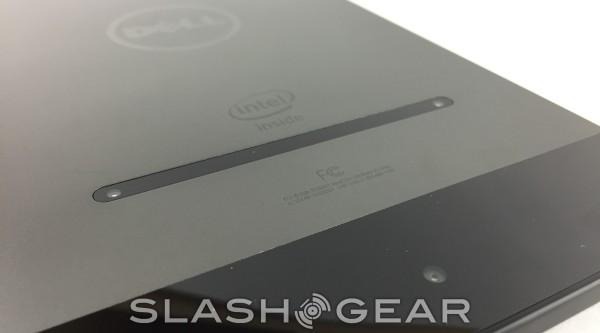 The camera: Dell, or Intel, or HTC?
Dell's camera hardware on the Venue 8 7000 is the main attraction, as it has depth sensing sensors around back to help with those photo editing tools we spoke of. In addition to pics, the sensors gauge where things are in relation to one another, then records their position accordingly.
What you're left with is a platform for better editing, and it reminds us quite a bit of HTC's Dual Camera setup on the HTC One M8. With three sensors instead of one, it's a bit more sensitive than the HTC smartphone, though.
It's all powered by Intel's RealSense camera hardware on the Dell Venue 8 7000. As a plain-clothed camera, there's nothing to write home about. It's overly sensitive to bright light, a touch grainy in low light, and colors are a bit muted.
Take of the suit and the cape comes out, though. In editing, there's enough tools to make your pics pop. The problem is, Dell's camera needs the software tools to survive. Those tools may not be good enough for some, either. The option to re-assign the focal point is kind of simplistic, and the depth-sensing is still fidgety. Accidentally block a sensor — just one — and it gives up.
Dell's measurement tool is also not all that accurate, and will serve as a novelty for most users. I can't really envision a time when I'd need to use it, either personally or for a professional. I'm sure use cases exist; I just can't imagine one.
Tablet photography is odd enough, and the sensors around back ask that you hold the Dell Venue 8 7000 upside down to properly take a portrait pic, and you have to make sure your hands don't cover or obscure the sensors in any way. If you want landscape photography, Dell's new tablet forces you into a particular landscape mode — you can't have it both ways with this one.
Battery
That Intel architecture has its roots in the PC realm, and should be both powerful and efficient. It is. With regular use, the power gauge rarely tips downward in a noticeable way. With a week of passive use (picking it up after work to read or play games), it suggests I'd get nearly another week of use. With heavier use (a weekend of games, web browsing, and reading), It held up nicely. I can't see anyone needing to plug this in daily.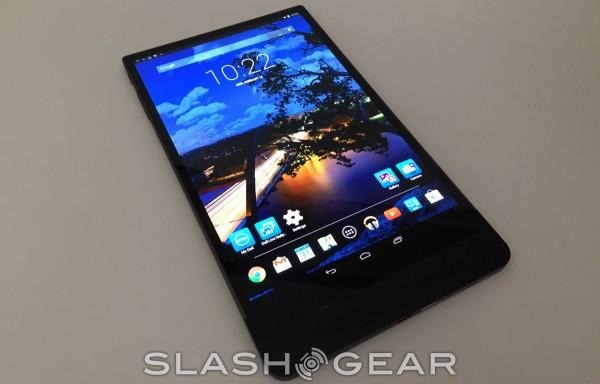 Should you buy it?
That's the question, right? Should you even take a hard look at the Dell Venue 8 7000? With all the camera tricks and tweaks, and that downright sexy 6mm frame, it's definitely attractive.
When it comes to performance, the Dell Venue 8 7000 didn't let me down, but it did make me question Intel's placement. On more than one occasion, screens stuttered to do things they shouldn't, or graphic performance just dips for unknown reasons. A parallax wallpaper, placed by default, doesn't move as smooth as it could. It kind of jumps to position once you've stopped moving the tablet. That's just one example of the processor not reacting as quickly to software as it probably should.
Then there's the RealSense camera, which is full of tricks — and tricky. It's a different layout than you're used to, and while I didn't find the learning curve steep, I see several different devices annually. The 8MP shooter also isn't that good, so it's leaning hard on the software.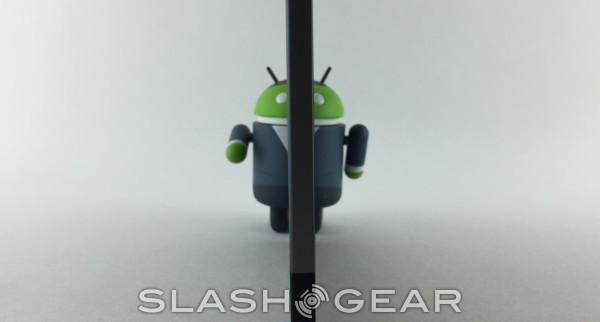 That also means you'll have to spend more time editing pics. If you're taking stills meant for editing, it might not a problem for you. If you want to snap off a few pics for social media, this one isn't there yet.
It's slim, and sexy, and does what it set out to do, which is remind us Dell is here.
Is Dell back, though? Maybe soon, but not yet. Not for $399. Not with this tablet. Not today.
With a few software updates, maybe we could say this one is a class leader. With Lollipop, perhaps it could really give off a premium feel all the way through.
Version 2 of the Dell Venue 8 7000 might be Dell's true homecoming. For now, other OEMs should keep in mind that Dell is here to do some damage in the world of Android. When they figure out how to do that — and they will — look out.