Dell Unveils ExpressCard/34 EV-DO Card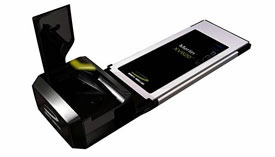 Ok, so they just re-branded Novatel's XV620. At least they picked a really good EV-DO card to re-brand though, right? The Dell Wireless 5700 Mobile Broadband ExpressCard will be available by the end of this week, and will be sold via Dell's website (like everything else). ExpressCards, for those who are unaware, are the successors to the commonplace CardBus slots found on most laptops today. The ExpressCard technology allows for faster data connections (ExpressCards can use either USB 2.0 or PCI-Express, depending on what the developer chooses) and have a smaller form factor.
The Dell 5700 will cost $179.00 and will come with a free 30-day Verzion Wireless EV-DO data plan, after which time you'll need to buy a full-fledged Verzion Wireless plan if you want to continue using the card; this will run you $59.99 per month if  you already have a VW voice plan or $79.99 per month if you don't. While the device itself will fit any laptop with ExpressCard/34 slots (including the Macbook Pro), it's unclear at this point as to whether it will support any other OS beside Windows. Here's hoping that it does. Or, at the very least, someone support OS X for them.
"EV-DO ExpressCard Arrives ... from Dell?" via Gizmodo
-B.N