Dell Streak Pricing and Availability Finally Unveiled: August 13th for $300 with AT&T Contract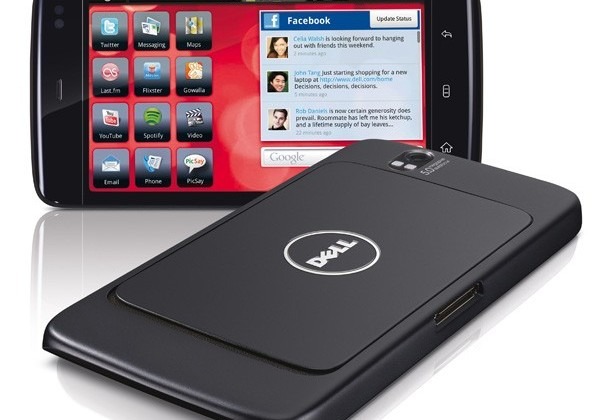 The Dell Streak's details haven't necessarily been all that hidden over the last few months. In fact, we even had plenty of hands-on time with the device to get a review up. But, one of the missing aspects of the device, as far as the US-based release goes, was the price, and the availability date for the launch on AT&T. But, that's all been taken care of now, thanks to official word from Dell.
The device still has that 5-inch display, built-in WiFi, Bluetooth, and GPS connectivity, and the 1GHz processor under the hood. Unfortunately, the press release doesn't do anything to clarify which version number of Android the Streak will launch with, so our best guess would still have to be Android 1.6. But, that fancy Android 2.1 upgrade is definitely worth the wait.
As for pricing and the date you'll be able to get your hands on it, that would be $300 on a new, two-year contract with AT&T, and you'll be able to get your own on August 13th. Or, if you prefer to go sans a contract, then you'll have to drop $550. August 13th is right around the corner, so who's going to start the line first?
Press Release
Dell Creates Choice and Freedom to Talk, Watch, Surf, and Connect with New 5-Inch Tablet
ROUND ROCK, Texas–(BUSINESS WIRE)–Dell (NASDAQ: DELL):
"The Dell Streak has found a way to fit your whole world in a 5-inch screen. Its unique size will help people discover new ways to enjoy the web, connect with friends, and navigate their lives."
NEWS:
* Orders for the Dell Streak Tablet open up for U.S. priority pre-sale registrants at www.dell.com/mobile this Thursday, August 12. General availability follows a day later at www.dell.com/mobile.
* The Dell Streak is available for $299.99 with new two-year AT&T contract†, and $549.99 without. Customers who purchase the Streak, and signed up during the pre-sale program, will receive a free second-day shipping upgrade. Customers who redeem their pre-sale coupon can purchase a Plantronics Bluetooth earpiece for 99 cents while supplies last.
HITTING A SWEET SPOT
The Dell Streak, a carbon black Android-based tablet with a 5-inch display, is designed to provide an excellent "on-the-go" entertainment, social connection, and navigation experience. The spacious 5-inch screen is ideal for experiencing thousands of Android Market widgets, games and applications, all without squinting or compromising portability. Built-in Wi-Fi, Bluetooth capability and available 3G connectivity brings easy access for downloading and listening to music, updating social networking status in real-time, and staying connected to friends and family through e-mail, text, IM, and voice calls.
On-the-go students, mobile professionals, and active families will find Streak's web-browsing capabilities as natural as a laptop. The 5-inch screen is large enough to present Web pages in their natural form, create a comfortable viewing experience, and make turn-by-turn navigation simple. The Dell Streak is powered by Qualcomm's Snapdragon solution with integrated 1GHz processor to combine basic functionality and benefits of a laptop in a pocket friendly size.
The Dell Streak was designed with the future in mind to support future software, application and platform upgrades.
QUOTE:
"The Dell Streak has found a way to fit your whole world in a 5-inch screen. Its unique size will help people discover new ways to enjoy the web, connect with friends, and navigate their lives." – Ron Garriques, president, Dell Communication Solutions
DELL STREAK FEATURES:
* Integrated Google Maps with turn-by-turn navigation, street and satellite views
* A full screen browsing experience with a 5-inch capacitive multi-touch WVGA display
* Easily integrated social media apps: Twitter, Facebook, YouTube
* High resolution 5 MP camera, VGA front facing camera, removable battery, built-in Wi-Fi, 3G and Bluetooth connectivity options
* 2GB* of internal storage provides plenty of space to access and download Google Android Market's many options
* Packaged with cushions made from 100 percent sustainable, compostable bamboo
DELL STREAK SPECIFICATIONS:
* Android platform complete with Android Market and Dell user interface enhancements
* Powered by Qualcomm's Snapdragon solution with integrated 1GHz processor
* 3G + Wi-Fi + Bluetooth
* UMTS / GPRS / EDGE class 12 GSM radio with link speeds of up to 7.2 Mbps*
* 5 MP Autofocus camera with dual LED flash. Easily point, shoot, and upload to YouTube, Flickr, Facebook and more
* User accessible Micro SD expandable memory available up to 32GB*. Store up to 42 movies* or 32,000 photos*, or 16,000 songs* with a 32GB* Micro SD upgrade
Follow conversations in the blogosphere: #DellStreak