Dell reveals powerful Vostro 430 desktop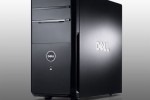 Dell has so many different desktop and notebook computers that it can be hard to keep up. The company has been adding lots of lower cost machines to its line of Vostro business notebooks and desktops. Today Dell has unveiled a new Vostro 430 desktop computer that starts at a low price and can be optioned with powerful components.
The new Vostro 430 starts at $699 and is available today globally. The machine comes with pre-installed video conferencing software and has dual display and multi-touch technology built in. The desktop is optimized for Windows 7, due out in only a few weeks.
The Vostro 430 can be optioned with Intel Core i5 or Core i7 CPUs and discrete graphics from NVIDIA or ATI. The machine also has room to grow in the future as needs in the office change. Up to 16GB of RAM is supported and up to 1TB of internal storage. Blu-ray drives are optional as well as Firewire and a 19-in-1 memory card reader.