Dell revamps Precision workstations with Xeon E5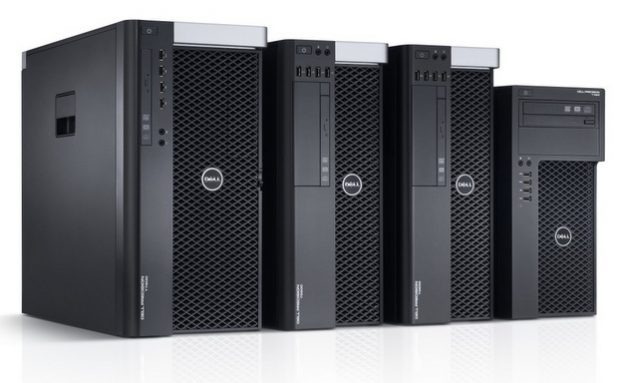 Dell announced four new workstations today for its enterprise Precision lineup that have been revamped with Intel's latest 32nm E5 series Xeon chips, error-free memory technology, and a redesigned chassis for greater serviceability. The new workstations are designed to handle the intensive computing needs of engineering, product design, animation and other graphics professionals. They include the Dell T7600, T5600, T3600, and the T1650.
The new Precision workstation towers feature a chassis design that offers front access to hard drives and an externally removeable power supply that is easily swappable. This ensures greater serviceability and the least amount of downtime. Remote access and a rack mountable design also allow the workstations to be centrally located for a clean and quiet work environment.
The Dell Precision T7600, the most powerful of the new trio, is designed for the most demanding video, animation, engineering, and simulation needs, using two Intel Xeon E5-2687W 150 watt processors with a total of 16 cores. It can support up to four full x16 graphics slots, which can power up to an NVIDIA Quadro ultra high-end 6000 professional graphics card and two NVIDIA Tesla C2075 processors simultaneously.
The Dell Precision T5600 is designed for constrained spaces while still offering great computing power for building complex 3D models, creating film and video content, and engineering analysis. It supports up to two Intel Xeon processors, two power supply options, and up to one NVIDIA Quadro 5000 high-end grphics card and NVIDIA Tesla C2075 processor.
The Dell Precision T3600 is more of a mid-range workstation that can handle 3D, CAD/CAM, and other digital content creation applications. It uses Intel's Xeon E5-1600 or E5-2600 family processor, two power supply options, and up to a single NVIDIA Quadro 6000 or two NIVDIA Quadro 5000 graphics cards.
Precision T7600 prices start at $2,150, the T5600 at $1,880, and the T3600 at $1,100. The new workstations will start shipping in May. Dell also has a Precision T1650 linedup for more basic 2D and 3D computing needs, but details on that model will be released at a later date.
[via MarketWatch]