Dell Latitude 6430u is a business Ultrabook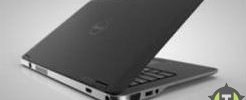 Ultrabooks may be primarily focused at consumers, but how about a business Ultrabook? That's what Dell has stumbled onto with a new entry into the Latitude range, the 6430u. Unsurprisingly, it'll offer Intel's Core i3, i5, and i7 Ivy Bridge chipsets, along with the typical specs you'd see on other Ultrabooks. Dell has a couple of twists though: it'll support Intel's vPro platform, feature an aluminium construction, and have a removable battery.
You can expect 8GB of RAM, and up to 256GB of SSD storage depending on the model. The 14-inch screen will have a 1366x768 resolution, and the overall thickness of the Ultrabook will be 20.9mm. That's not as svelte as models from competitors, but the 6430u will have the advantage of a removable battery. Weight will be 1.74 kg, increasing if you spring for the optional slice battery. The RAM and hard drive can both be upgraded by the user.
There are some typical business features, such as a fingerprint and smartcard reader, and Intel's vPro platform which features hardware encryption and security. Dell has bundled some of its own Data Protection software too. As is increasingly the case, there doesn't seem to be a firm release date or pricing available for this new Ultrabook, but the Ivy Bridge mobile chips are on the verge of being released. We imagine the Latitude 6430u will make an appearance shortly after the processors debut.
[via Tweakers]