Dell Inspiron Mini 9 gets added options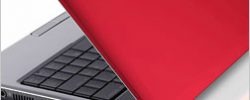 If you've been interested in the Dell Inspiron Mini 9 but were waiting for a few more additional features to be added, then you're in luck. What was previously only available outside the US is now available in the states.
You can add on 3G to your Mini 9 during the customization process now. Selecting this option makes it so a 7.2Mbps HSPA card is installed in your new computer, making it so you can have access to AT&T's network. You can add this feature for $125, but if you sign up for a two-year data plan, you'll get a $120 discount on the spot.
You also now have the option of adding a 32GB solid state drive. You'll have to shell out an extra $100, but for the added durability and safety of your information, it's probably worth it. All new options are available today.