Dell Inspiron 27 7000 AiO with AMD Ryzen: a PC ready for VR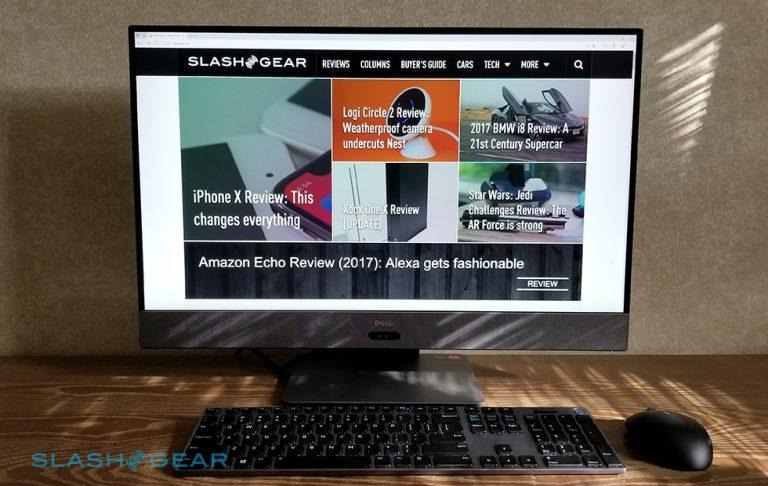 EDITORS' RATING: 7/10
Dell has launched a new all-in-one desktop that, at its highest configurations, is capable of powering all your virtual reality needs. The particular model we got our hands on features an AMD Ryzen 7, among other things, and we've put it through the paces to see what all this beast can handle. Will the Dell Inspiron 27 7000 meet all your needs or leave you wanting? Read our review to find out!
Design
The Dell Inspiron 27 7000 AiO is impressive from the moment you pull it from the box. Featuring a highly angular design, slim bezels, and a high-contrast color scheme, this Inspiron catches the eye. This is no small system, measuring 27-inches across the display, but it doesn't feel imposing on the desk thanks to its minimalist design.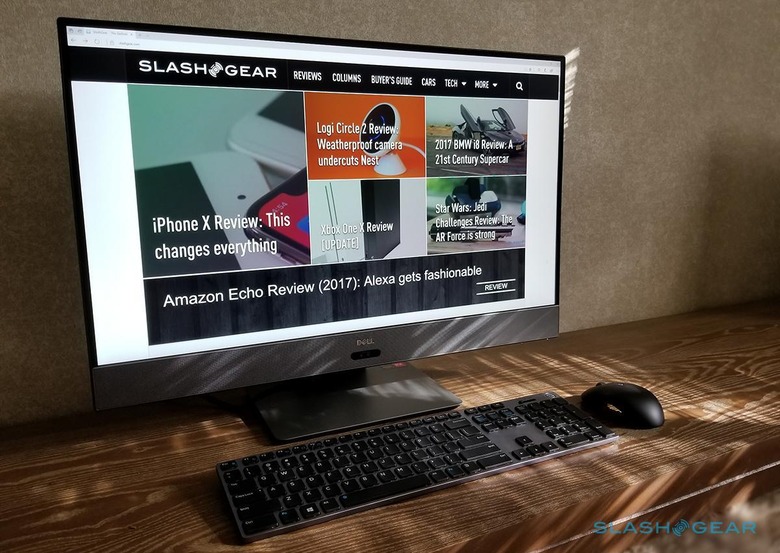 It would be fair to say that the Inspiron 27 7000 looks utilitarian, though that's not to say it is unattractive. The model has a clean look — sharp, angular, with very slim bezels, a broad-but-thin stand, and long front-facing speaker grille. The ports are easily accessible, a big plus for the model, and the wireless keyboard matches the style.

You're not likely to turn heads with the design, but it won't go unnoticed, either. When viewed from the front, you're not likely to realize you're looking at an all-in-one system, and that's a good thing. That's not to say that the design is perfect; it makes liberal use of plastic and matte paint which, while feeling premium enough, is still clearly subpar to the fancy (and likely more expensive) aluminum alternatives.
Hardware
This Inspiron model's big boasting point is the inclusion of an AMD Ryzen 5 or Ryzen 7 processor, as well as up to a terabyte of storage alongside a 256GB SSD, AMD RX 580 graphics, and 32GB of RAM. This clearly positions the Inspiration 27 as a PC suitable for modern gamers including those looking to buy their first PC-centric VR headset.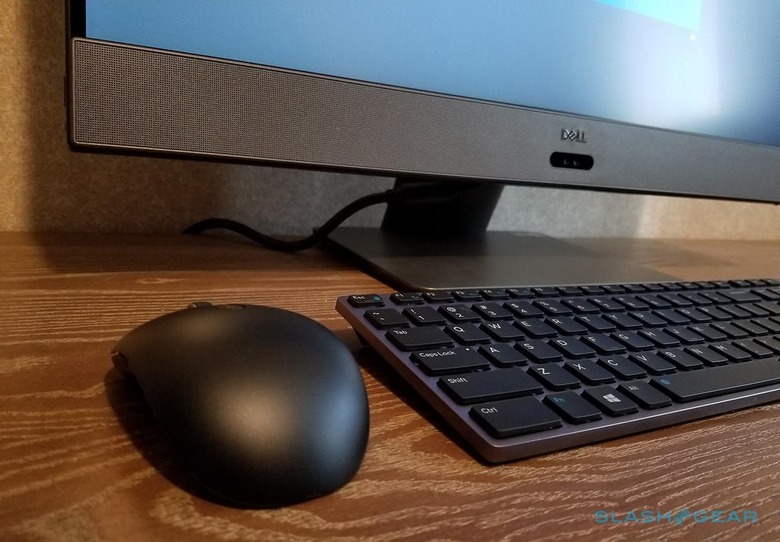 You don't have to be a gamer to appreciate this model's power, though. The 4K display coupled with the large visual real estate and powerful hardware makes this a good choice for photographers, graphic designers, animators, and anyone else who performs intensive tasks. The display isn't glossy, an upside for some users; the lack of glare makes for more comfortable usage in the long term.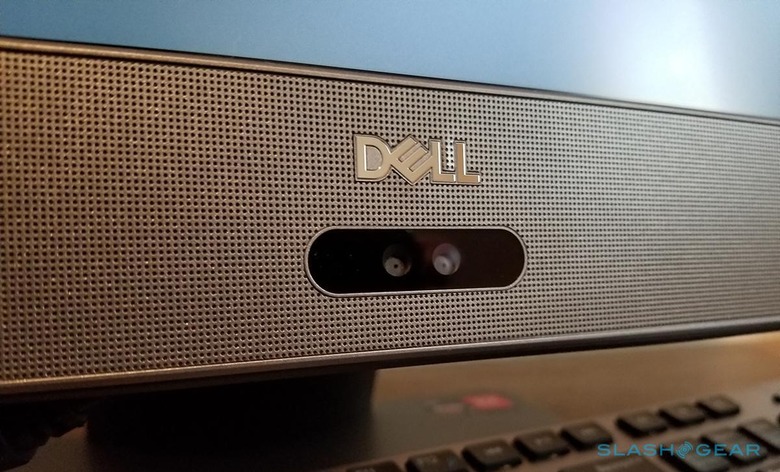 The included wireless mouse and keyboard are both excellent; the keyboard has a very low profile, looks great on the desk, and is very comfortable to type on. The mouse works as expected and is also attractively designed. Both feel reasonably premium and leave the user happy about their inclusion.
SPECS

Display:

- 27-inch 4K Ultra HD (3840x2160) InfinityEdge display (350-nits)

- 27-inch FHD (1920x1080) InfinityEdge display (250 nits)

Memory:

- 8GB, 2400MHz, DDR4 (8GBx1 or 4GBx2)

- 12GB, 2400MHz, DDR4 (8GB+4GB)

- 16GB, 2400MHz, DDR4 (16GBx1 or 8GBx2)

- 32GB, 2400MHz, DDR4 (16GBx2)

Graphics:

- RadeonTM RX580 8GB GDDR5 110W 256 bit

- RadeonTM RX560 4GB GDDR5 50W 128 bit

Camera:

- HD (720p) webcam with wide, quad array digital microphones, Windows Hello compliant infrared facial recognition camera

Audio: Performance Stereo speakers with 5W subwoofer

Base:

- Dell wireless keyboard and mouse KM 636

- Premium – Dell Premier wireless keyboard and mouse KM 717

Processor Options:

- AMD RyzenTM 5 1400 Processor (4C/8T, 10MB Cache, 3.4 GHz Precision Boost)

- AMD RyzenTM 7 1700 Processor (8C/16T, 20MB Cache, 3.7 GHz Precision Boost)

Operating System Options:

- Windows 10 Home 64-bit

- Ubuntu

2 DIMM Slots

Hard Drive Options:

- 1TB 5400 RPM Hard Drive

- 1TB 7200 RPM Hard Drive

- Dual Drive with 128GB SSD + 1TB 5400 RPM HDD

- Dual Drive with 256GB PCle NVMe SSD +1TB 5400 RPM HDD

Ports & Connectors:

- Rear – (2) USB 2.0, (3) USB 3.1 Gen 1 Type-A, (1) USB 3.1 Type-C, HDMI-in, HDMI-out Side – (1) USB 3.1 Type-A, 3:1 SD MCR, (1) Microphone/Headset jack

Down firing: DC Power, Audio Line Out audio, RJ-45 LAN 10/100/1000

Communication:

- 802.11ac + Bluetooth 4.1

- Dual Band 2.4 & 5 GHz

- 1x1 & 2x2 M.2 10/100/1000 Ethernet

Software:

- Dell Digital Delivery

- Dell Recovery Environment

- SupportAssist

- DropBox

- Microsoft Office 2016 trial

- McAfee LiveSafe (30Day)

Stand Options: Fixed Pedestal

Dimensions:

Height: 15.5" (394.1mm) x Width: 24.2" (613.8mm) x Depth: 2.1" (53.0mm)
Software & Performance
How well the model performs depends on configuration, of course. Our review model comes with the Ryzen 7 processor, but the cheaper base model comes with the Ryzen 5 and 1080p display. You can choose a more powerful configuration versus that base model, but expect to spend up to about $1800 to max out all of the available hardware features.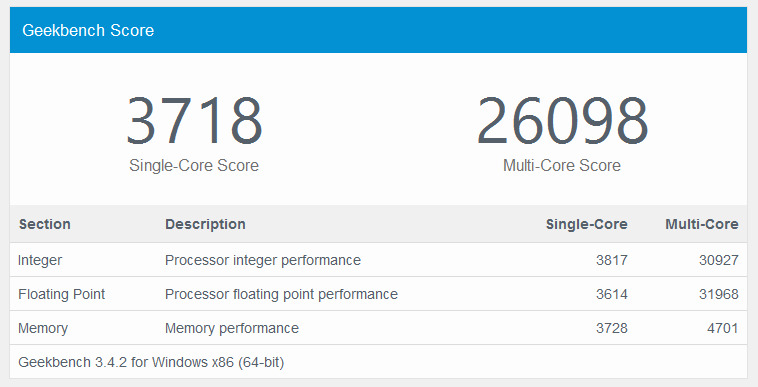 As the benchmark results above make clear, this Dell machine is ready to meet demanding needs, not the least of which is virtual reality. Any gamer is likely to enjoy this Inspiron; not only is it powerful enough to handle some fairly intensive games, but it is paired with an excellent glare-free 4K display (again, depending on configuration). Whether you're a Steam addict who likes to play games at high settings or you're just looking for a machine through which to build your Minecraft kingdom, the Inspiron 27 7000 does not disappoint.
What we like
I enjoy the Inspiron 27 7000's design even if it is modest, and the slim bezels quickly won me over. The matte display is crisp, images are sharp, and the color accuracy is high.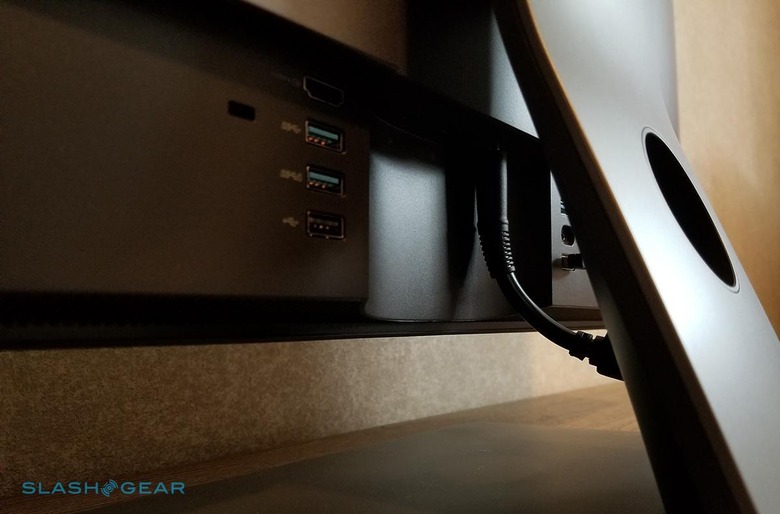 The system's performance was excellent during testing, able to hold its own while gaming and doing some other intensive things like processing audio and creating animations. I developed an appreciation for the included keyboard after hours of use; it is very comfortable to type on with the right amount of key resistance and travel. The mouse is also very responsive and didn't present any connectivity issues during usage.
Having easy access to the various ports is also a welcomed change over some competing models; you don't have to completely turn the display to get at the ports, but rather just angle it. Soon enough you figure out where the ports are and can plug things in without looking.
Issues
This isn't an issue, but rather something to keep in mind: the unit uses plastic rather than metal, and so it doesn't have that same premium feel as aluminum construction. That's not to say that it feels cheap, because it doesn't. On top of that, this model spends its life sitting on a desk — you're not going to be touching it, so the visual impression is what matters most, and visually it looks just fine. The base is sturdy and the overall construction feels solid.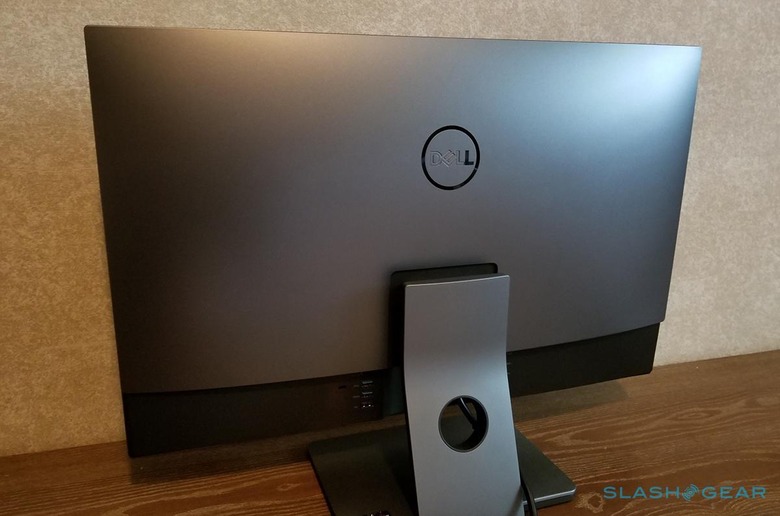 Note: The protective plastic film used on the back of our review unit was very adhesive and pulled off the logo's black D, E, and one L letters when removed.
The pedestal only supports tipping up and down, so rotating involves turning the entire base. It's not as flexible as, say, Lenovo's lie-flat all-in-one stand, but it is fine in most occasions. However, it does have a hole through which cables can be fed to keep them nicely contained.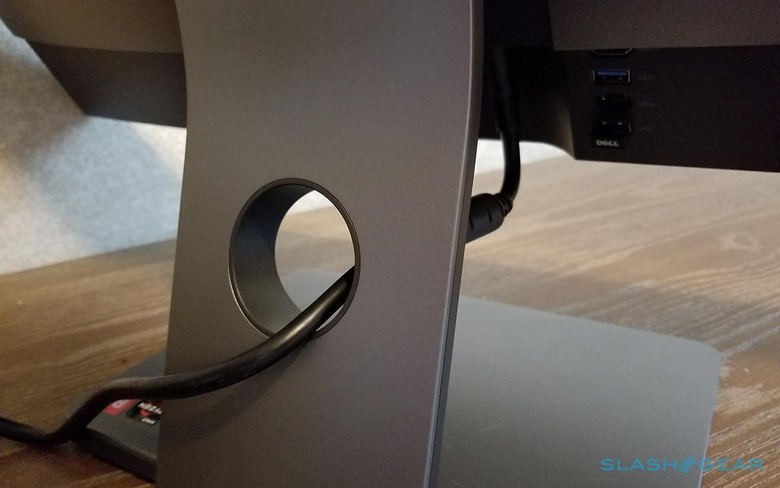 Another thing that isn't so much of an issue as it is a point to note: the cheaper of the two models comes with some compromises to hit the sub-$1,000 price point. Rather than the 4K resolution that comes with the higher-end model, you get a 1080p resolution. As well, the base model only features an ordinary HDD rather than an SSD, you're getting the Ryzen 5 instead of the 7, and the RX 560 graphics instead of the RX 580.
Wrap-up
The Dell Inspiron 27 7000 won me over with its clean, professional style, matte display, and classy peripherals. This all-in-one can handle your gaming or professional needs, whether those needs include something like animating with Moho or creating videos with After Effects. That's not to say the model is perfect, as it does have some small compromises, but nothing major. This all-in-one PC is available now from Dell starting at $999.99 USD.