Dell Inspiron 17 7000 2-in-1 is the first 17-inch convertible laptop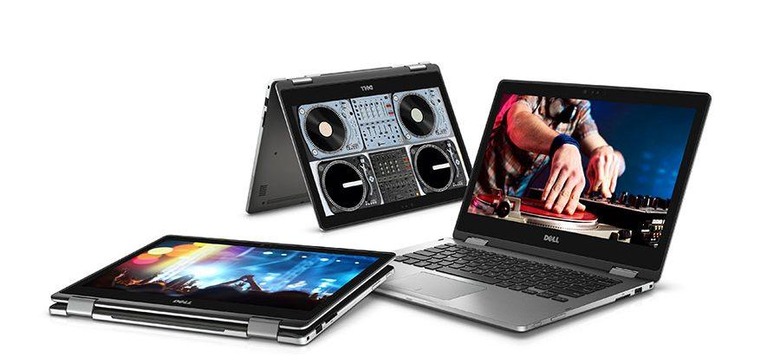 Dell has unveiled several new laptops at Computex including the first big screen convertible 2-in-1 notebook computers with the Inspiron 17 7000 family. If a 17-inch 2-in-1 isn't exactly what you are looking for, the 7000 series also has 13 and 15-inch versions. Dell also has the mainstream 5000 series and an entry-level 3000 series of notebooks on display. The Inspiron 17 7000 line has an optional USB Type-C adapter with ports for HDMI and VGA displays.
It has an Ethernet connection and a USB 3.0 port for connecting accessories like eternal hard drives, printers, and scanners. Dell Power companions are available that are able to connect to the USB Type-C port to add up to six hours of additional runtime on the smaller screen notebooks and 5 hours for the 17-inch notebook. The 7000 notebooks can be had with several different 6th generation Intel Core processor options. The 360-degree hinge gives the notebook four modes with laptop mode for typing, tent mode for working on presentations, stand mode for movies, and tablet mode.
The screen has FHD resolution with wide viewing angles and the keyboard is backlit. The notebook is fitted with an infrared camera that supports Windows Hello and the touchpad supports gesture recognition. The Inspiron 5000 2-in-1 machines have 15-inch screens and wide-angle full HD resolution. 5000 series notebooks are also fitted with an infrared camera supporting Windows Hello, backlit keyboard option and SSDs are available. Buyers can choose up to 16GB of RAM in the 5000 series.
Inspiron 5000 notebooks also come in 13-inch units, which are the compact machines in the 2-in-1 range with FHD resolution, and the same features as the larger 5000 series notebooks. The Inspiron 11 3000 range brings a tablet style machine to the family with 1366 x 768 resolution, USB 3.0 port, and a microSD card reader. Buyers can also opt for AMD processors in the Inspiron 5000 series. The Inspiron 13, 15, and 17 7000 notebooks will launch June 2 starting at $749. Inspiron 13 and 15 5000 notebooks launch June 2 starting at $529. The Inspiron 11 3000 will start at $249 and launch June 2.