Dell debuts Inspiron One 23 AIO computer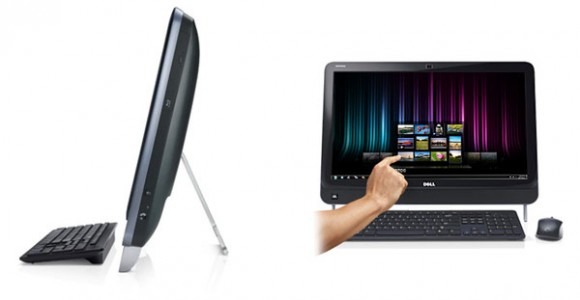 Dell has rolled out a new AIO computer for the Inspiron line called the Inspiron One 23 (2320) AIO desktop computer. The AIO machine has a 23-inch LCD screen, comes in a variety of configurations, and can be customized. The screen has HD resolution and LED backlighting. The AIO can also be optioned with a wireless mouse and keyboard as well. I would think at the starting price of $949.99 a wireless mouse and keyboard would be included.
The AIO also has an integrated HD resolution camera, touch support with touch apps, and onboard JBL speakers. The AIO can be had with Core i5-2400S or Core i7-2600S processors. It uses Windows 7 64-bit and can have up to 8GB of RAM. Storage is up to 2000GB and the machine can be fitted with an optional Blu-ray drive.
The computer gets Intel integrated HD graphics as standard and can be fitted with an optional discrete GeForce GT 525M video card. The computer also has an integrated Ethernet port and integrated WiFi. The base system is $949.99, the next system up is $1249.99, and the high-end configuration is $1399.99.