Death Stranding taps Conan O'Brien as a surprise guest star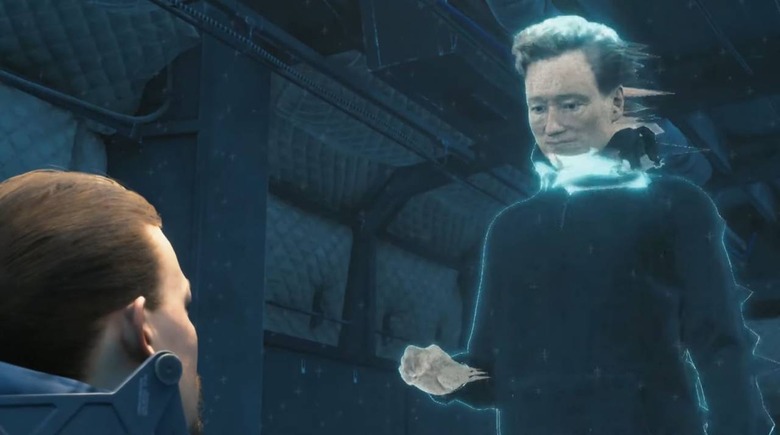 Death Stranding is a game that already features a number of high-profile celebrity appearances, namely those of Norman Reedus, Guillermo del Toro, and Mads Mikkelsen, but today we're learning of another one: Conan O'Brien. During a recent episode of Conan, the late night host visited Kojima Productions in Japan to check in on the development of Death Stranding, with game director Hideo Kojima ultimately asking him if he wanted to be in the game.
Kojima, his team, and O'Brien then went through the motions of capturing Conan's appearance digitally before playing a clip of him actually in the game. It all seemed like it could be a joke at the time, but Kojima took to Twitter today to confirm that Conan O'Brien will actually be in the game.
Conan O'Brien appears as a prepper "The Wondering MC" in DS. You get "Sea Otter Suit" when you get connected with him. With this suit, you'll be able to swim easily in the river, you won't be drifted away! BB would be happy as well. 👍🌈🦀☔️🐟🐋🐬💀👶✋🤩😍 pic.twitter.com/nIsw5JS5t0

— HIDEO_KOJIMA (@HIDEO_KOJIMA_EN) October 24, 2019
Kojima shared a longer version of the clip that originally aired on Conan's show, making the reality of O'Brien's role in the game even stranger. Apparently, O'Brien plays a character named "The Wondering MC" who gives the player an otter suit, allowing them to better swim down rivers and through bodies of water.
It's definitely weird, but that's what we're expecting from Death Stranding. As Conan O'Brien points out in the video embedded above, Death Stranding is a game that's been shrouded in mystery. It's still difficult to know what to expect, but we know it's going to be an intriguing, strange game.
We'll find out soon enough just strange it is. Death Stranding is due out on PlayStation 4 on November 8th, 2019, so in just a couple of weeks, you'll be able to float down the river dressed as an otter.