de Grisogono confirms Samsung Gear S3 inbound, luxury version too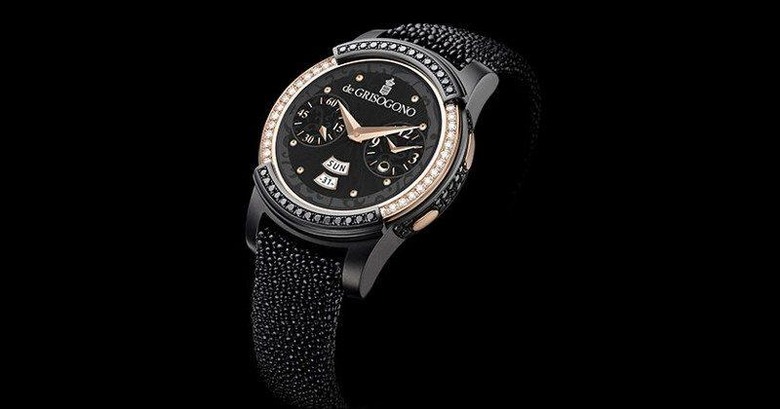 Although still a minor player in the smartwatch market compared to giants like the Apple Watch and the combined Android Wear army, Samsung's Gear S2 put a new spin, quite literally, on the wearable with its rotating dial control. So far, however, it hasn't been the subject of much attention in terms of shipment and sales stats, so there was never a certainty that Samsung would follow it up. Cast all doubts aside famed luxury jeweler de Grisogono has publicly confirmed that there will indeed be a Gear S3. Or at least an exorbitantly expensive one.
But what would a jeweler know about smartwatches? In this particular case, a lot. Samsung and de Grisogono actually revealed their partnership just last month, unveiling the luxury version of the Gear S2. This was studded with both white and black diamonds, coated with real rose gold, kept on your wrist with genuine galuchat skin leather bands.
Speaking to Korean media last week, de Grisogono boasted how Samsung approached it a second time to partner for a similar Gear S3 campaign. And you can't really have a luxury Gear S3 without a Gear S3, can you? However, that is pretty much the extent of de Grisogono's revelation, as, sadly, it isn't too forthcoming with actual features and specs.
We would, however, be shocked if Samsung unceremoniously removed the rotating bezel from the Gear S3, after it worked so hard to convince developers to buy into its promise. Then again, Samsung has been notorious for pulling the rug from developers and users even after just one iteration (hello Galaxy Gear and Gear Live!). The standalone connectivity, which has been the hallmark of the Gear S line, will most likely survive unscathed. It will also most likely still be running on Tizen, though you won't hear us complain if Samsung suddenly switched it to Android Wear.
The luxury version of the Gear S3 isn't expected until Baselworld in March next year, which gives plenty of room for Samsung's traditional IFA reveal in September.
VIA: The Korean Herald