dbrand Teardown limited edition phone skins let you fake transparent backs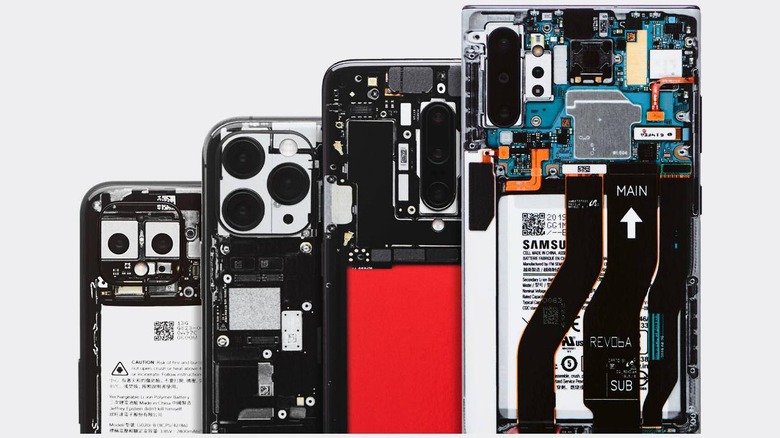 Most consumers delight in the colorful gradients that some phones these days sport but there are a few that revel in seeing the things that make their phones tick. Transparent back mods, however, are painstaking and dangerous, not only voiding warranties but also risking damaging the phone beyond repair. Fortunately, dbrand and JerryRigEverything have come up with a compromise that will let you see your phone's backside innards on the cheap, no risks needed.
YouTuber Zack Nelson from JerryRigEverything is both famous and infamous for trying to break things to see just how tough they really are. He is also known for starting a small trend among smartphone owners that try to open up their phones and tear or scratch off the paint on the glass backs. All that just to have an unobstructed look at what's inside the phone or at least the back of it.
But if that is all you really want to do, dbrand is offering a safer and exponentially cheaper option. The company is popular for skins and cases that debrand products (hence the name), especially smartphones. Most of those skins use a mix of colors, geometric patterns, and textures but nothing specific to a brand or product. That makes these new Teardown skins and cases almost ironic since they somewhat return the branding to the back of the phone.
dbrand and JerryRigEverything worked together to scan the insides of each of the supported phone models and print out skins using a $92,000 piece of equipment. Fortunately, dbrand isn't placing the cost on consumers and sells the vinyl skins for $19.95 and the cases for $14.95.
Now for the fine print. These skins and cases are, of course, custom made for specific phone models only, including those from Samsung, Apple, Google, and OnePlus. There's even a skin for a Nintendo Switch! Finally, this dbrand Teardown line is a time-limited offer that will last only until for a week.