DAP M2000 Rugged PDA Debuts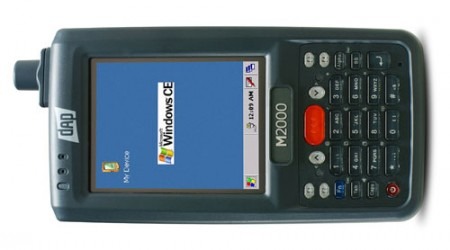 The PDA might be dead for the average consumer, but for the mobile worker needing a computing device that can be operated with one hand and is rugged enough to survive drops and the rigors of work on the road the PDA is still alive and kicking. DAP Tech has unveiled a new line of rugged PDAs called the M2000 series that includes the M2010 and M2020 PDAs.
The two versions look identical on the outside with the notable exception that the M2010 has an alphanumeric keypad on the front and the M2020 has a QWERTY keyboard on the front. Both of the devices measure in at 6" x 3" x 1.25" and weigh about 13.4 ounces. The PDAs have WiFi, SD card slots for memory expansion, Bluetooth, and GPRS options.
The batteries the PDAs use are hot swappable for more runtime and they can be fitted with a 1D laser or 1D/2D imager for barcode scanning. Connectivity options also include GPRS and EDGE connectivity and the PDAs can be fitted with RFID readers. The screen is 3.5" with 256K resolution and is touch sensitive and both use a Marvell PXA270 processor at 520MHz.